Home
Authors
Posts by Barry D. Moore
Barry's 25 years of experience with Silicon Valley Corporations such as IBM, Compaq, Hewlett Packard, Hewlett Packard Enterprise & DXC Technology enables him to share his knowledge of succeeding in today's professional corporate environments and develop a great work life for yourself.
Ethical decision making can be tough because ethics raise philosophical, political, and religious questions.Consequently, many business leaders avoid any discussion or consideration of ethics...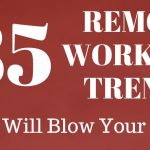 Going to the office is fast becoming a thing of the past for a large percentage of the world's population. Interestingly, the available data...