As a premium subscriber and a teacher on Skillshare, I believe I can give you a detailed insight into Skillshare, how it works and if it is right for you.
Skillshare is an online education platform that emphasizes skills rather than formal education. Each Skillshare course is a series of video lessons that teaches a particular skill. Some of the skills are job-related, and many of the skills are artistic or lifestyle-related activities. There are many visual arts, writing, and design courses on Skillshare.
Skillshare emphasizes artistic, creative, business, IT technical skills, and productivity courses. There is no accreditation, college partnerships, and few recognized certificates of achievement. That means few Skillshare courses will look good on your resume.
People who do not need accredited courses or degrees will benefit from Skillshare. Those who need academic accreditation will be better served by "Massive Open Online Courses" (MOOCs) offered by Udacity and Coursera who offer a better formal education than Skillshare.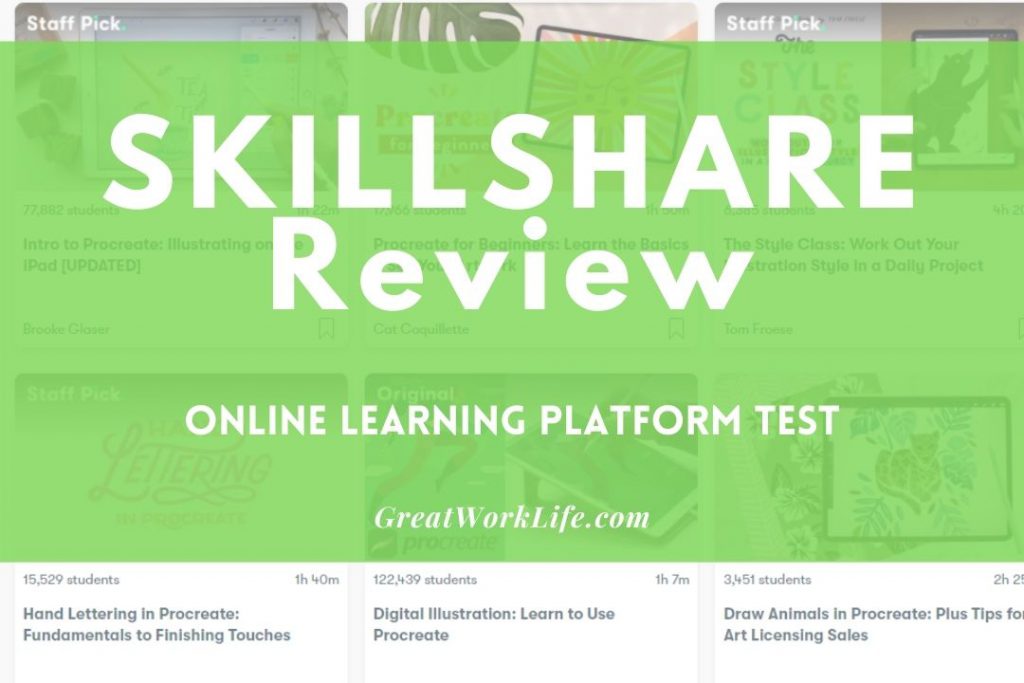 Skillshare Pros
Skillshare Cons
Get 30 Days of Skillshare Premium for Free
What is Skillshare?
Skillshare is a digital platform offering over 30,000 video courses. Each course offers a skill that people can use in real life. Skillshare focuses on courses in the visual arts such as video game design, writing, and lifestyle-related courses. Skillshare also offers many courses targeted at artists, developers, designers, and other creators, including writing.
Many courses show artists how to monetize their art. Examples of these courses include; The Staples of Branding: From Purpose to Product and Social Media Storytelling.
Thus the best way to think of Skillshare is as an educational platform for artists and creative people. To that end, Skillshare offers tech and web design courses that help writers or artists market their creations.
Skillshare also offers introductions to many tech-related areas of art, such as video game design and video production.  Unreal Engine 4: Intro to Game Design, for instance.
Skillshare also offers many lifestyle-based courses that teach people hobbies and art skills to improve their lives.
The diverse range of Skillshare courses includes:
How does Skillshare Work?
Skillshare is a platform that offers members access to thousands of problem-based video courses. Individuals take courses through the Skillshare website and the Skillshare app.
Each course is broken down into lessons. The average class duration is one to two hours. Skillshare membership free, but to access all the premium courses, you need a subscription. Skillshare's app will allow you to learn offline. Skillshare members receive unlimited access to every class and access to an online community.
Instead of charging for individual classes as Udacity or Udemy does. Skillshare charges users a monthly membership that gives them access to the entire library of courses.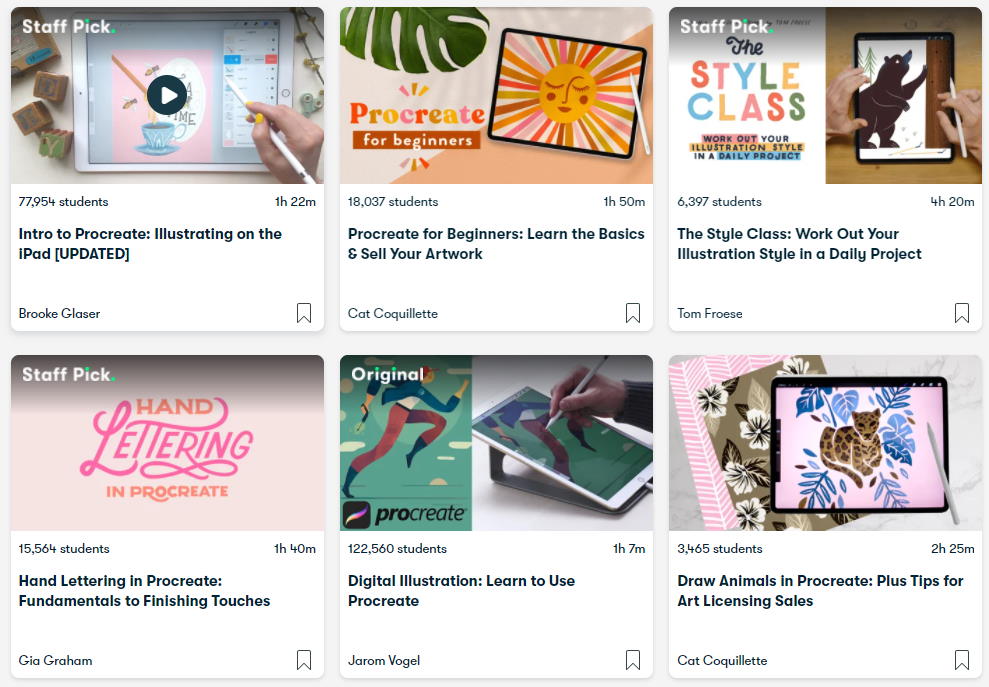 How Does Skillshare Make Money?
The Skillshare business model is similar to Netflix's. Skillshare has no adverts and is fully funded by its members. Part of the membership fee is used to pay the instructors. The instructors are paid for every minute of video watched by a premium member. This is why some people call Skillshare Netflix for Learning.
Who is Skillshare Best For?
Skillshare is best for people who want to learn skills. Skillshare is a great resource for people seeking hobbies and lifestyle-based skills such as photography and cooking.
Skillshare is also a great resource for artists and people interested in the visual arts. Examples of the art courses include Watercolor Painting Techniques (For Beginners and Pros) and Full Tutorial – Mixing colors for watercolor painting.
One group that could benefit from Skillshare is artists who want to explore new areas of art or techniques. A sketch artist who wants to learn painting, for example. Or a painter who wants to experiment with animation.
Others who could benefit from Skillshare are hobbyists who want to get serious about their art. People seeking a new hobby could find it on Skillshare. Do-it-yourselfers could benefit from many of the crafts courses.
There are some job-related skills such as Interior Design, video game design, Business Analysis, and web development available on Skillshare. Thus, people who need job skills, such as small business owners or freelancers, could benefit from Skillshare.
The Quality of Skillshare Courses
Skillshare has improved its quality guidelines and forbids any advertising or branding in the video's main content. This has helped push the quality of courses higher.  Some of the older courses are quite poor, but instructors are learning that great sound and video quality, plus killer content are the recipes for success on Skillshare.
Skillshare also promotes Skillshare Original Classes and Staff Picks which are produced and chosen for their exceptionally high quality.
How Many Courses Does Skillshare Have?
Skillshare claims to offer over 30,000 video-based classes in press releases. However, Skillshare does not offer an official count of the number of courses it offers on its website.
How Many Students Does Skillshare Have?
Skillshare claims its online learning community has over 12 million "registered members" in a press release. Skillshare does not say how many of the registered members are active students. Therefore, Skillshare does not review how many students its courses have.
What Can You Learn on Skillshare?
Skillshare has many practical, creative subjects you can learn, including:
Skillshare also has many practical business-related courses that can boost your skills in the workplace, including:
Is Skillshare Free?
Yes, Skillshare offers 2,145 free classes for those who register for a free membership. To access the full library of over 30,000 classes, you will have to pay a monthly or annual membership fee. This is fair as the teachers should also get paid for their effort. All membership levels are free from adverts, and the teachers are paid between 5c and 10c for every minute of watch time.
How much does Skillshare cost?
Skillshare is free to join. However, you will need to buy a Premium membership to take the majority of Skillshare courses. A Skillshare Premium Membership costs $9 per month for a monthly membership or $168 for an annual membership.
Skillshare offers many discounts for businesses and others. They claim there are special rates for team memberships. However, you will have to contact Skillshare and ask for those prices.
How much is Skillshare Premium?
Skillshare Premium Memberships cost $32 per month if you pay monthly. However, a Skillshare Premium Membership will cost $168 or $13.99 a month if you pay annually. You can try Skillshare Premium free for seven days with a trial membership.
Get 30 Days of Skillshare Premium for Free
How To Get A Big Skillshare Discount
Skillshare does offer large discounts for first-time members. New members can get a 40% discount on a Skillshare Premium Yearly Subscription, reducing your cost from $168 to $100.
Does Skillshare have a student discount?
Yes, but they call it a "Skillshare Student Scholarship." The Student Scholarship is actually a 50% discount on a Premium membership. Therefore, the discount gives scholarship recipients a $16 monthly membership or an $84 annual membership.
Is Skillshare Legit?
Yes, Skillshare is a legitimate educational resource. Most of the courses on it are real, but they are not college courses. Skillshare has no alliances with universities and no degree programs. Thus no institution accredits Skillshare courses.
Instead, Skillshare emphasizes skill-based education they intend for individual information and entertainment. The emphasis is on skills people can use to improve their lives rather than degrees. You will learn from Skillshare, but you will not receive a degree or accreditation.
Some people will consider some Skillshare courses illegitimate because they are frivolous, shallow, and simplistic, such as Crystal Therapy 101 or Crystal Grids and Sacred Geometry.
Is Skillshare accredited?
No most Skillshare courses are not accredited. Instead, the service emphasizes skill-based courses. No academic organization or institution appears to accredit any Skillshare classes. Unlike some competitors such as Coursera, Skillshare does not offer tech courses accredited by large companies such as Microsoft and Google.
Does Skillshare have certificates?
Yes. Skillshare offers many certificate courses, such as the Thai Foot Reflexology Certificate Course. However, most of the certificates only demonstrate you have completed the courses.
Most universities will not recognize the courses. However, employers could recognize some of the certificates. One problem at Skillshare is a lack of company-backed courses and certificates.
Do Skillshare certificates matter?
Yes, Skillshare certificates matter because they provide evidence you have completed a course and learned a skill. However, Skillshare certificates are not accredited, so they offer no credit towards any college courses.
Another problem is that many of the Skillshare technology-related certificates are not issued by large companies such as Google and Microsoft. Thus, many companies may not accept those certificates. A Skillshare certificate could look good on your resume, but it is not accredited.
Can You Earn Credit Towards College Degrees on Skillshare?
Skillshare certificates are not accredited and provide no credit towards any college degree. One reason Skillshare courses are unaccredited is that Skillshare appears to work with no universities or colleges.
Skillshare vs. Youtube
Skillshare has three advantages over Youtube, there are no averts, instructors save their best work for Skillshare members, and students can do class projects on Skillshare and get direct feedback from the instructors. While Youtube is a huge free source of videos to help you learn specific topics, you need to endure the endless adverts and video sponsorship plugs.
Skillshare vs. Udemy
Skillshare offers a flat rate payment for access to all courses, while Udemy charges between $20 and $200 per course. Skillshare courses tend to last 1 to 2 hours, while Udemy courses are much longer. For voracious learners, Skillshare is the best option. For those who want a single in-depth course, Udemy is better.
Where can I find Skillshare courses?
You can find Skillshare courses via their App in the Apple App Store, Google Play Store, and directly on the Skillshare website. Skillshare courses are not available on Roku.
Final Thoughts
Skillshare is an excellent resource for voracious learners because it offers many classes in business, visual arts, creativity, and productivity, all at a flat-rate membership fee. The platform also offers many technology courses, including video game design and development and e-commerce applications such as Shopify.
One huge problem with Skillshare is that it has no relationships with universities and makes no effort to offer college degrees or accredited. That means many employers will not recognize Skillshare courses. It also means that Skillshare courses will not count as credit towards college degrees.
Skillshare is an interesting resource. People seeking skills could benefit from Skillshare. However, those seeking career-related skills will not be well-served by Skillshare.
Serious professionals need to avoid Skillshare. However, hobbyists, artists, and the self-employed could find this platform very useful. The bottom line is that Skillshare is a great resource if you just need skills.