Audible is simply the largest audiobook collection and the lowest cost per book. I am a voracious reader and have been an Audible subscriber since 2011. With 297 books in my library worth $4,500, I can provide you with a complete review and test of Audible.
| | |
| --- | --- |
| Audible Rating | 4.9/5.0 |
| 💸 Pricing | ★★★★★ |
| 🚦 Audiobook Availability | ★★★★★ |
| 📰 Library Depth | ★★★★★ |
| ↩ Returns Policy | ★★★★★ |
| ☎ Customer Support | ★★★★✩ |
Audible Review Summary
Our Audible review shows it has the largest library of 520,000 audiobooks, the best book returns policy, and the lowest cost per book at $9.56. Audible just released Audible Plus which gives access to 9,000 books for free in your membership.
Audible also offers exclusive Audible Original, Audible Studios, and high-quality original Podcasts. Finally, bestsellers are usually released on Audible first, and you keep the books you buy for life.
As a long-time member, I can attest you will find the service unbeatable for value and selection. New releases and bestsellers are inevitably released on Audible first as its market share and customer base make it irresistible to publishers.
Audible Review: Features
| | |
| --- | --- |
| ⚡ Features | 220,000 Audiobooks, 64kb Quality |
| 🏆 Unique Features | Audible Plus, Unlimited Audible Originals, Exclusive Podcasts, Alexa |
| 🎯 Best for | Serious Bookworms |
| ♲ Subscription | Monthly, Yearly |
| 💰 Price | $14.99-$22.50/mo |
| 💻 OS | Android, Apple |
| ✂ Discount | None Available |
| 🌎 Region | Global |
Audible Pros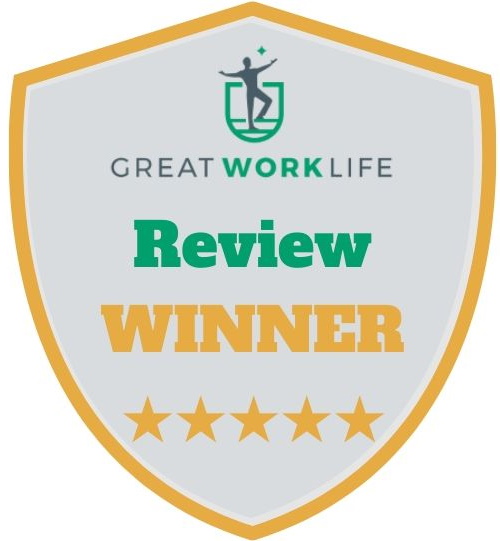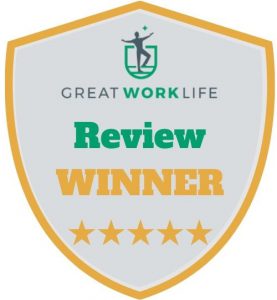 ★ Lifetime Access to the Books You Buy
★ The Biggest Library 570K+ Titles
★ Lowest Cost per Book $9.56
★ 12 Month Returns Policy
★ Compatible on All Devices
★ Syncs with Kindle
★ Smart Speaker & Alexa Integration
★ High-Quality Audio 64 kbps bitrate
Audible Cons
✘ Nothing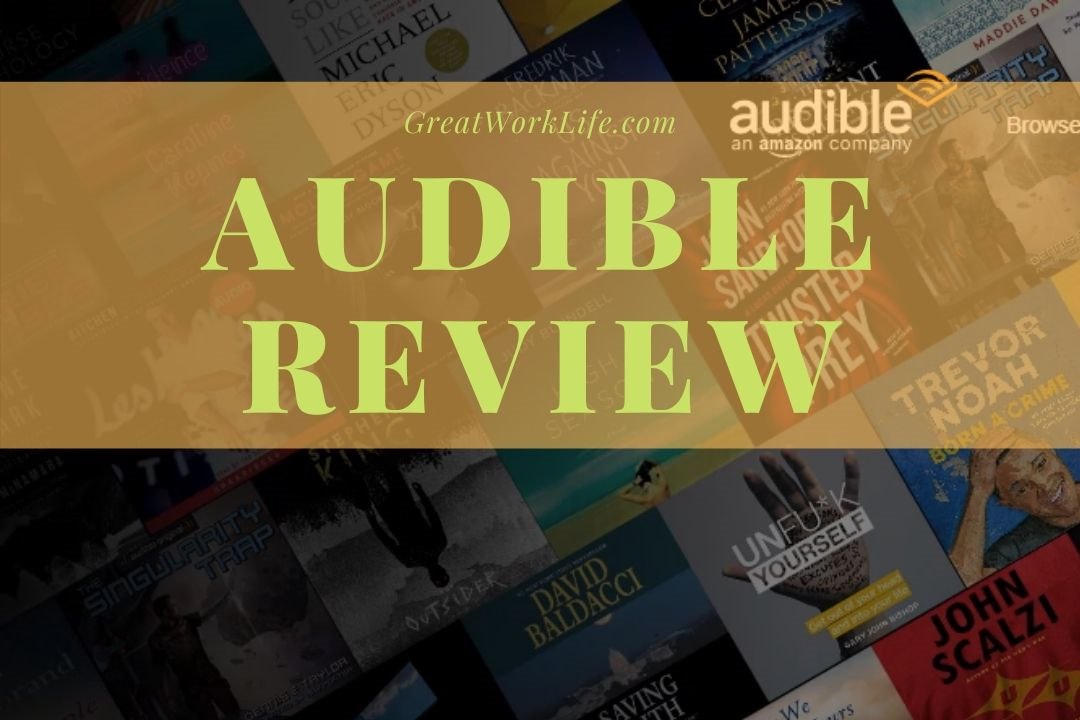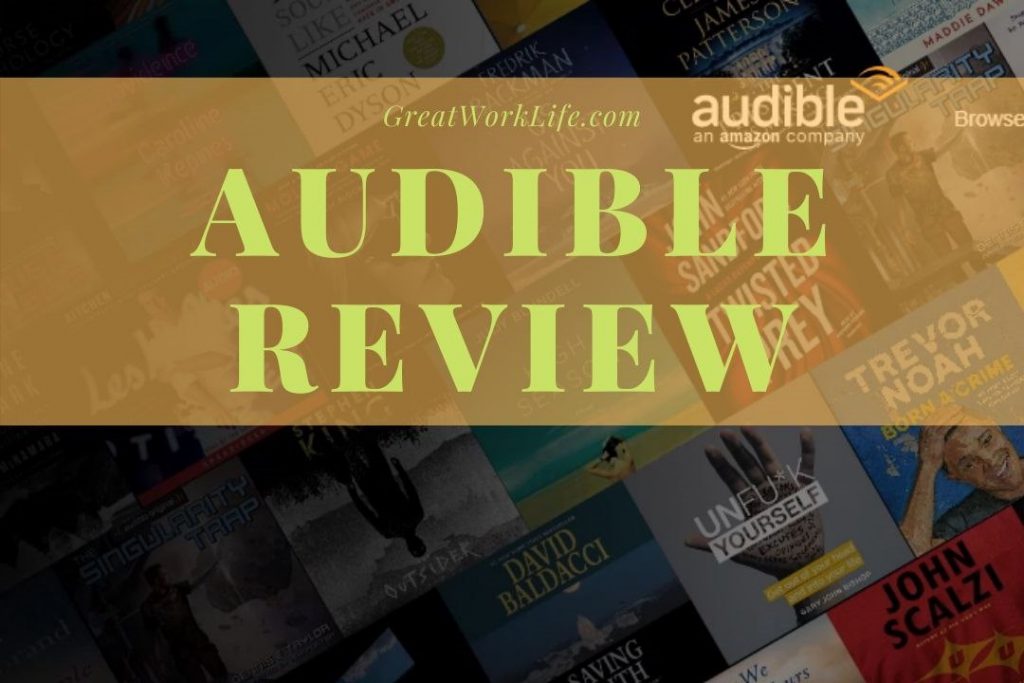 How Does Audible Work
While you can purchase individual audiobooks on Audible without a subscription, it primarily operates on a subscription basis using credits. One credit equals one book. An individual audiobook purchase costs about $20. With a subscription for credits, extra credits, and special offers, you can lower the cost per book to approximately $9.
Audible Pricing Plans, Credits & Special Offers
Audibleplus costs $7.95 per month, giving you unlimited access to all audible originals and podcasts. But if you want premium blockbuster titles, it costs $14.95 per month for 1 credit. Opting for the Audible 2 credits service costs $22.95 and brings your average book price down to $11.47.
With Audible, you need a subscription, but that subscription means you get to buy books at a tiny fraction of their actual retail value. Some believe that Audible is expensive, but the reality is that they are the cheapest way to buy audiobooks.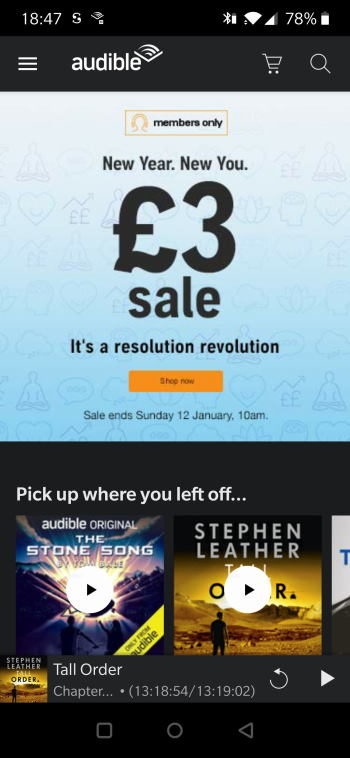 Audible Subscription & Pricing
With the audiblepremiumplus subscription, you will get one credit for any title and unlimited access to  Audible Original titles and podcasts. This means you get one premium book per month for $14.95.
If you pay this subscription annually, you will pay $149.50, meaning you get two free months, and this brings the average cost per book down to $12.45, the lowest price in the industry.
You could also opt for $22.95 per month for two audiobook credits, which works out at $11.47 per book, saving $3.42 per book.
Finally, Audible has a massive selection of exclusive professional Podcasts that they offer free to members. They will also send you Christmas stories for the family and children at Christmas, a charming touch.
How to Get Extra Credits With Audible
Whichever subscription you choose, you will get 30% off any other purchases you make. The best news is that if you run out of subscription credits, Audible will allow you to buy extra credits between $5 to $7 per credit, which is incredible value for money.
Audible Special Promotions
Additionally, nearly every single week, you will receive special promotions for "2 books for 1 credit" or "Every book for $3," which are excellent deals. This means your cost per book is even lower. I have the two books per month subscription, but considering the special offers and low-cost extra credits, I estimate my average cost per book to be $8.
Is Audible Free With Prime?
No, Audible is not free with Prime or included with a Prime subscription. However, if you have a Prime subscription, you will get an extra free audiobook when you start a 30-day free trial. This means your free trial will have 2 free audiobooks rather than 1.
Audible vs. Audiobook vs. Scribd Pricing Comparison
| | | | |
| --- | --- | --- | --- |
| Audible vs. Audiobooks vs. Scribd | | | |
| Rating | ★★★★★ | ★★★★☆ | ★★★☆☆ |
| Do You Own the Audiobook? | ✔ | ✔ | ✘ |
| Lifetime Access to Books | ✔ | ✔ | ✘ |
| Audiobooks Collection | 520,000+ | 200,000 + | 40,000 |
| # Audiobooks / Month | 1 Book | 1 Book | Unlimited/Throttled |
| Bonus Books With Membership | 1 Audible Original | 1 VIP Collection | ✘ |
| Returns Policy | 1 Year No Limit | At Company Discretion | N/A |
| Family Sharing (Included) | ✔ | ✔ | ✘ |
| Membership /Monthly | $14.95 | $14.95 | $9.95 |
| Membership /Yearly | $149.50 | – | – |
| Cost per Book /Yearly | $12.45 | $14.95 | – |
| Platinum 24 Books /Yearly | $229.50 | – | – |
| Platinum Cost Per Book | $9.56 | – | – |
| Result | Winner | Recommended |   |
| | Visit Audible | Visit Audiobooks | Visit Scribd |
Audible Review: Content
Over the past few years, I have noticed the incredible growth in Audible original and exclusive content. Being an Amazon company, Audible can invest heavily in differentiating itself from its competitors.
Audible Plus (New) – 9,000 quality audiobooks available to every member for free. This separates Audible from its competitors.
Audible Originals – Produced by Audible Studios, high-quality blockbuster titles like Winter Rising by Alex Callister (11 hours 31 minutes)
Audible Original Podcasts – Free Podcasts Exclusively from Audible, featuring big names such as Stephen Fry's "Victorian Secrets" (7 hours 40 minutes)
Audible Theatre – High-end theater production from great names, for example, Stories by Heart by John Lithgow
Audible Review: Sound Quality
Audible offers two formats, Enhanced and Format 4. Format 4 has a 32 kbps bitrate for those who value storage space rather than audio quality. The Audible Enhanced Format is currently at 64kbps, higher than its closest competitor Audiobooks.com which uses 32kbps. Audible is also experimenting with a bit rate of 128kbps.
I download all my books in Enhanced format, which is exclusive to Audible. Audiobooks in Enhanced format are minimally compressed, so their audio quality is the best on the market. This means the audiobook file is larger and takes more time to download.
Audible vs. Audiobooks.com Library & Audio Quality Comparison
| | | |
| --- | --- | --- |
| Audible vs. Audiobooks Product Comparison | | |
| Audiobook Type | Full | Full |
| Do You Own the Audiobook? | ✔ | ✔ |
| Lifetime Access to Books | ✔ | ✔ |
| Audiobooks Collection | 220,000+ | 200,000+ |
| Audio Quality | Excellent (64kbps) | Good (32 kbps) |
| Free Podcasts | ✔ | ✔ |
| Exclusive Content (Podcasts & Original Productions) | ✔ | ✘ |
| Podcasts | ✔ | ✔ |
| Result | Winner | |
| | Visit Audible | Visit Audiobooks |
Audible Customer Service & Returns Policy
One of the most important reasons why Audible is the clear winner for me is that they have the industry's best returns policy. If you do not like a book, for whatever reason, the narrator, the plot, or it is merely dull, you can return your book within one year of purchase.
Great Listens Guarantee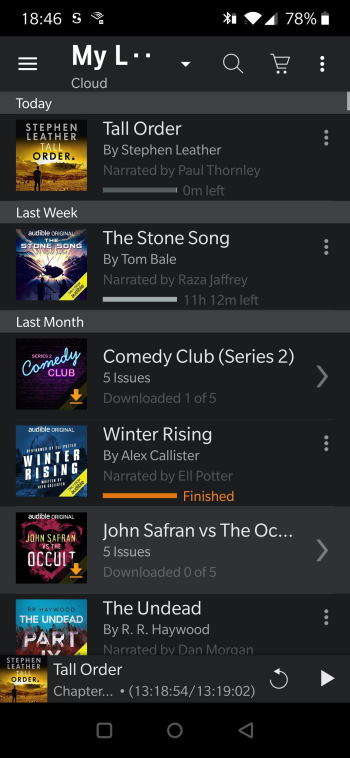 "For me, one of the essential elements of books or audiobooks is that you get to keep the books you pay for. I own nearly 300 titles with a value of $4,500, and I am pleased that I can hand them down to my children in the future."
Some services, such as Scribd, offer an unlimited listening subscription, but you are really just borrowing the book for the duration of your subscription. When you end the subscription, you have nothing.
With Audible, you can still log in and use the app even after ending the subscription.
There is nothing worse than paying for a book that you ultimately dislike; Audible solves this problem with their "Great Listens to Guarantee."
You can go to Account -> Purchases -> Click Return Title, and you are immediately refunded your credit.
I would know, I have returned at least 50 books for numerous reasons, and never once have they said no.
Finally, you can contact Audible via phone, chat, or email. I have used chat many times, and they are available instantly 24/7 with no wait; that is an excellent service.
Audible App & Device Compatibility
Play Store App Rating – 4.6 ☆ Excellent
Having used the Audible app for so long, I can safely say it is rock solid, easy to use, and actually perfect.
The Audible App has the following key features:
Car Mode – Makes the app simple to use when driving with bigger buttons.
Books Sharing – Send a Book to a Friend or share your progress
Clips, Bookmarks & Notes – saving sound clips and making notes
Sleep Timer –  useful for listening when you go to bed, so it does not play all night
Variable Speed Playback – great for slow narrators or digesting long books quicker
Your Audible books will play on all devices from Apple, Android, Smart TVs, and even the Amazon Alexa smart speaker will read them to you.
How Many Books Are Available on Audible?
There are over 520,000 audiobooks available on Audible. I went to every category section on Audible to accurately count the total number of books, Audible has the largest collection of audiobooks on earth.
Audible Audiobook Download Speeds
Downloading an Audiobook to your phone is incredibly quick, even with enhanced mode quality. Within 30 seconds, you can start listening to a book. This is because the intelligent downloading system allows you to start listening before the entire audiobook has been downloaded.
Audible Customer Satisfaction
They say customers vote with their feet; if this is the case, our recent audiobook survey suggests that Audible Customers are thrilled. Audible was the most popular choice of Audiobook service amongst our 1,000 people poll.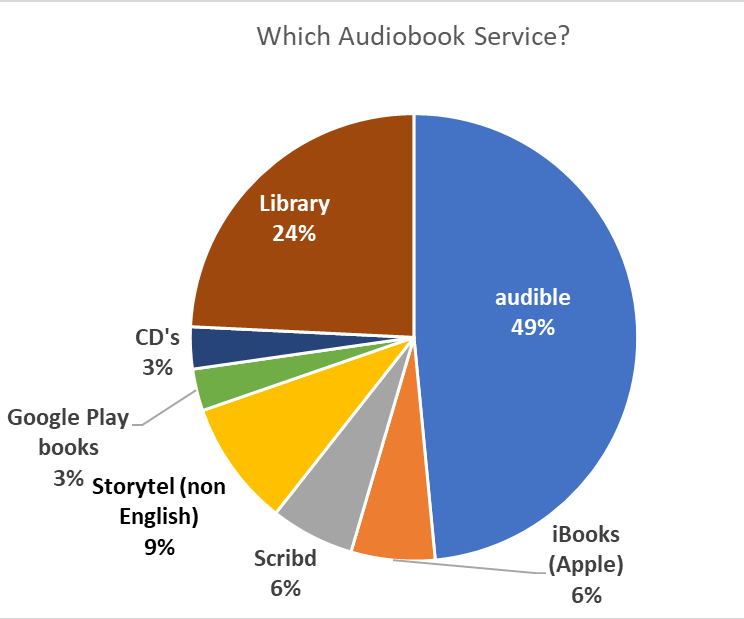 Audible Review Summary
Audible wins our Audiobooks review, with the largest library, a 1-year returns policy, and 9,000 high-quality free books in the Audible plus catalog. As part of your membership, you will also receive access to Audible Original and Audible Studios productions and a wealth of high-quality exclusive podcasts. I have been a member since 2011 and find the service unbeatable for value and selection.
Video: Why the world loves Audible
Audible Features, Benefits & Costs Table
Audiobook Service
Our Rating
☆☆☆☆☆
Audiobook Type
Full
Do You Own the Audiobook
✔
Lifetime Access to Books
✔
Audiobooks Collection
200K+
Membership /month
$14.95
Membership /yearly
$149.50
# Audiobooks
1 /month
Cost per book /monthly subscription
$14.95
Cost per book /yearly subscription
$12.45
Subscription Required
Yes
Audio Quality
Excellent
Books Returns Policy
1 Year
Unlimited
Customer Support
Phone, Chat, Email
Special Services
Audible Original Podcasts
Podcasts
✔
App Store Rating
4.6 ☆
Devices
iPhone, Android, PC, TV, Alexa, Kindle, Fire TV
Smart Speaker
Alexa
Table 1: Audible Audiobook Service, Features, Benefits & Costs
Audible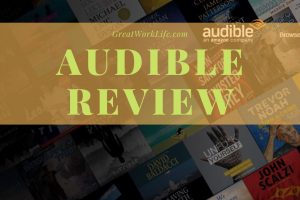 Audible has the largest library of audiobooks on the planet, offering over 200,000 books. As part of your membership, you will also receive access to Audible Original and Audible Studios productions and a wealth of high-quality exclusive podcasts.
Product SKU: NA
Product Brand: Audible
Product Currency: USD
Product Price: 7.95
Price Valid Until: 2025-06-01
Product In-Stock: InStock