Udemy is the largest online learning platform offering over 155,000 video courses through its platform. The enormous number of courses allows Udemy to offer classes in an incredible variety of subjects ranging from Python for Data Science and Machine Learning Bootcamp to Tarot Card Reading. You can even study Witchcraft at Udemy.
Despite the questionable nature of some of its courses, Udemy offers many legitimate courses that teach genuine academic subjects, technical knowledge, and job skills. There are many courses in Data Science, Web Development, and Drawing available at Udemy. Udemy also offers many academic courses for people who need basic education. There are courses in English Grammar and Algebra at Udemy, for example. The major benefit of Udemy is the sheer number and variety of its courses.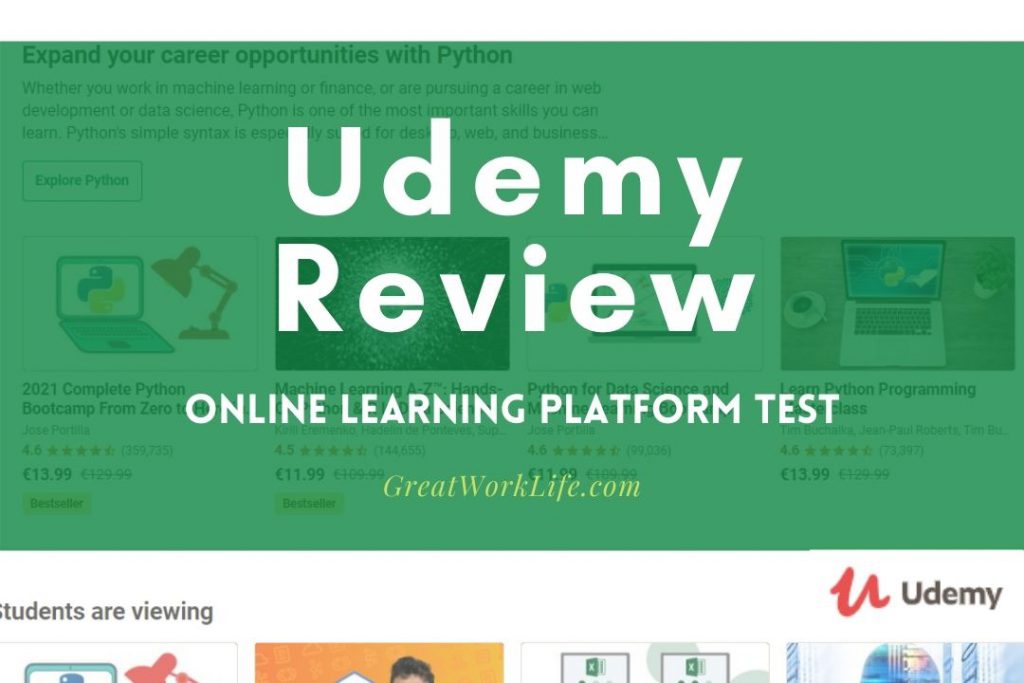 Udemy Review & Test Results
Udemy offers a huge selection of online learning courses to improve your skills in specific topics. Despite initially offering many low-quality classes, Udemy now attracts many top educators. Compared to the competition, Udemy courses are good value for money and do not require a monthly subscription.
Udemy Pros
Over 155,000 courses are available.
Offers courses in over 65 languages.
80% of Fortune 100 companies use its courses.
Courses available on mobile and TV.
Udemy offers deep discounts from $12.99 per course.
No monthly subscription is required.
Udemy has courses for teams to study together.
Udemy Cons
Udemy offers courses in subjects many people will consider pseudoscience and charlatanism. For example, Witchcraft, Crystal Energy, Energy Healing, and Aromatherapy.
Many Udemy courses are not accredited.
Many employers do not accept Udemy certificates because Udemy is not an accredited educational institution.
What is Udemy?
Udemy claims to be a global marketplace for teaching and learning. Udemy is one of the largest online educational resources claiming to offer 155,000 courses to 40 million students in over 65 languages. Udemy suggests it has 70,000+ instructors teaching on its platform.
Udemy offers video courses through its platform to private and enterprise customers claiming that over 80% of the Fortune 100 companies use its platform. Customers include Adidas, Lyft, General Mills, Volkswagen, Pinterest, and SurveyMonkey.
Most of Udemy's courses are in technical subjects such as Data Science, Web Development, and programming language such as Python. However, Udemy also offers courses in general business subjects such as financial analysis and marketing.
Unlike most education platforms, Udemy offers classes in art subjects such as music, photography, graphic design, and drawing. Another unique feature of Udemy is the many courses in spirituality and personal development. Udemy even offers courses in learning skills and memory improvement.
How does Udemy work?
Udemy offers paid access to tens of thousands of video classes through an online platform. While most courses range from $15 to $200, there are also free courses available.
Customers access the courses through computers, phones, tablets, and smart devices such as TVs. Teams can take many courses Udemy together.
Many Udemy courses include hands-on, real-world activities such as writing Python programs. Udemy offers intensive boot-camp-style courses to offer introductions to skills and technologies for individuals and teams.
Udemy is a for-profit company that makes money by charging for courses.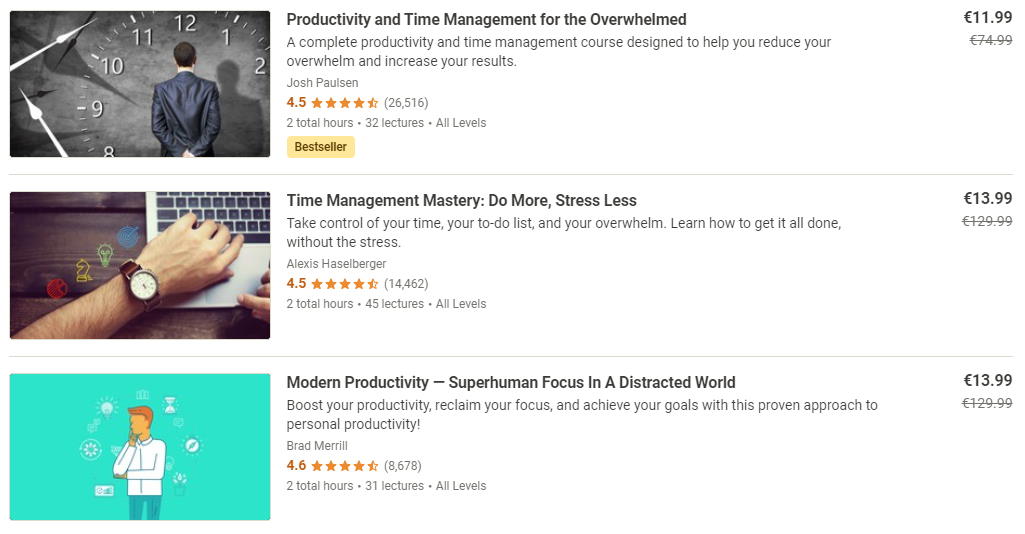 Who is Udemy Best For?
I think Udemy is best for people who need an intense introduction to a subject. For example, a software engineer needs to learn python or an executive who wants to understand data analysis or data science.
Udemy is also a good resource for people who want to receive education in the visual arts such as drawing and photography. The Udemy platform offers many courses that emphasize drawing skills.
Udemy is best for people without access to traditional education who need or want to learn specific skills. I think Udemy is an excellent resource for people seeking a new hobby.
Udemy also offers courses for teachers and some health and fitness courses. Udemy could be useful for people thinking of changing careers. A journalist who is interested in creating a blog or an artist investigating software engineering, for example.
Udemy could be an excellent resource for teenagers preparing for college or adults who are preparing to go back to school. Udemy could help such individuals with Learning Strategies, Communication Skills, Speed Reading, English Grammar, and Algebra courses. Although Udemy offers no college credit, it could give college-bound people the skills and knowledge they need to succeed at university.
Udemy is also best for people who need basic or refresher education in academic subjects. A German-speaking person needs to learn English, for example, or an English speaker who needs to understand Japanese. There are also courses in maths for those who need additional mathematics instruction and introductions to religion and psychology.
Some of the people Udemy is best for include:
Engineers
Business professionals
Artists, Hobbyists, Musicians
Journalists
Data scientists
Freelancers
Gig-economy workers
Programmers
Non-English speakers
College-bound teenagers
Homeschoolers
People changing careers
What Can You Learn/Types of Courses?
Udemy's scale means you can learn practically anything, from IT skills, leadership, accountancy, investing, photography, languages, and sign language. There are courses on spirituality, religion, yoga, machine learning, and even ethical hacking.
How Many Courses does Udemy Offer?
Udemy claims to offer over 130,000 video courses and over 155,000 courses. Courses are added to Udemy every day. Udemy typically has longer duration courses than SkillShare, averaging from 2 hours to 30 hours. Additionally, there 586 free Udemy courses.
How Many Students Does Udemy Have?
Udemy has served over 40 million students and recorded 480 million enrollments. In addition, Udemy has branched out to business users claiming over 7,000 enterprise customers covering 80% of Fortune 100 companies.
How much is Udemy Premium?
Udemy has no premium classes. Instead, Udemy offers different kinds of classes at different prices. Udemy Masterclasses cost around $129.99, Udemy Boot Camps cost around $139.99 each, and Python Mega Courses cost around $149.99. Note some Udemy Boot Camps cost around $94.99.
How much does Udemy cost?
Unlike SkillShare, you do not need a monthly subscription to Udemy. There is no set price for Udemy classes. Instead, typical Udemy courses cost between $94.99 and $149.99. However, students who shop around can find select Udemy courses at prices as low as $12.99.
Why do Udemy Course Prices Change?
When you first visit Udemy, you will see the courses sold at significant discounts, as low as $12.99.  But if you visit a week later, you will see the same courses at full price. This is because Udemy offers big discounts to first-time learners. If you want to get the lowest prices, you need to clear the cookies in your browser, and then Udemy will think you are visiting for the first time and give you the lowest price.
Does Udemy have a student discount?
Udemy has no student discount. However, Udemy offers steep discounts to all users. Udemy often runs sales on select courses such as Python programming, for instance. I found a Machine Learning A-Z: Hands-On Python & R In Data Science class for just $12.99 on April 17, 2021. The same class normally costs $94.99.
Udemy offers organizations flat prices to the 155,500 courses on Udemy.com in its Udemy for Business. However, you will have to contact Udemy to get the prices for the Business courses.
Is Udemy Free?
Yes, and no. Udemy charges for the vast majority of its courses; this means the instructors earn money for their efforts. However, Udemy does offer 586 Free Courses in its free learning resources center.
Is Udemy accredited?
Yes, and no. Some Udemy courses are accredited, for example, a Professionally an NLP Certification Diploma. However, most Udemy courses are not accredited. The Udemy listings will tell you which Udemy courses are accredited. Notably, Udemy does not charge extra for accredited courses.
Does Udemy have certificates?
Yes. Udemy offers certificates, including some accredited certificates for courses. Most Udemy certificates are only a record of course completion and not accreditation. Some employers will accept Udemy certificates, but many employers will not recognize unaccredited certificates.
Do Udemy certificates matter?
Some Udemy certificates matter because businesses accept them. Plus, some Udemy certificates are accredited. Conversely, Udemy's website admits many Udemy certificates are not accredited. Many employers will not recognize Udemy certificates because they are not accredited.
Is Udemy an accredited educational institution?
No, Udemy is not an accredited university or college, and their instructors are not required to have any formal education in teaching.
Do Udemy courses count as credit towards college degrees?
No, Udemy courses do not count as credit towards college or university degrees, but that does not mean they will not boost your resume.
Is Udemy legit?
Yes, Udemy is a legitimate educational resource used by many large companies, including Volkswagen, Kaiser Permanente, General Mills, Adidas, and General Mills. However, Udemy is not an accredited educational institution, and its courses do not count as credit towards college degrees. Instead, Udemy is an alternative to traditional educational institutions.
Many people will consider some Udemy courses, such as Crystal Energy and Energy Healing, illegitimate. Those classes comprise only a small percentage of the Udemy curriculum.
A good way to think of Udemy is as purpose-driven education. I think purpose-driven education is a legitimate concept, but the traditional educational establishment does not recognize it.
Is Udemy worth it?
Yes, Udemy is worth it for people who need to learn specific skills for their jobs or hobbies. In particular, Udemy will help non-technical people who need instruction in common tools such as Microsoft Office.
Udemy is also worth it for people who want basic education in the visual arts such as drawing and photography. Its courses offer good introductions to those subjects. Udemy's boot camps will be worth it for teams that need an introduction to a piece of software or a suite of software tools such as Microsoft Office.
Another group who could find Udemy worth it is people who need to increase their knowledge of basic academic subjects. A person who never studied Algebra in school, for example.
People who need to increase their foreign language skills could also benefit from Udemy. A person who studied English in school but does not understand English grammar could find Udemy worthwhile.
Udemy could also be worthwhile for people seeking more personal development and trying to improve their learning ability. It offers courses in Personal Productivity, Speed Reading, Mindfulness, Memory, and Communications Skills.
However, I do not think Udemy is worth it for people who need intensive technological education in complex technical subjects such as Programming for Data Science with Python. I consider Udemy's courses too short to offer adequate instruction in complex subjects.
Instead, I think platforms such as Udacity or Massive Open Online Courses (MOOCs) from universities could better serve engineers or computer scientists in need of more in-depth education. One advantage to MOOCs is that they can prepare you for college courses. Another attraction is that many MOOCs are free.
Final Thoughts
Udemy exemplifies both the strengths and weaknesses of skill-based education and online courses. The strengths are easily accessible courses that offer education in an incredible variety of subjects. The weaknesses are a lack of accreditation and the shallowness of some of the courses.
Udemy offers one of the largest catalogs of courses and many classes not found elsewhere. In particular, Udemy offers courses in areas other educational platforms do not cover. Udemy offers courses in drawing, healthcare, and music, for example.
I think Udemy has trouble with the border between education and entertainment. Many Udemy courses, such as Crystal Energy, seem to be offered for their entertainment value rather than educational content. However, the vast majority of Udemy courses appear to have been chosen for educational content.
One advantage to Udemy is that it offers courses that can increase your knowledge and skills in a wide variety of subjects. For instance, the Udemy platform offers courses in English, Maths, grammar, graphic design, and languages.
Thus, people beyond tech workers could benefit from Udemy. High school and other students could use Udemy to study subjects not offered by their local schools. A 12-year-old who is interested in Algebra or German could study those subjects on Udemy.
That means Udemy could be of use to homeschoolers or families that live in areas with deficient school systems. A student preparing for college could increase her skills by taking Udemy's maths or business courses.
Udemy shows that online education can offer an incredible variety of courses. However, Udemy also shows that online education can be superficial, limited, and uncredited.
If you are seeking an easy-to-access online education platform that offers many courses, Udemy is for you. MOOCs and specialist education platforms could better serve those seeking intense education in specific subjects.
Udemy is an educational platform that everybody should investigate. However, Udemy will not fulfill everybody's educational needs.