This Masterclass review discovered that high-quality, entertaining education is both fun and addictive. Major celebrities provide insights into the success and skills they have mastered in their careers.
I have been a subscriber to Masterclass for over three years, and I hope my experience and insights will help you decide if it is worth your money. I have also partnered with MasterClass because I love the product. However, this review will provide a balanced discussion and list the real Pros and Cons of the platform because MasterClass is not for everyone.
Can stars be transformed into educators? That's the question David Rogier asked when he founded MasterClass. MasterClass is a digital platform that offers short videos of famous people teaching lessons in their areas of expertise. Each lesson is presented in 10-minute videos to make education accessible and entertaining.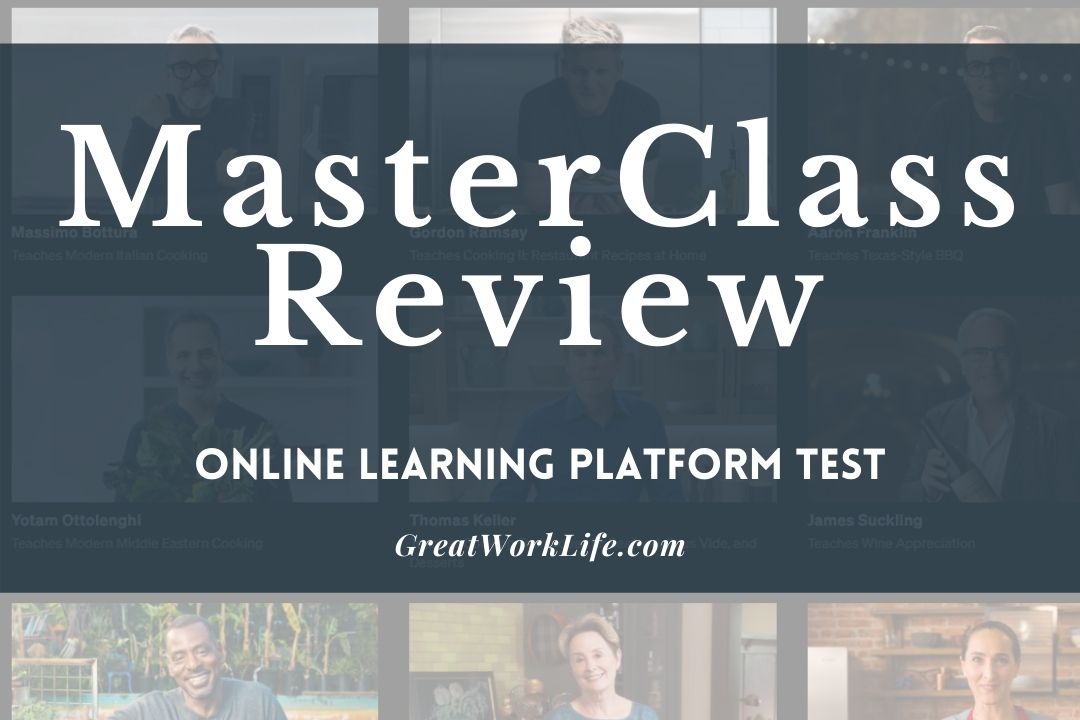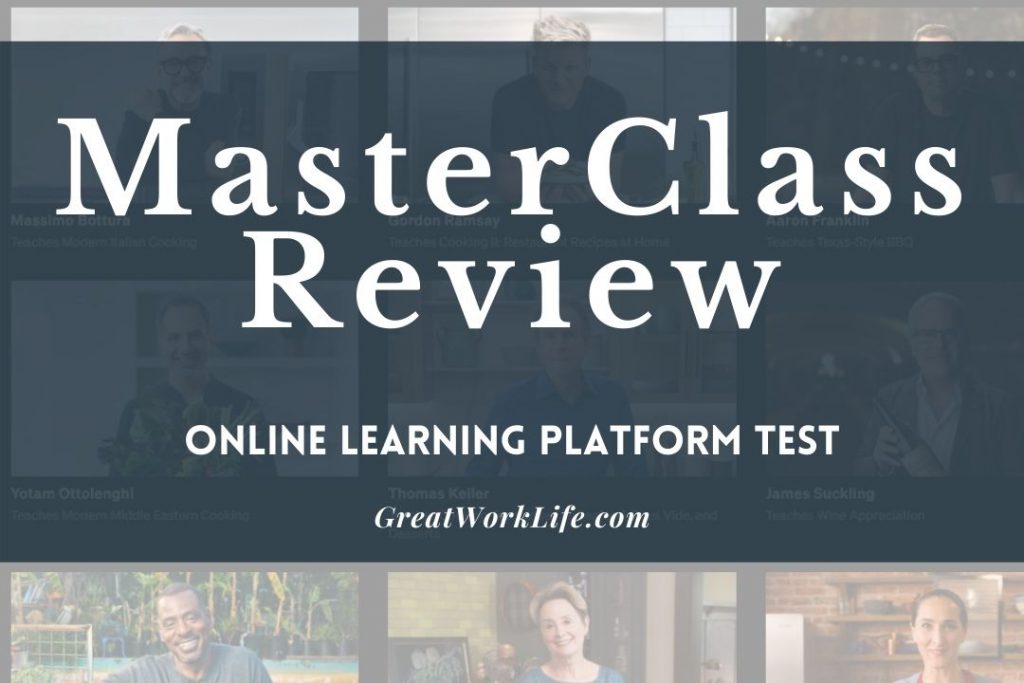 Masterclass Review Summary
I tried Masterclass for two years and found the courses entertaining and educational. You can learn some useful skills. But the novelty of Masterclass might wear off after a while.
MasterClass tries to make education accessible by allowing users to stream over 100 lessons taught by celebrities in various fields for around $15 a month. The idea is that people who would never stream a traditional online class could watch a video of Samuel L. Jackson teaching acting or a cooking lesson from Chef Ramsey. To see how star-power-driven education works, you need to examine MasterClass.
Masterclass Review: Rating
| | |
| --- | --- |
| Masterclass Rating | 4.6/5.0 |
| 💸 Pricing | ★★★★★ |
| 📰 Courses Library | ★★★★✩ |
| 🔍 Course Quality | ★★★★★ |
| ↩ Returns Policy | ★★★★★ |
| ☎ Customer Support | ★★★★✩ |
Masterclass Review: Features
| | |
| --- | --- |
| ⚡ Features | 360+ Courses |
| 🏆 Unique Features | Access to all courses |
| 🎯 Best for | Learning New Skills |
| ♲ Subscription | Monthly, Yearly |
| 💰 Price | $16/mo |
| 💻 OS | Web Browser, IOS, Android |
| ✂ Discount | Two memberships for 1 |
| 🌎 Region | Global |
MasterClass Pros
Courses are based on real-world knowledge and practical insights
Celebrity teachers are leaders in their field.
Low price of $16 a month or $180 a year.
Great-looking videos with high-production values.
Very entertaining classes.
Great insights into artistic topics such as screenwriting or fiction.
30-day money-back guarantee.
Easy to use, accessible platform.
The platform is fun.
Available through Roku, Amazon, Google Play, and the Apple App Store.
MasterClass Cons
MasterClass is not associated with an accredited university.
No credit towards university or college degrees.
No grades or records of what you learned are available.
No certificates or accreditation are offered.
Few courses in usable or marketable skills beyond writing are available.
There is no formal curriculum behind the MasterClass courses.
What is MasterClass?
MasterClass is an edutainment platform that runs on star power. The platform offers dozens of video classes taught by celebrities. Chef Gordon Ramsey teaches cooking, Joy Luck Club novelist Amy Tan teaches writing, and Martin Scorsese teaches directing. The idea behind MasterClass is that stars teach and inspire people.
One obvious notion at MasterClass is to have successful people share their secrets with everybody else. For instance, former Disney CEO Bob Iger shares his advice on leadership at MasterClass. MasterClass could be a good resource because it offers lessons from people who would never step into a traditional classroom.
The emphasis at MasterClass is on conversational skills and hobbies such as cooking and gardening. Each class consists of around 20 lessons of 10 minutes. The idea is to create short video courses that people can watch in their spare time. One way to think of MasterClass is as education as entertainment.
The problem with this format is that a 90-minute class is not enough time to learn anything in-depth. Notably, it is hard to see how complex topics such as leadership can be taught in just one hour.
Many cynics will complain that all MasterClass offers is platitudes and celebrities' opinions about subjects. But the reality is that you can learn a lot from these online courses; for example, when I took the Serena Williams teaches tennis class, she provided many practice drills to improve my tennis game.
All the videos at MasterClass are slick and feature Hollywood-level production values. Moreover, many MasterClass courses are captivating because they are taught by professional entertainers such as Samuel L. Jackson.
The most attractive feature of MasterClass, however, is the price. A subscription costs just $15 a month.
Is MasterClass worth it?
Yes, MasterClass is worth it if you seek entertaining insights into creative or sporting endeavors. The Hollywood-level production quality and the obvious mastery of the celebrities teaching the classes make it a unique, compelling, and engaging learning experience.
My wife and I enjoyed the Gordon Ramsay cooking lessons; I learned how to make Beef Wellington and made it for Christmas. I also learned the secret to Texas BBQ from Aaron Franklin; now, I love making Brisket. My daughter learned skateboarding from Tony Hawk, and my son enjoyed basketball lessons from Steph Curry.
One of the ideas behind MasterClass is to make education fun, appealing, and accessible to people who hate the education system. The idea is to offer learning and education in another, more attractive form. For example, a person who would never attend an acting class could learn something from a Samuel L. Jackson acting lesson.
Hence, MasterClass is a new kind of education. However, it is not clear how effective that education is. Many people will dismiss MasterClass as entertainment disguised as education.
In my opinion, MasterClass is better viewed as a kind of entertainment than education. I consider MasterClass entertainment because it offers insightful information from colorful people.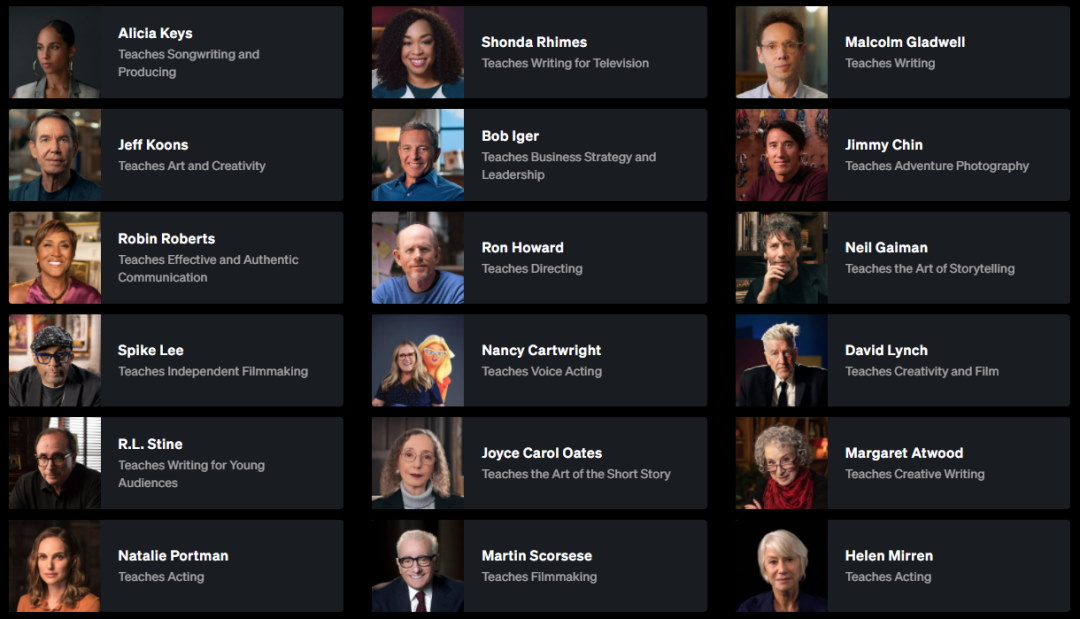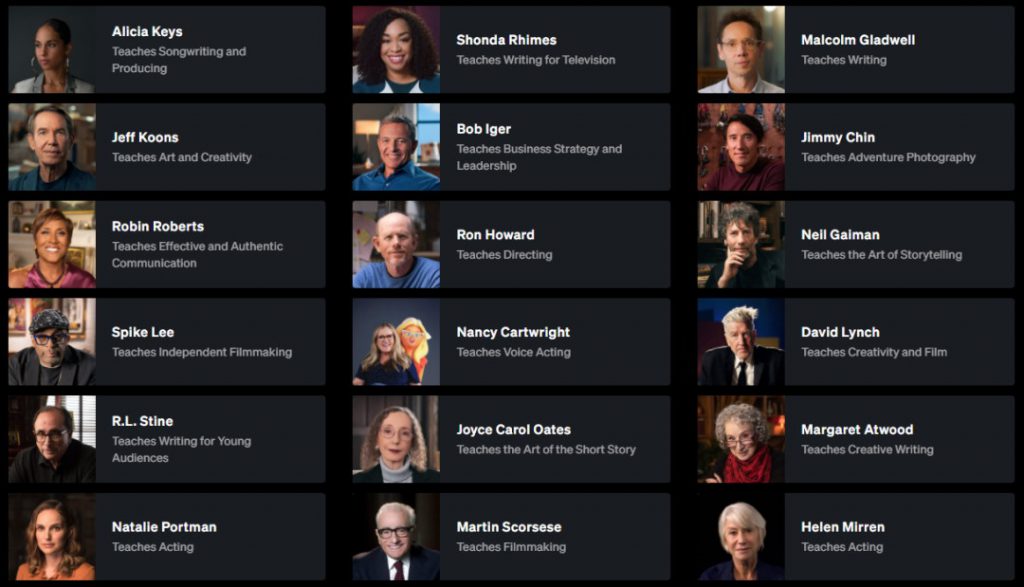 What Can You Learn On MasterClass?
MasterClass lessons are extremely diverse, teaching writing, yoga, storytelling, sales, dog training, interior design, and even how to become a DJ. Learning opportunities include making dance music, baking, negotiation, creativity, scientific thinking, wine appreciation, and basketball. There are many sports, writing, and entertainment-related courses.
How Many Courses does MasterClass Have?
Our testing reveals that MasterClass offers 340 different classes, ranging from 20 minutes to 90-minutes. There is a wide variety of lessons, from Cooking to Voice Acting to Playing the Violin. So you may not be interested in them all.
How Many Students Does MasterClass Have?
We do not know how many MasterClass subscribers there are because CEO David Rogier refuses to reveal the number of MasterClass subscriptions. In May 2020, Rogier told Forbes that demand for MasterClass's courses was surging because of the coronavirus.
How does MasterClass work?
MasterClass leverages celebrity and star power to turn education into entertainment. Essentially, MasterClass asks famous people to teach the skills and knowledge that made them famous. This is what makes it unique and compelling.
The idea at MasterClass is to have successful individuals and leading figures in their fields rather than professional educators teach the classes. Hence MasterClass courses are based on the real-world knowledge and experience of masters in their field.
MasterClass operates a platform that gives students access to all lessons from all teachers for a flat $15 a month or $180 a year subscription. MasterClass is a Silicon Valley Startup that raises money through venture capital.
How to Watch MasterClass
You can watch MasterClass online with a web browser or the MasterClass Apps available on Apple, Google, and Amazon Stores. MasterClass also has a channel on Roku.
If you have a smart TV, you can usually screen share your phone and run MasterClass through the App to display it on the TV. The biggest challenge is watching MasterClass on a normal TV; you have no chance if your TV is not smart.
Is MasterClass legit?
Yes, MasterClass is legitimate, but it does not offer accredited university courses. Instead, MasterClass's courses offer only information and entertainment. The celebrities who teach the courses and the information they offer are real.
MasterClass is not formal education. It offers no grades and has no accreditation. Instead, MasterClass tries to offer useful information in a new and entertaining form.
Who Owns MasterClass?
MasterClass is a for-profit company that has raised over $240 million in venture capital since 2015, Forbes reports. Its founder and chief executive officer, David Rogier, has a Master of Business Administration (MBA) and is an entrepreneur, not a professional educator.
Rogier claimed MasterClass was worth over $800 million in May 2020. However, Rogier refuses to reveal many details about MasterClass, including the number of students it serves.
Cynics will note, correctly, that MasterClass requires you to pay for content similar to the free lessons you can find on YouTube. The difference is that celebrities do not teach YouTube courses.
Thus what you are paying for at MasterClass is the celebrities, not the actual lessons. Free videos from YouTube and other sources could provide better lessons with more comprehensive information than MasterClass offers.
Frequently Asked Questions
Is MasterClass Free?
No, MasterClass is not free, but they have a 30-day money-back guarantee if you sign up. So you could theoretically watch Masterclass for 29 days and then cancel your subscription and request your money back.
How much is MasterClass?
A MasterClass subscription costs $15 a month or $180 a year. The annual subscription is a $180 one-time payment. There is a 10% to 30% discount for organizations that purchase over 20 memberships. Additionally, you can gift MasterClass to a friend for free for one year.
Does MasterClass have a student discount?
No, there is no student discount for MasterClass. However, there is a 10% to 30% discount for MasterClass for Business. MasterClass for Business offers group rates to organizations that buy over 20 memberships.
Is MasterClass accredited?
No, MasterClass courses are not accredited. No organization accredits MasterClass courses. MasterClass does not need accreditation because its business model offers education as entertainment.
Is MasterClass associated with a University?
No, MasterClass is not associated with any formal educational institution or organization. MasterClass does not provide an accredited education. A traditional college or online vocational class will better serve people seeking an in-depth education.
Is YouTube better than MasterClass?
MasterClass is better than YouTube for unique exclusive celebrity content with Hollywood production value. The wealth and diversity of high-quality YouTube content for free also make it a compelling free option.
Can I watch MasterClass on Roku?
Yes, you can access and watch MasterClass lessons through the Roku Channel Store.
Can I watch MasterClass on Amazon?
Can I watch MasterClass on Google Play?
Can I watch MasterClass on Apple?
Yes, you can download the MasterClass App from the Apple App Store.
Can I watch MasterClass on YouTube?
MasterClass has a YouTube Channel, but it is for marketing purposes only. You will not find Masterclass celebrity classes on YouTube.
Can you use MasterClass credits towards degrees at universities or colleges?
No, MasterClass courses are not accredited college classes. Therefore, you cannot earn credit towards any degree at MasterClass.
Does MasterClass have certificates?
No, MasterClass does not offer certificates. There is no record that you have taken the course or learned anything from it.
Are MasterClass courses graded?
No, MasterClass does not grade or evaluate its students because its courses are not accredited. Thus there is no record of your performance in a MasterClass course. The lack of grades makes it hard to compare MasterClass to other online education providers.
Why are Masterclass courses not accredited?
You can argue that a lack of grades makes MasterClass more informative. People will concentrate on the actual knowledge being presented rather than getting the grade. They will teach practical skills or knowledge rather than try to earn a grade.
Is masterclass worth it?
Yes, I tested MasterClass with my family, and we all agreed MasterClass is definitely worth it. We enjoyed watching MasterClass together, learning, and being entertained.
Who owns Masterclass?
MasterClass is a privately owned company owned and founded by Aaron Rasmussen and David Rogier. Other investors are Fidelity, UTA Ventures, Baillie Gifford, IVP, and NextView Capital.
Is Masterclass a reliable source?
Yes, Masterclass is a reliable source of entertainment and education. I have taken at least 20 classes and found them to be accurate and reliable. The celebrity teachers stamp their approval on the courses.
MasterClass Summary
My family and I thoroughly enjoy using MasterClass. Its high production quality and engaging teacher means that even if you are not looking to master a topic, you will be entertained by the class. MasterClass is the most entertaining education you will ever have.