I graduated from the Manchester Metropolitan University Business School with a degree in Business Administration in 1994.  You leave business school with some core concepts about how business works, an academic understanding of marketing, sales, finance, strategy, and management.  Unfortunately, the only thing an MBA will get you is an interview; the rest is down to you.
But what if you could understand all the key concepts taught in the leading MBA programs, including Harvard, Wharton, and others, without spending $80,000 on an MBA.
Well, you can, and what is even better is that you could do it in one single day. Yes, really, if you do it yourself, 8 hours of concentration will enable you to get understand the principles of an entire MBA course.
Even better than that, you could do it with 8 hours of listening to Audiobooks.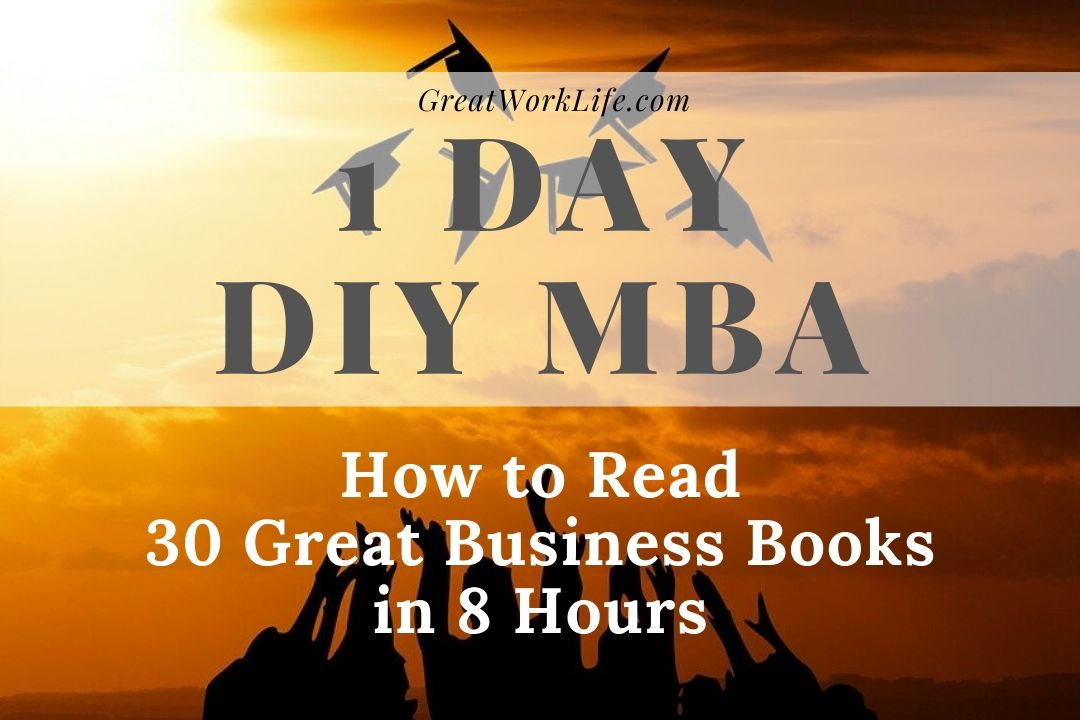 Who is the 1 Day MBA for?
The Do It Yourself One Day MBA is for those of you who:
Do not have the time to study for an MBA
Do not have the $80,000 to study for an MBA
Run a business and want to crucial concepts to scale and improve it
Want to Start Your Own Business and Need Key Marketing and Entrepreneurial Skills
Want the best business reading list possible
How I Created the DIY 1 Day MBA
I spent over 100 hours sifting through leading business school websites to see which books were on the core curriculum and recommended reading lists for their MBAs.
I read every single book on this list.
When I say I read every book, I mean I listened to every book, as audiobooks have so many benefits over print books.
And when I say I listened to every book, I mean I listened to the Audiobook summary of every book.
I conquered 30 books with 8 hours of listening.  Of course, I did not listen to them all in one day, but you could if you wanted to.
How Is It Possible to Listen to 30 Books in 8 Hours?
A typical book takes about 6 to 8 hours to read or 10 hours to listen to in Audiobook format.  But there are companies specializing in summarizing books down to 15 minutes so that you can get the most important ideas, messages, and knowledge from that book in a short time.
30 Books Multiplied by 15 Minutes Equals 7 hours 30 Minutes of Listening.
There are two excellent book summary services, Blinkist and getAbstract. They are both excellent in their own right, getAbstract is targeted at corporations, and Blinkist is targeted at individuals.  Interested, read the article getAbstract vs. Blinkist.
I used Blinkist for the 1 Day MBA, as I have a yearly subscription with them. If you want to read all of these books in short format summaries, you will also need a subscription to Blinkist or with getAbstract.  With a subscription, you get unlimited access to their huge audiobook and eBook libraries.
Can You Teach Yourself an MBA?
Well, the answer is yes and no.  A significant part of studying for an MBA is the case studies, classwork, and presentations you need to complete. You will learn from your professors and your classmates.  However, following the reading list below and enrolling for a book summary service, you can indeed get the key principles that are highlighted during an MBA course, save yourself $80,000, and a year of your life.
DIY MBA Book List: The Best MBA Books Reading List
1 Day DIY MBA Books List
How to Get The Book

How to Win Friends and Influence People by Dale Carnegie

Leadership
How to Win Friends & Influence People is considered the quintessential self-help book. Many prominent people point to its techniques as one of the secrets of their success. The stories and lessons changed my life, and I am sure it will change yours. Carnegie's advice concrete enough for you to easily implement it in your own life.

The Hard Thing About Hard Things by Ben Horowitz

Leadership
This book focuses on why the job of a CEO is among the toughest and loneliest in the world. Insights into leadership and how you can survive all the stress and heartache involved.

Capitalism and Freedom by Milton Friedman

Economics
A true classic, Capitalism, and Freedom (1962) is one of the most influential books on the relationship between economic and political freedom. Written at the height of the Cold War between Soviet socialism and Western capitalism, Milton Friedman argues that only free markets can guarantee liberty. His theory remains every bit as relevant and thought-provoking today as when it was first published.

Thinking, Fast and Slow by Daniel Kahneman

Leadership
Daniel Kahneman's Thinking, Fast and Slow (2011) – a recap of the decades of research that led to his winning the Nobel Prize. He contributed to our current understanding of psychology and behavioral economics. Kahneman and his colleagues have significantly contributed to a new understanding of the human mind. We now have a better understanding of how decisions are made, why certain judgment errors are so common, and how we can improve it.

Purple Cow by Seth Godin

Marketing
Transform Your Business by Being Remarkable
Seth Godin is a marketing legend, and he explains why traditional marketing no longer works, and why to be successful, you need to build Purple Cows. These are remarkable products and services that stand out from the crowd. They also explain how you can reach your target market once you've found your own Purple Cow.

The 4-Hour Workweek by Timothy Ferris

Digital Economy
The 4-Hour Workweek (2009) describes the life of the New Rich, people who've emancipated themselves from the slavery of office work and built a life centered around happiness in the here and now. If you want to lead such a life too, you'll have to start by being more productive, outsourcing most of your work to third parties, and finding a source of continuous, almost entirely passive, income.

True North: Discover Your Authentic Leadership by Bill George

Leadership
True North (2007) is a guide to discovering your inner compass and staying true to yourself while developing the skills you need to be an authentic leader. By uncovering your values and motivations, you'll gain the tools you need to build a professional life that remains true to who you are.

Scaling Up Excellence by Robert Sutton and Huggy Rao

Leadership
Scaling Up Excellence is the first major business publication that deals with how leaders can effectively spread exemplary practices in their organization. Covering the latest research in the organizational behavior field with lots of insightful industry case studies, and many helpful practices & strategies. Leaders and managers can understand major scaling challenges and show how to identify excellent niches, spread them, and cultivate the right mindset within their organizations.

The Wisdom of Crowds by James Surowiecki

Leadership
Why the Many Are Smarter Than the Few
The Wisdom of Crowds examines why, and under which circumstances, groups of people derive better solutions to problems than any one person, even if that person is an expert. By analyzing the way individuals and groups make decisions, the book gets to the bottom of the wisdom of crowds and shows how this wisdom can be used to make reliable decisions.

Good Strategy, Bad Strategy by Richard Rumelt


Strategy
Good Strategy, Bad Strategy dissects good strategies by using historical examples from a variety of fields and offers insight into developing your own effective strategies through practical advice and a clear blueprint.

Pour Your Heart Into It by Howard Schultz

Strategy
How Starbucks Built a Company One Cup at a Time
Pour Your Heart Into It takes you on an interesting journey of how Starbucks came to be a success. It sheds light on its beginnings, reveals how the quick growth rate was possible, and sets out to explain how businesses can learn from its strategies and principles.

The Lean Startup by Eric Ries

Strategy
The Lean Startup (2011) helps start-ups and tech companies develop sustainable business models using continuous rapid prototyping and focusing on customer-feedback data. The method is based on the concepts of lean manufacturing and agile development, it backed up by insightful case studies from the last few decades.

Tribes We Need You to Lead Us by Seth Godin

Marketing
Seth Godin reveals the most powerful unit of social organization: the "tribe," a group of people connected to a cause who together drive change in society. It shares how we can harness the power of the internet to form and lead our own tribes. Tribes also advocates the need for change and leadership, so we can grow as a company or as a society.

How Will You Measure Your Life? by Clayton M. Christensen

Personal Development
As a leading business expert and cancer survivor, Clayton M. Christensen provides you with his unique insight on how to lead a life that brings both professional success and genuine happiness. Christensen touches on diverse topics such as motivation and how you can harness it, how to strengthen relationships with loved ones, and how to build a strong family culture.

Think and Grow Rich by Napoleon Hill

Personal Development
The secrets of 40 millionaires' wealth
The timeless classic, Think and Grow Rich (1937) investigates the methods of the 500 most successful people of this time, including the world's richest men, politicians, and famous inventors. Published amidst the Great Depression, Think and Grow Rich has sold over 100 million copies.

The 7 Habits of Highly Effective People by Stephen R. Covey

Personal Development
Learn the habits of those who achieved everything
Required reading for nearly every MBA, The Seven Habits of Highly Effective People (1989) is the influential self-help guide that teaches principles of effectiveness. Once you make these principles into habits, you'll be well on your way to more success, both in your personal and your professional life. Change your habits and your life with this must-know self-help method beloved by millions.

Mastery by George Leonard

Personal Development
The Keys to Success and Long-Term Fulfillment
Mastery reveals how you can shift your mindset to achieve long-term success in new activities. Drawing on real examples from sports, psychology, and mindfulness, this book explains the five essential elements for achieving mastery in any discipline and gives us the tools we need to bounce back from pitfalls.

The War of Art by Steven Pressfield

Personal Development
Break Through the Blocks and Win Your Inner Creative Battles
The War of Art helps you identify your inner creative battles against fear and self-doubt and offers advice on how to win those battles. An inspirational book for anyone who's had trouble realizing their passion, it offers an examination of those negative forces that keep you from realizing your dreams, and shows how you can defeat your fears to achieve your goals.

Rework by Jason Fried

Entrepreneurship
Rework (2010) throws out the traditional notions of what it takes to run a business and offers a collection of unorthodox advice, ranging from productivity to communication and product development. These lessons are based on the authors' own experiences in building, running, and growing their company to a point where it generates millions of dollars in profits annually.

Made to Stick by Chip and Dan Heath

Marketing
Why Some Ideas Survive and Others Die
Made to Stick is an excellent book that explains why some ideas become popular, while others wither and die. The book lays out the most important characteristics of what makes ideas "stick" in the mind, and how to make them work for you.

Blue Ocean Shift Beyond Competing by W. Chan Kim

Strategy
Proven Steps to Inspire Confidence and Seize New Growth
Blue Ocean Shift (2017) is a step-by-step guide to overtaking the competition in an overcrowded industry. Based on decades of the authors' practical experience, the books explain why you should drive to make competition obsolete and how you can open up new worlds of opportunity.

The Tipping Point by Malcolm Gladwell

Marketing
How Little Things Can Make a Big Difference
The Tipping Point discusses why certain ideas, products, and behaviors spread like epidemics and what we can do to consciously trigger and have control over such viral growth.

First, Break All the Rules by Marcus Buckingham

Management
What the World's Greatest Managers Do Differently
First, Break all the Rules shows how great management differs from conventional approaches. The book covers how some commonly held notions about career and management are actually misleading. Based on a large survey of successful managers the book introduces the key strategies that great managers use in their jobs.

Good to Great by Jim Collins

Strategy
Why Some Companies Make the Leap and Others Don't
Good to Great (2001) presents the findings of a five-year study by the author and his research team. The team identified public companies that had achieved enduring success after years of mediocre performance and isolated the factors which differentiated those companies from their lackluster competitors.

Now, Discover Your Strengths by Marcus Buckingham

Management
How To Develop Your Talents and Those of the People You Manage
Now, Discover Your Strengths (2004) provides insight into our strengths, where they come from, and why we should focus on them. Essentially, tips and techniques for detecting natural talents and using them to put yourself or your employees on the path to excellence.

Getting Everything You Can Out of All You've Got by Jay Abraham

Entrepreneurship
21 Ways You Can Out-think, Out-perform, and Out-earn the Competition
Getting Everything You Can Out of All You've Got (2000) is a guide to spotting new opportunities, securing new clients, and succeeding, no matter what your area of business. The book discusses how to make more out of what you already have and how best to use it to your personal and business advantage.

What Got You Here, Won't Get You There by Marshall Goldsmith

Personal Development
How Successful People Become Even More Successful!
Your people skills become increasingly important the further you climb up the ladder of success. What Got You Here, Won't Get You There (2007) describes some of the bad habits that hold back people and explains how to change them.

The Long Tail by Chris Anderson

Digital Economy
Why the Future of Business is Selling Less of More
The Long Tail challenges existing notions of the market and the entertainment industry by looking at the massive influence of the internet on the economy. Due to new modes of content creation and distribution, it can be more profitable to offer a large number and wide variety of products that appeal to niche consumer groups rather than one product aimed at the masses.

Digital Darwinism by Tom Goodwin

Digital Economy
Survival of the Fittest in the Age of Digital Disruption
Digital Darwinism (2018) provides critical insight into what makes a business disruptive and what executives should be focusing on in order to stay successful in today's fast-changing global markets.

Business Model Generation by Alexander Osterwalder

Strategy
A Handbook for Visionaries, Game Changers, and Challengers
Business Model Generation (2010) is a comprehensive guide to building innovative business models. From empathizing and connecting with customers to finding inspiration for products and learning from some of today's most game-changing platforms, these blinks will help you kick-start your business thinking. This book you will want to by in print.
Table 1: The 1 Day MBA DIY Reading List
Summary: DIY One-Day MBA
Well, I hope you found this article helpful. It is simply the single best way to absorb a vast amount of leading business thoughts, concepts, and principles. I would love to hear your feedback. Did you try it? Did it benefit you? Let me know in the comments below.