The Best Value Audiobook Summary Subscription Service by Far, With Great Narrators & Quality Summaries
Blinkist Review
Pricing

Depth of Library

Audiobook Availability

Support for Teams

Customer Support
User Ratings - Click Stars to Vote
( votes)
Review Summary
Blinkist summarizes nonfiction books so its members can get the key messages of a book in 15 minutes rather than the many hours it takes to read the book. Blinkist has a great mix of professional writers and narrators who deliver both eBook and Audiobook summaries.  At an excellent price point and a great selection of the best business, educational and self-improvement books Blinkist is my favorite service.
Blinkist Pros & Cons
What is a Book Summary Service?
Blinkist and getAbstract are both services that pay writers and narrators to summarize a non-fiction book.  A typical book might take between 4 to 10 hours to read or listen to. That is a long time to invest in learning a few key lessons. Book summary services distill the key messages and takeaways from the book and transform them into much shorter versions.
Of course, a summary audiobook service will only work with educational, self-improvement, or business books; you could not summarize a Sherlock Holmes Crime Thriller into 15 minutes, the book would be ruined.
Blinkist Review Summary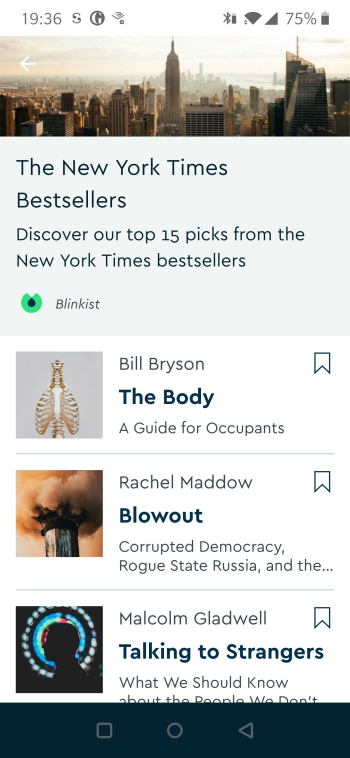 About six months ago, I signed up for a free trial of Blinkist to try out Audiobook summaries.  I liked the service so much. I purchased a yearly subscription.
As a passionate Audiobook listener, I was very excited at the opportunity to listen to an entire book in 15 minutes. Interestingly, there were books that I thought had some great messages, and I learned from them.
There were also books that I was very pleased I did not spend 10 hours reading to get that simple or even unremarkable message.
So for me, this service is great.
Blinkist is a very professional service, their narrators are first class, and the books are very logically laid out and easy to follow.
With every book summary, you get a high-quality 15-minute audiobook and a written summary of the book if you prefer to read it.
I particularly like the feature to listen to the summaries of the New York Times Bestsellers List (see image right).
The single downside for me is that you only have access to the books as long as you subscribe to the service.  This is, however, understandable because the service is unlimited listening, you do not buy a book, you buy access to all the books.
Blinkist Services, Features & Benefits
Audiobook Service
Our Rating
☆☆☆☆☆
Do You Own the Audiobook
✘
Lifetime Access to Books
✘
Audiobooks Collection
3K+
Membership /month
$15.99
Membership /yearly
$99.99
Audiobook Service
# Audiobooks
Unlimited
Subscription Required
No
Audio Quality
Good
Books Returns Policy
N/A
Customer Support
Email Only
Special Services
1 Free Book
per Day
eBooks
✔
App Store Rating
4.4 ☆
Devices
iPhone, Android, PC, Alexa
Table 1. Blinkist Services, Features & Benefits
Blinkist Pricing Plans & Cost
Blinkist Basic Plan – Free
Amazingly Blinkist allows you to register for their free plan, in which you can access a free Blink (their name for a book summary) of their choice every single day.
I assume the idea is that you will like the Blinks so much you will later upgrade to the Premium service to get access to the whole library and choose what you would like to listen to.  Of course, they are correct; this is exactly what I did.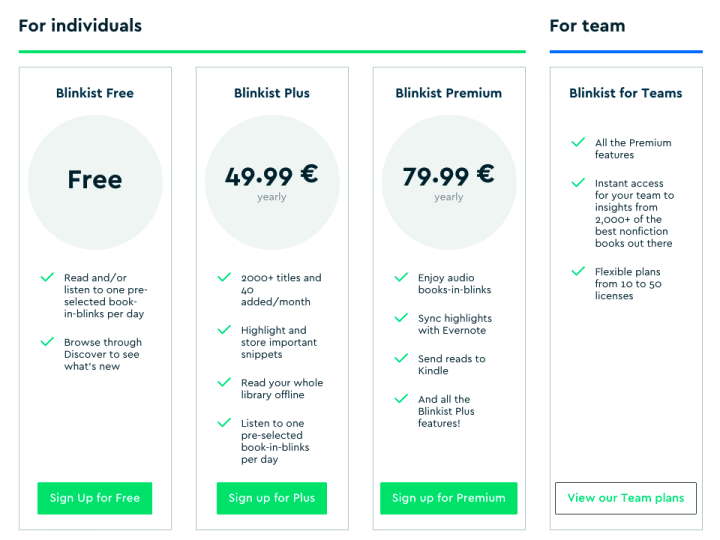 Blinkist Premium – Unlimited Summaries
Blinkist has a single premium plan that gives you access to as many books as you want.  The key difference is in the pricing.  If you opt for a monthly subscription, it costs, in the USA, $15.99 per month, meaning $191.88 per year.
However, I recommend paying for the year in advance, which is a single payment of $99.99, which gives you 12 months of access for a 45% discount, which is, in my opinion, a great deal.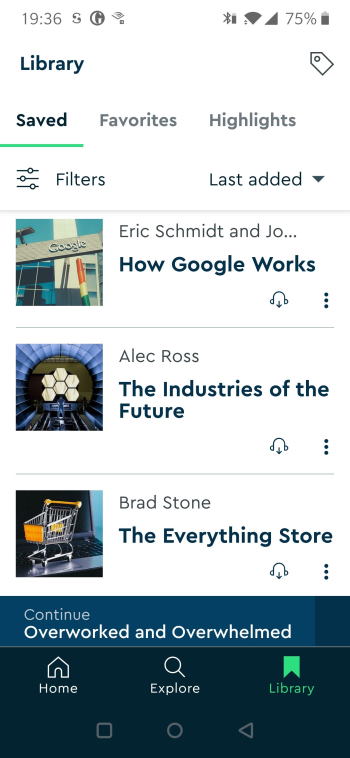 getAbstract is also an excellent service which costs $299 per year, with access to 20,000 summaries, but in terms of value for money, Blinkist is a clear winner.
Customer Service & Returns Policy
In terms of returning books, I have previously mentioned you do not actually own the books you access the service, it is more like Netflix rather than buying a DVD. So, ultimately there is nothing to return.
You can cancel your subscription at anytime online with a few clicks, and the customer services teams are available via an email or webform.
App & Device Compatibility
Playstore App Rating: 4.4 ☆ Excellent
The App itself is a breeze to use, simple and effective.
My library is well organized, and my saved books and favorite books are easy to access.
What I particularly like is the ability to highlight text in a book via the App or Browser.
You can simply select the text and click highlight, and it will be saved in your Highlight tab.
This is perfect for keeping track of those lightbulb moments or key inspiring messages in a book.
The App is highly rated in the App stores, and impressively Blinkist is also compatible with Amazon's Alexa smart speaker, so Alexa can read them to you.
Top Blinkist Business Audiobooks
The Everything Store: Jeff Bezos and the Age of Amazon
by Brad Stone
The definitive story of the rise of the most successful company of our age: Amazon. Stone shows how and why Bezos built Amazon. The Everything Store offers a good history of Amazon and far more.
Stone explores Bezos' philosophy, personality values, and strategies. By tracking Amazon's rise, Stone explains the importance of vision, philosophy, strategy, and values in business.
If you want to learn the difference between a visionary entrepreneur and a "businessman," The Everything Store is a must-read. Stone's work is necessary reading for anybody who uses Amazon or does business with Amazon. If you want to understand the most important company in the world today, The Everything Store is required reading.  
Get this book on
Becoming Steve Jobs: The Evolution of a Reckless Upstart Into a Visionary Leader
by Brent Schlender and Rick Tetzeli
Schlender and Tetzeli ask how a deeply flawed man evolved from an arrogant upstart into a true visionary. They trace Jobs' evolution from the failed CEO of Apple (NASDAQ: AAPL) into the visionary who led one of the greatest business turnarounds of all time.
Today many people forget that Jobs was a failure when he returned to Apple in 1997. Apple had fired Jobs a few years earlier, and his other ventures were failures.
Given a second chance, Jobs succeeded by turning Apple into a new kind of company. Moreover, Becoming Steve Jobs shows how courage and strength of character are vital to business success.
At Apple in the late 1990s, Jobs made and stuck to tough decisions. Jobs ruthlessly slashed the company's product line and shipped thousands of unsold computers to the dump in 1998 to protect Apple's reputation; for instance.
For those who want to understand who Steve Jobs was and how he changed business and technology, Becoming Steve Jobs is a great resource.
Get this book on
How Google Works
by Eric Schmidt and Jonathan Rosenberg
An inside look at the world's most successful search engine, and the company it built, Alphabet (NASDAQ: GOOGL). Schmidt and Rosenberg explain the importance of workplace culture and the creativity it can generate.
How Google Works shows how corporate strategy and management philosophy shape a business's future and drive success.
It also includes business insights from the former top executives at the company; the book lays out, step by step, Google's path to success, a roadmap that your company can follow, too.
Get this book on
The Black Swan: The Impact of the Highly Improbable
The best book on the philosophy of markets and the reality of capitalism around today. Taleb, a trader, turned philosopher, shows how strange and unexpected events can disrupt everything instantly.
The Black Swan shows how people remain blind to massive changes taking place around them. Many business leaders fail to see disruptive technologies, until all their market share disappears, for example.
Understanding that the world is constantly changing and could destroy everything around you is a vital insight all entrepreneurs need. Bezos praised The Black Swan in The Washington Post.
Get this book on
Video – Why Blinkist Audiobooks