Extensive testing shows that the best AudioBook services are Audible, Blinkist, Audiobooks.com, and getAbstract. Audible provides the biggest library, and you get to own the books. In comparison, Blinkist offers high-quality Audiobook summaries at an incredibly low price.
Audiobooks have literally changed my life, turning moments of mundane activity into opportunities to hear a story, absorb knowledge, or learn a new skill. Audiobooks turn the laborious commute or housework into an epic adventure; the benefits of Audiobooks are undeniable.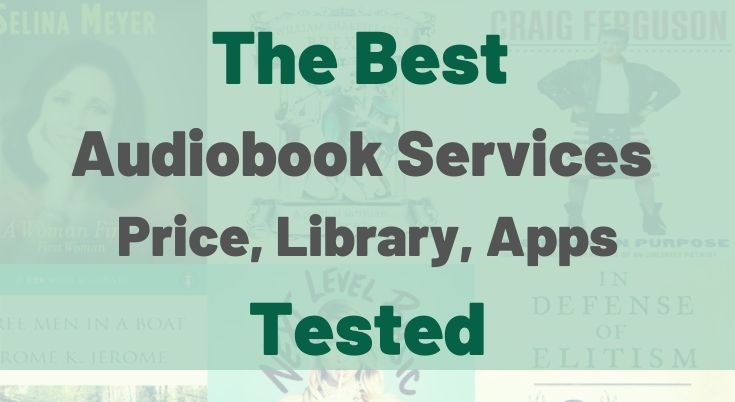 Our unique survey of hundreds of audiobook users reveals how they use audiobooks to improve their work, life, and sleep routines. I have listened to over 380 audiobooks over the past twelve years and have personally tested, used, and had subscriptions to all the Audiobook services in this review. View the side-by-side Audiobook Service Comparison Table, or continue reading.
Best Audiobook Subscription Services 2023
---
1. Audible: Winner – Best Audiobook Service Overall.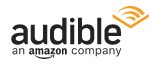 Simply the Biggest & Best Audiobook Collection + The Lowest Subscription Costs per Book
Rating:
★★★★★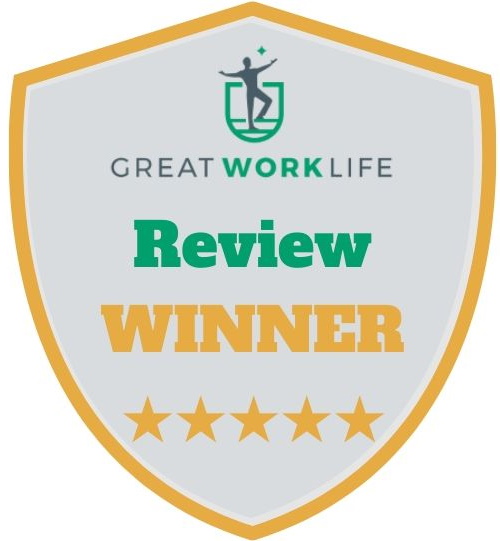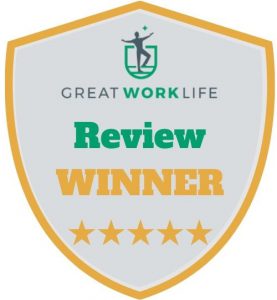 Pros
★ You Own the Book for Life
★ The Biggest Library 220K+ Titles
★ Lowest Cost per Book $4.13
★ The Best Returns Policy
★ Compatible with All Devices
★ Syncs with Kindle
★ Works with Alexa
Cons
✘ Nothing, I am a 10-year Subscriber
Audible Review Summary
Audible is the leader in the Audiobook industry, with by far the largest library of titles, with over 200,000 audiobooks in its library.
New releases and bestsellers are inevitably released on Audible first as its market share, and customer base make it irresistible to publishers.
For me, one of the most important elements of books or audiobooks is that you get to keep the books you pay for. I own over 250 titles with a value of $2,500, and I am pleased to hand them down to my children in the future. Some services, such as Scribd, offer an unlimited listening subscription, but you are really just borrowing the book for the duration of your subscription. When you end the subscription, you have nothing. With Audible, you can still log in and use the App even after ending the subscription.
Audible Pricing Plans
With Audible, you need a subscription, but that subscription means you get to buy books at a tiny fraction of their actual retail value. Some believe that Audible is expensive, but the reality is that they are the cheapest way to buy audiobooks.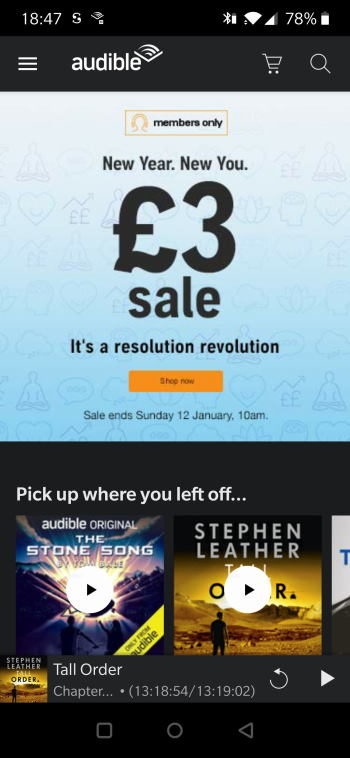 Audible subscription – $14.95 per month
The entry-level subscription with Audible is the best value because you will get one credit for any title and one free Audible Original title. This means you get two books per month for $14.95, therefore $7.48 per book.
If you pay this subscription annually, you will pay $149.50, meaning you get two free months, and this brings the average cost per premium title book down to $12.45; this is the lowest cost in the industry.
You could also opt for $22.95 per month for two audiobook credits and 1 Audible Original title, but that works out at $5.50 per book.
Whichever subscription you choose, you will get 30% off any other purchases you make. But the best news is that even if you run out of credits, Audible will allow you to buy additional credits at between $5 to $7 per credit, depending on the offers they have.
Additionally, nearly every single week, you will receive special promotions for "2 books for 1 credit" or "Every book for $3", which are excellent deals.
Finally, Audible has a massive selection of exclusive professional Podcasts that they offer free to members. At Christmas, they will also send you Christmas stories for the family and children, a really nice touch.
Customer Service & Returns Policy
One of the most important reasons why Audible is the clear winner for me is that they have the industry's best returns policy. If you do not like a book, for whatever reason, the narrator, the plot, or it is simply boring, you can return your book within one year of purchase. You can go to Account -> Purchases -> Click Return Title and your credit is immediately refunded.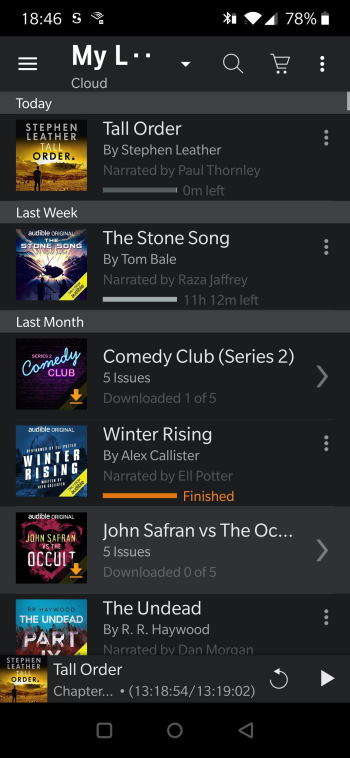 There is nothing worse than paying for a book that you ultimately dislike. Audible resolves this problem with its "Great Listens to Guarantee."
Finally, you can contact Audible via phone, chat, or email. I have used chat many times, and they are available instantly, 24/7, with no wait; that is a great service.
Audible Audiobook Apps
Play Store App Rating – 4.6 ☆ Excellent
Having used the Audible App for nine years, I can safely say it is rock solid, easy to use, and actually perfect.
The Audible App has the following key features:
Car Mode – Makes the App simple to use when driving with bigger buttons.
Books Sharing – Send a Book to a Friend or share your progress
Clips, Bookmarks & Notes – saving sound clips and making notes
Sleep Timer –  useful for listening when you go to bed, so it does not play all night
Variable Speed Playback – great for slow narrators or digesting long books quicker
Your Audible books will play on all devices from Apple, Android, and Smart TVs, and even the Amazon Alexa smart speaker will read them to you.
Why Audible Video
https://youtu.be/CeoGTHlQxn0?list=PLKp5Qb0lZxNFb04mx3G-qWk9ZkvcbdD-S
---
2. Blinkist: Higest Quality & Low-Cost Audiobook Summary Service
The Best Value Audiobook Summary Subscription Service

Rating:
★★★★★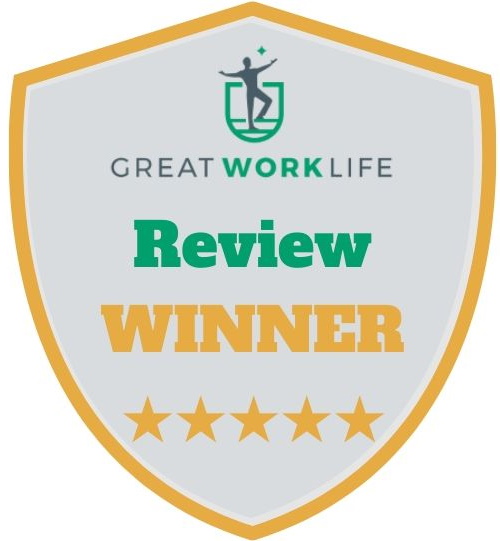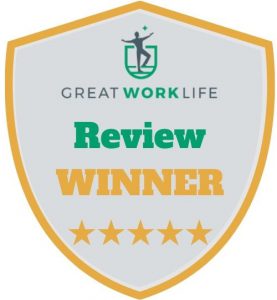 Pros
★ Over 5,000 book summaries
★ Professionally Summarized & Narrated
★ Extremely low-cost subscription
★ Unlimited Access to Audiobooks
★ Free Users Get 1 Summary Free per Day
★ Android, Apple & Amazon Alexa Compatible
Cons
✘ Email-only support
✘ No Post Subscription Book Ownership
What is a Book Summary Service?
Blinkist and getAbstract are services that pay writers and narrators to summarize a non-fiction book. A typical book might take 4 to 10 hours to read or listen to. That is a long time to invest in learning a few key lessons. Book summary services distill the book's key messages and takeaways and transform them into much shorter versions.
Of course, a summary audiobook service will only work with educational, self-improvement, or business books; you could not summarize a Sherlock Holmes Crime Thriller into 15 minutes; the book would be ruined.
Blinkist Review Summary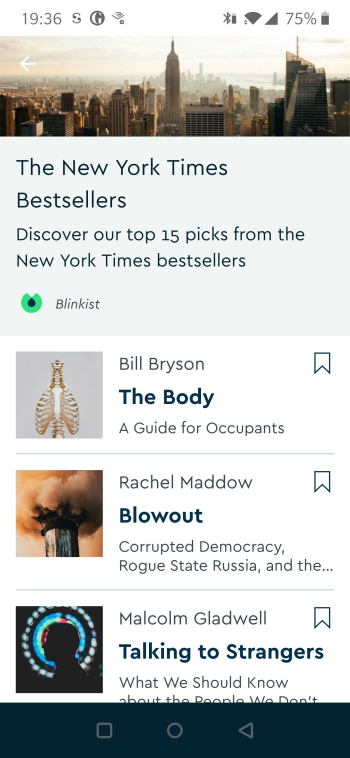 About six months ago, I signed up for a free trial of Blinkist to try out Audiobook summaries. I liked the service so much. I purchased a yearly subscription.
As a passionate Audiobook listener, I was very excited at the opportunity to listen to an entire book in 15 minutes. Interestingly, there were books I thought had some great messages, and I learned from them.
I was very pleased there were also books I did not spend 10 hours reading to get that simple or unremarkable message.
So for me, this service is great.
Blinkist is a very professional service, their narrators are first class, and the books are logically laid out and easy to follow. With every book summary, you get a high-quality 15-minute audiobook and a written summary of the book if you prefer to read it.
I particularly like the feature to listen to summaries of the New York Times Bestsellers List (see image right).
The single downside is that you only have access to the books as long as you subscribe to the service. This is, however, understandable because the service is unlimited listening; you do not buy a book; you buy access to all the books.
Blinkist Pricing Plans
Blinkist Basic Plan – Free
Amazingly Blinkist allows you to register for their free plan, in which you can access a free Blink (their name for a book summary) of their choice every single day.
I assume the idea is that you will like the Blinks so much that you will later upgrade to the Premium service to get access to the whole library and choose what you would like to listen to. Of course, they are correct; this is exactly what I did.
Blinkist Premium – Unlimited Summaries
Blinkist has a single premium plan that gives you access to as many books as you want. The key difference is in the pricing. Opting for a monthly subscription costs $15.99 per month in the USA, meaning $191.88 per year.
However, I recommend paying for the year in advance, which is a single payment of $99.99, which gives you 12 months of access for a 45% discount—a great deal.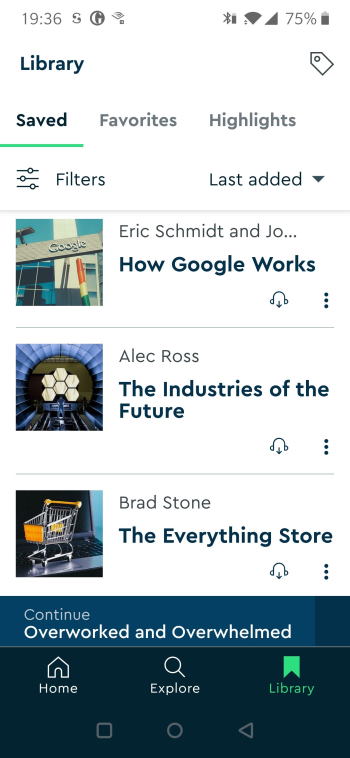 getAbstract is also an excellent service that costs $299 per year, with access to 20,000 summaries, but in terms of value for money, Blinkist is a clear winner.
Customer Service & Returns Policy
Regarding returning books, I previously mentioned that you do not own the books; you access the service.; It is more like Netflix than buying a DVD. So, ultimately there is nothing to return.
You can cancel your subscription anytime online with a few clicks, and the customer services teams are available via email or webform.
Blinkist Audiobook Apps
Playstore App Rating: 4.4 ☆ Excellent
The App itself is a breeze to use, simple and effective.
My library is well organized, and my saved books and favorite books are easy to access.
I particularly like the ability to highlight text in a book via the App or Browser.
You can select the text and click highlight, and it will be saved in your Highlight tab.
This is perfect for keeping track of those lightbulb moments or key inspiring messages in a book.
The App is highly rated in the App stores, and impressively Blinkist is also compatible with Amazon's Alexa smart speaker so that Alexa can read them to you.
Why Blinkist Audiobooks Video
3. Audiobooks.com: Huge Library & Low-Cost Subscription
A Huge Library & Low-Cost Subscription Model

Rating:
★★★★☆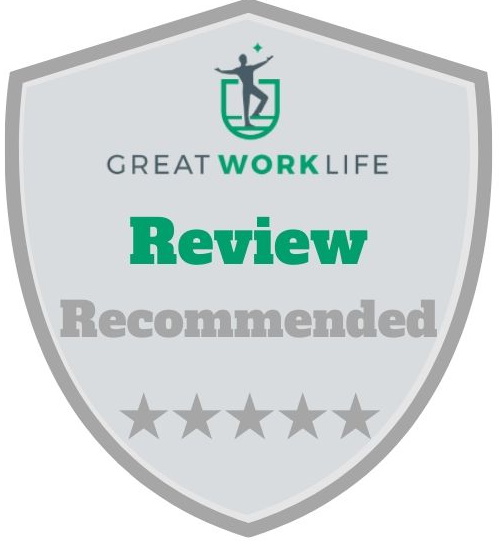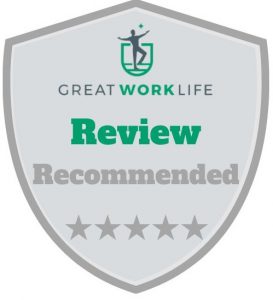 Pros
★ You Own the Book for Life
★ Large Library 150K+ Titles
★ Low Cost per Book $5
★ App Store Rating 4.3 Stars
★ Android & Apple
Cons
✘ Vague Returns Policy
✘ No Smart Speaker Support
Audiobooks Review Summary
I have been testing and using Audiobooks.com for over eight weeks now, and I have to say that the library is extensive, and the service works very well.
With access to over 150,000 audiobook titles, and new releases arriving quickly, you will not notice any real difference between the Audible service and Audiobooks.com.
Importantly, like Audible, you own the book, which means that even if you terminate your subscription, you should have access to your audiobooks; for me, this is vital.
However, there are two drawbacks that I need to mention, the returns policy and the lack of smart-speaker support (see below).
Firstly, there is no easily discernible way to return a book you are unhappy with. In fact, looking into the user agreement, it says: "Audiobooks.com grants refunds at our sole discretion. We do not offer refunds on any subscription charges".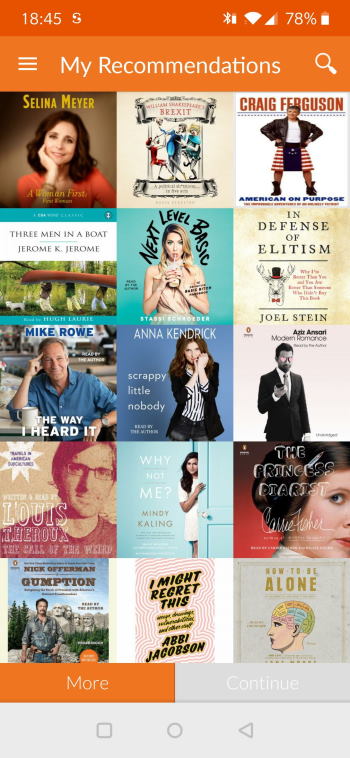 Secondly, there is no support for smart speakers like Alexa, Apple, or Google Now.
Audiobooks Pricing Plans
Free Trial
Audiobooks.com offers a free 30-day trial during which you can access one free credit for a full Audiobook and get access to a free VIP Book.
Monthly Membership
The monthly membership costs $14.95 per month, which gets you one credit for a book you own and access to an additional VIP book from a selection they have curated.
This means the average cost per book is $7.48.
The only issue with this is that you do not actually own the VIP book. It will always be in your library, but if you end your subscription, you will only have access to the books you purchased with a Credit; all the VIP books will be removed as they were only loaned to you, not actually purchased by you.
This essentially means the real cost per book should you end your subscription is $14.95.
On the positive side, they are always running 2-for-1 deals, which means that if you find books in the deal, you may bring your average cost per book back down to $7.50.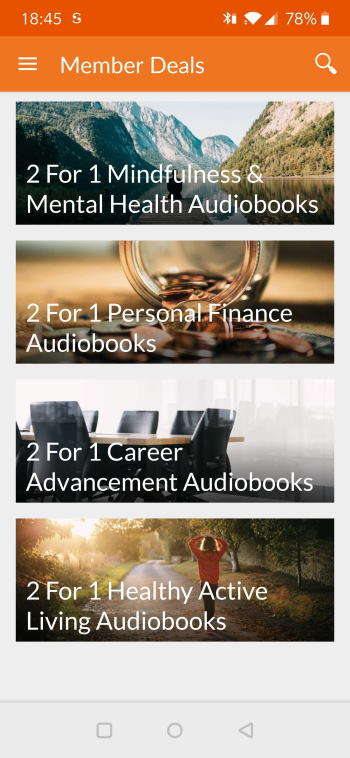 Customer Service & Returns Policy
As mentioned previously, the ability to return a book any time you do not like is a critical feature. Unlike Audible, with Audiobooks.com, there is no easily discernible way to return a book you are unhappy with.
In fact, looking into the user agreement, it says: "Audiobooks.com grants refunds at our sole discretion. We do not offer refunds on any subscription charges".
This could be an area where Audiobooks.com can improve and be clearer.
Audiobooks Apps
App Store Rating: 4.3 ☆ Good
The Audiobooks.com App is straightforward and easy to use. I particularly like the recommendation engine and how the browsing screen is very visual (see the image above)
However, viewing your own library could be improved in the App as the book thumbnails are large and difficult to navigate.
The App has important features like a sleep timer, notes, bookmarks, and playback speed control. I like the ability to follow an author and be notified of future releases easily; this is something Audible does not have.
The only thing missing is car mode and compatibility with a smart speaker.
4. getAbstract: Best Audiobook Summaries for Business
Best & Biggest Audiobook Summary Collection, Perfect for Business

Rating:
★★★★
★

Likes
★ Over 20,000 book summaries
★ Professionally Summarized & Narrated
★ Book Analysis Also Available
★ Unlimited Access to Audiobooks
★ Perfect for Businesses & Teams
Cons
✘ No Books Ownership
✘ No Smart Speak Support
✘ Priced for business, not Consumers
getAbstract Review Summary
Blinkist and getAbstract are services that pay writers and narrators to summarize a non-fiction book. A typical book might take between 4 to 10 hours to read or listen to. That is a long time to invest in learning a few key lessons. Book summary services distill the book's key messages and takeaways and transform them into much shorter versions.
The key differences between getAbstract and Blinkist are the size of the library and the target customers.
getAbstract is the largest book summary service, with over 20,000 book summaries in audio and written formats in 7 languages. They also analyze the book, not just summarize it, which can help you make sense of a topic's meaning and ramifications.
In terms of target customers, you can see this is a solution geared for business, as they will also assist you in rolling out the learning solution to your organization. In fact, over 150 Fortune 500 companies have already deployed getAbstract to their companies.
getAbstract pricing
| | | | |
| --- | --- | --- | --- |
| Student Starter | Student Pro | Pro | Enterprise |
| Free | $99 /year | $299 /year | Custom Pricing |
| 5,000 Summaries | 20,000 Summaries | Unlimited Access | Unlimited Access |
If you are a student, you get a really amazing deal, 5,000 books for free or the entire service for $99 per year. For regular individuals, the price of $299 per year is $200 more than Blinkist, but the depth of topics is way ahead. Also, you can probably write these costs off against tax as part of your professional development investment.
So, ultimately getAbstract is the best book summary service available, so the pricing is invariably higher than Blinkist.
As an individual who wants access to a great selection of summaries at a low-cost look at Blinkist for power users and small to enterprise-scale businesses, getAbstract is the right choice.
Summary
Although on the surface, getAbstract looks like it is competing with Blinkist, its primary revenue source and business model is focused on the corporation. This is a good thing as it has the scale to integrate into corporate learning systems to help employees boost their careers and performance.
getAbstract is an excellent service for the enterprise. It is also perfect for individuals, despite the large price tag.
5. Scribd: Unlimited Audiobook Access, But Limited Titles
The Best Unlimited Audiobook Subscription Service But No Bestsellers

Rating:
★★★
☆
☆
Pros
★ Unlimited Audiobook Listening
★ $8.95 Flat Rate per Month
★ 100+ Magazines
★ Good Apps for Android & Apple
★ 1,000s of eBooks
Cons
✘ You do not own the books
✘ Severe Limitations on Accessing Popular Titles
Scribd Overview
There are a lot of fans of Scribd out there, especially avid readers and audiobook listeners. Scribd announced something new in the media world: a Flat Rate unlimited access to Audiobooks, eBooks, and Managzine Library. This essentially went viral because, before this announcement, everyone was forced to pay for audiobooks individually.
There is nothing official from Scribd, but I estimate the Audiobook library to contain about 30,000 to 40,000 titles; this is a lot lower than Audible or Audiobooks.com, but I also suspect that the publishers receive a lot less revenue from Scribd, so they are less inclined to release new and best-selling titles.
Scribd Netflix for Audiobooks: Not Really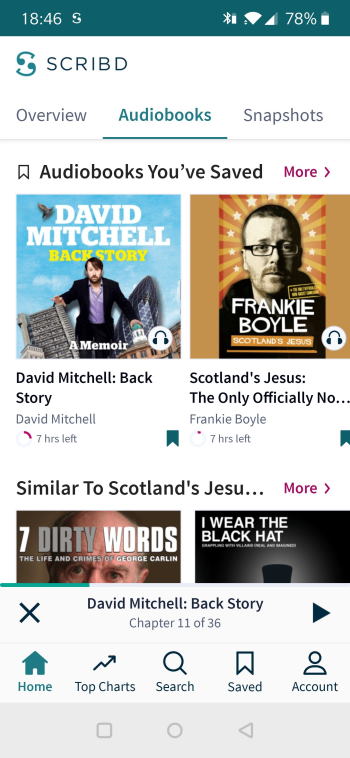 Scribd is very similar to Netflix in its business model; it licenses content from publishers and pays them on a per-user basis. As a consumer, we see only a low flat rate subscription charge per month for a large amount of content.
The monthly subscription is so low because you do not own the books; you are allowed to access them for the duration of your subscription.
Scribd Magazines
Scribd has 100 magazines, which you can access via browser or the App. I was very excited to see this, but when I read a few magazines, I realized the experience is not like really reading a magazine. I do not mean the paper; I mean the layout and editing. The magazine articles are in simple HTML with simple images; some magazines, like T3, were very poorly formatted indeed.
Scribd Pricing Plans
The Scribd pricing is straightforward; it is $9.95 per month for unlimited access to their library of books, audiobooks, and 100+ magazines for the duration of your subscription.
If you stop the subscription, you lose access. For many, this is not a problem; if you listen to many audiobooks and are not interested in building up a library of books that you own, then it is a great solution.
I have been with Audible for ten years, I have 255 audiobooks, which cost me approximately $2,500 over that period, but those books are mine for life and for my children.
If I had been with Scribd for that period, it would have cost me $972, but I would own nothing. It is like the difference between renting and owning a house.
Customer Service & Returns Policy
I have seen many complaints online that Scribd is throttling heavy audiobook consumers as they consume too many books. Also, I have read that certain bestselling titles are restricted to one or two per user per month or not even visible to some users.
I have not experienced this, but I understand that it is a balancing act for Scribd to ensure they earn revenue from what they need to pay to publishers and that some do not abuse the system.
Scribd Audiobook Apps
Scribd App Store Rating: 4.5 ☆ Excellent
I have been using the App with my new subscription for two months and found it an absolute delight. Running on Android and iPhone, the App actually has everything you would need to enjoy Audiobooks and other media.
Key App Functionality:
Sleep timer
Bookmarking & Note Taking
Sharing
Playback speed control
---
6. Apple Books: A Free Subscription But Limited Audiobooks
Something for Free…But not much.

Rating:
★★★
☆
☆
Pros
★ You Own the Book for Life
★ Apple Exclusive Extras
★ Average Book Cost $9.99
★ Compatible with All Apple Devices
Cons
✘ Locked into Apple Eco-system
✘ Severe Limitations on Accessing Popular Titles
Apple Audiobooks Review
Although there is no mention of Audiobooks on Apple's homepage, they do, in fact, offer a reasonable audiobook selection. In typical Apple style, they invest in some Apple-exclusive audiobooks and extras to existing audiobooks, such as interviews with authors and narrators.
This is nowhere near the scale of exclusives or extras offered by Audible, but at least Apple is trying. It is about differentiating yourself from the market. However, Apple is a new contender in this space, whereas Audible has been doing this for ten years.
You do not need a monthly subscription for Apple Books, and the prices are reasonable at an average of $10 per book. Not really comparable to Audible, but without a subscription, it is OK for the occasional listener.
In iTunes, browsing Audiobooks is really nicely laid out and thought through, making finding your next listening experience a breeze.
---
7. Google Play Books: Free Subscription But Limited Features
Subscription Free Audiobooks & Below Average Cost per Book

Rating:
★★★
☆
☆
Pros
★ You Own the Book for Life
★ Below Average Cost per Book of $8
★ Compatible on Android & Google Assistant
Cons
✘ Limited Features
✘ Small Library
Google Play Books Summary
If you install the Play Books app on your phone, you will be able to browse the collection of audiobooks available on the Play Store. It is not a particularly large selection of books, but they are there.
Google Books is definitely an option if you do not listen to Audiobooks often. You are not tied into a monthly or yearly contract, and the books' prices are reasonable.
I calculated an average price per book of about $10, and some audiobooks are on sale for as little as $3; however, they are older, shorter, and less popular audiobooks.
Frequently Asked Questions
What is the best audiobook subscription service?
The best audiobook subscription service is Audible because you own the book for life, you have access to the largest library of audiobooks, and wou get the best prices in the industry with a subscription.
Can I buy audiobooks on Amazon without a subscription?
Yes, you can buy audiobooks on Amazon without a subscription. Although Audible prompts you to subscribe, you can ignore the prompt and buy the audiobook directly at the full price. It is worth considering a subscription if you purchase more than one audiobook because you will save between 25% and 50%.
How to buy audiobooks without a subscription?
Audiobook subscription services like Audible or Audiobooks.com allow you to buy books without subscriptions. Register, but do not select a monthly subscription; then, you can buy individual books at full price.
Where can I buy audiobooks without a subscription?
You can buy audiobooks without a subscription from Audible, Audiobooks.com, Apple Books, and Google. Beware, buying audiobooks without a subscription costs at least 25% more.
How much is an Amazon audiobook subscription?
For 1 book per month, Amazon's audiobook service, Audible, costs $14.95/mo. For 2 books per month, it costs $22.95. You also get free access to thousands of Audible Original titles and podcasts during your subscription.
Can you buy an audiobook on Amazon without a subscription?
Yes, you can buy an audiobook on Amazon without a subscription, ignore the prompt for an Audible subscription and purchase the individual title.
Which is best, Apple Audiobooks or Amazon's Audible?
Amazon's Audible service is better than Apple Books because an Audible subscription can lower your cost per book from $20 to $11. All Apple books are sold at the recommended retail price (RRP).
---
Summary: Audiobook Services Tested
Our Audiobook Survey, Conducted in 2020, supports our results & testing. Polling nearly 1,000 professionals on their favorite way to listen to audiobooks, the majority overwhelmingly used Audible.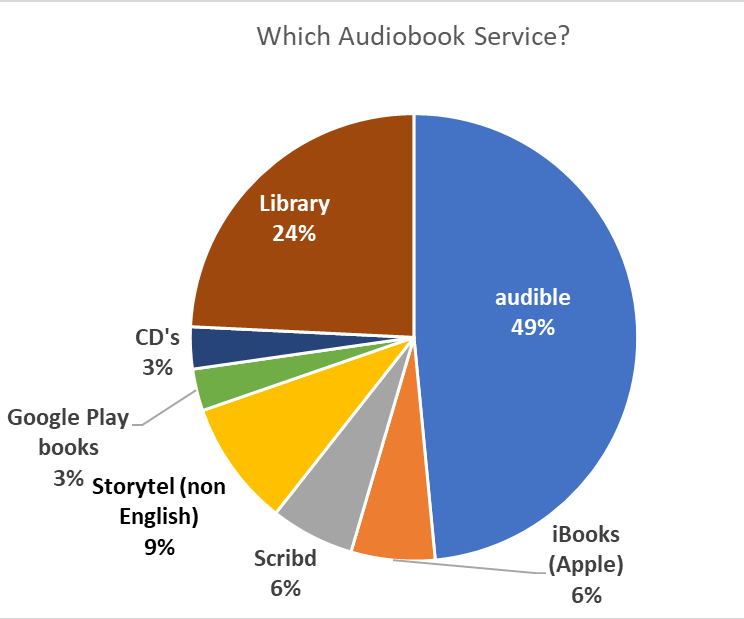 Detailed Audiobook Service Comparison Table
| | | | | | | | |
| --- | --- | --- | --- | --- | --- | --- | --- |
| Our Rating | ☆☆☆☆☆ | ☆☆☆☆☆ | ☆☆☆☆ | ☆☆☆☆ | ☆☆☆☆ | ☆☆☆ | ☆☆☆ |
| Audiobook Type | Full | Summary | Full | Summary | Full | Full | Full |
| Do You Own the Audiobook | ✔ | ✘ | ✔ | ✘ | ✘ | ✔ | ✔ |
| Lifetime Access to Books | ✔ | ✘ | ✔ | ✘ | ✘ | ✔ | ✔ |
| Audiobooks Collection | 200,000+ | 3,000+ | 150,000+ | 20,000+ | 40,000 est | 40,000 est | 20,000 est |
| Membership /month | $14.95 | $15.99 | $14.95 | $29.90 | $8.95 | No Membership | No Membership |
| Membership /yearly | $149.50 | $99.99 | | $299 | | - | - |
| | | | | | | | |
| # Audiobooks / month | 3 | Unlimited | 2 | Unlimited | Unlimited | - | - |
| Cost per book /monthly subscription | $5 | - | $7.48 | - | - | $9.99 | $9.99+ |
| Cost per book /yearly subscription | $4.13 | - | - | - | - | - | - |
| Subscription Required | Yes | No | Yes | Yes | Yes | No | No |
| Audio Quality | Excellent | Good | Good | Good | Excellent | Excellent | Good |
| Books Returns Policy | 1 Year, No Questions Asked | Nothing to Return | At Vendors Discretion | Nothing to Return | Nothing to Return | | |
| Customer Support | Phone, Chat, Email | Email | Phone, Chat, Email | Phone, Email | Email Only | None | None |
| | | | | | | | |
| Special Services | Audible Original Podcasts | 1 Free Summary per Day Free | | | | | |
| eBooks | | ✔ | | ✔ | ✔ | ✔ | ✔ |
| Magazines | | | | | ✔ | | ✔ |
| Podcasts | ✔ | | ✔ | | | ✔ | |
| App Store Rating | 4.6 ☆ | 4.4 ☆ | 4.3 ☆ | 3.9 ☆ | 4.5 ☆ | N/A | 4.3 ☆ |
| Devices | iPhone, Android, PC, TV, Alexa, Kindle, Fire TV | iPhone, Android, PC | iPhone, Android, PC, Mac | iPhone, Android, PC | iPhone, Android, PC | iPhone, PC, Mac | Android, PC, Mac, Google Now |
| Smart Speaker | Alexa | Alexa | ✘ | ✘ | ✘ | ✔ | Google Now |
Best AudiobookServices Comparison Table