I am a huge fan of Audiobooks; in fact, I have listened to over 255 full-length Audiobooks over the last nine years.  I feel I am quite knowledgeable about how to best use and consume this huge wealth of knowledge.  But I wanted to find out if I am alone in my huge consumption of Audiobooks.
We surveyed close to 1,000 experts in the media, business, and knowledge worker world to see if they consumed Audiobooks, what the benefits are, and what their listening habits are.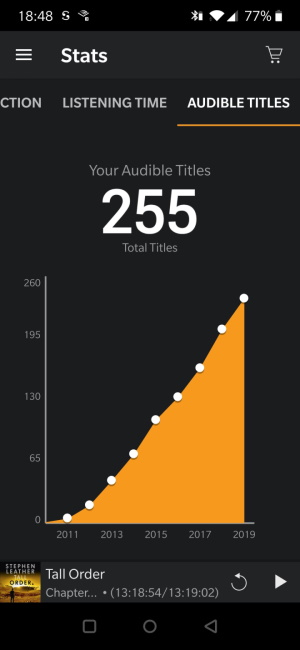 The results were overwhelmingly positive and, for me, surprising.
If you would like to read the best qualitative feedback from our respondents, see the article – 21 Experts Reveal How Audiobooks Will Change Your Life.
What is an Audiobook?
An Audiobook is the narrated and digitized copy of a written book. Some Audiobooks are dramatized, and many are narrated by professionally trained actors. Today audiobooks are on-demand via your smartphone. Audiobooks have huge advantages over print books for active people who learn new skills or be entertained.
The Benefits of Audiobooks
Listening to storytelling – 26%
Accessibility / Time Saving – 26%
Mental Fitness / Building Concentration – 16%
Consumption of Knowledge – 13%
Save space – 3%
Fall in love with books again – 3%
Shared Experiences with Children & Family – 3%
Relaxation & Sleep, Longevity & Learning English – 10 %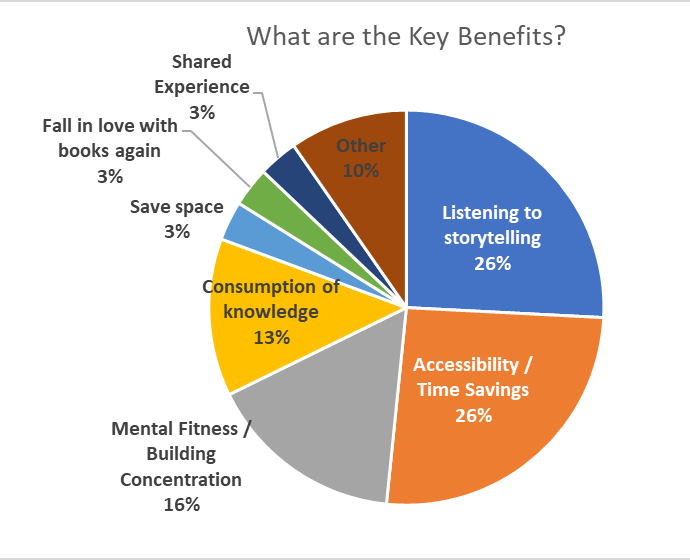 Our respondents actually benefit from audiobooks in a surprising number of ways.  The overwhelming benefits of listening to audiobooks were listening to storytelling, accessibility, and improving mental fitness.
The power of audiobooks is that they ignite in us the ancient ritual and joy of storytelling that was ingrained in our species since the beginning – Barry D. Moore
The ability to use the time in our day when performing mundane tasks to actually build knowledge or enjoy a novel is also a hugely powerful benefit of audiobooks.  Many people actually use audiobooks to have a shared experience, for example, on a long car ride or relaxing by the fire in winter.
The greatest benefit for me is that I can "read" with my eyes closed. When I had a long day in the office, I want to take my glasses off and let my eyes rest. Survey Response
Some people even found them deeply relaxing and also use them as part of the bedtime routine.
How do you listen to Audiobooks?
Driving – Commuting / Road trips – 31%
Housework / DIY – 25%
Exercising / at the Gym – 18%
Walking / Walking the Dog – 10%
Shopping – 6%
Bedtime – 6%
Time with Kids – 4%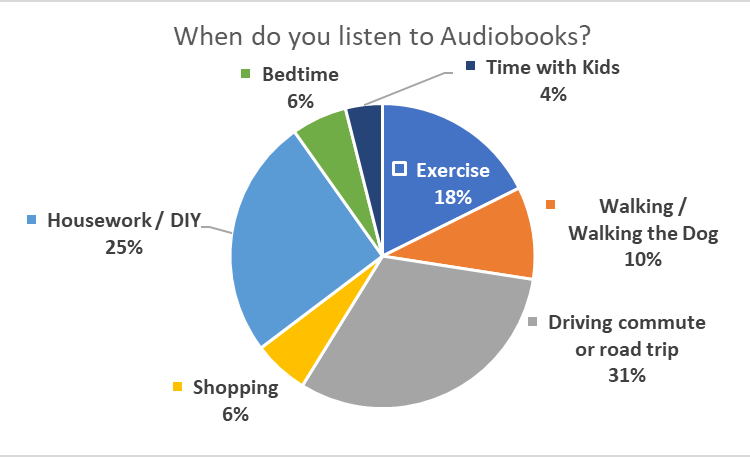 The people surveyed highlighted that their most common use for Audiobooks was on the daily commute to work or on road trips, which, of course, is a huge benefit of Audiobooks.
The invention of audiobooks has been a beautiful thing in my life! Especially at my current stage with three kids, I am lucky if I have the time or energy to squeeze in reading right before bed. With the advent of audiobooks though, I can multitask, and every car ride or run on the treadmill is a chance to "read." – Survey Response
I was also surprised that 25% of our respondents listened to audiobooks whilst doing housework or home improvement projects.
Audiobooks have kept me entertained for much of my life, as a child on long boat trips with my father, on long RV rides with my entire family, and on late-night commutes as an adult – Survey Response
I also suspect a large proportion of dog owners are also avid audiobook readers judging by the responses.
What are the Cons of Audiobooks?
Taking notes/idea capture – 40%
Easy to lose track – 27%
Bad Narrators – 13%
It's Faster to read – 7%
No physical book – 7%
Complex topics are difficult – 6%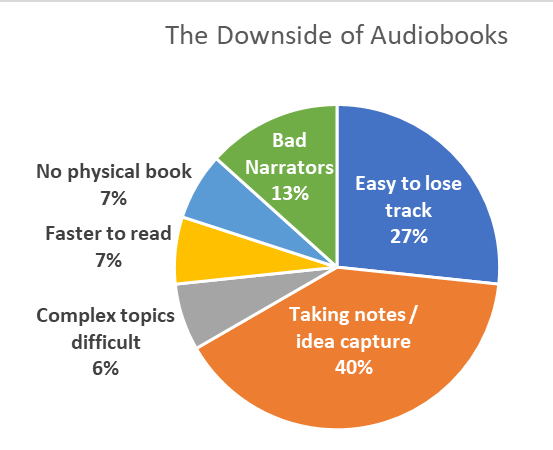 By far, the biggest issue of listening to audiobooks compared to reading is the ability to take notes, according to our poll.  Although many of the best Audiobook apps allow you to bookmark and take notes, many found this challenging.
Because the majority of people who are listening to audiobooks are usually multitasking, 27% of people polled suggested it is easy to lose track of the subject or story.
Occasionally you may run into a bad narrator, and for me, that ruins the book. Luckily services like Audible let you listen to 5 minutes of the book as a preview before buying. – Survey Response
Finally, according to 13% of those who answered, a bad narrator could seriously ruin a book on audio.  I completely agree. I had listened to 10 out of the 20 "The Undead" books by RR Haywood, and then the narrator was changed.  I really loved those books, but I had to stop right in the middle of the series because the new narrator was absolutely dexterously awful.
How Many Audiobooks Do You Listen to per Month?
0 – Do not Like Them – 4%
1 – 25%
2 to 3 – 32%
4 to 7 -29%
7+ – 11%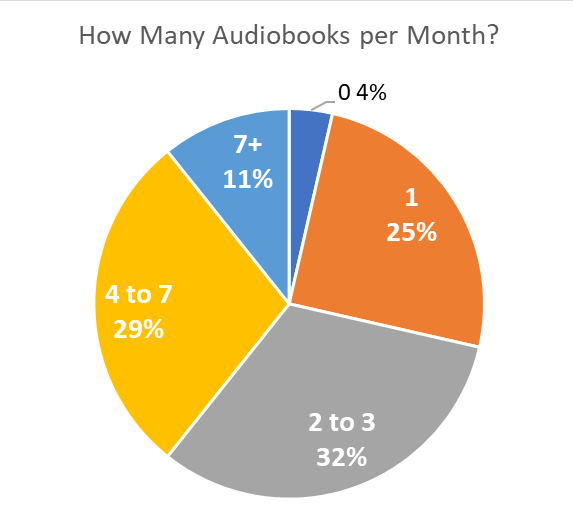 Our poll revealed that 32% of people listen to 2 or 3 books per month, and 29% digested 4 to 7 books per month. This means that 61% of audiobook listeners are actually ferocious fans.
Many of those heavy listeners also indicated in their qualitative responses that they were in the past serious bookworms but did not have the time to read because of work, exercise, or family commitments.  Consequently, Audiobooks enabled them to rekindle their love of books again.
I listen to roughly 3 new titles and relisten to one to two titles a month on Audible. Survey Response
I am in the 4 to 7 books per month, but I see that 11% of our respondents are even more passionate about audiobooks than I, with a consumption of over seven books per month, averaging 84 books per year.
Which Audiobook Service Do You Use?
Audible – 49%
Library Apps – 24%
Storytel (non-English) – 9%
Apple iBooks – 6%
Scribd – 6%
Google Play Books – 3%
CDs – 3%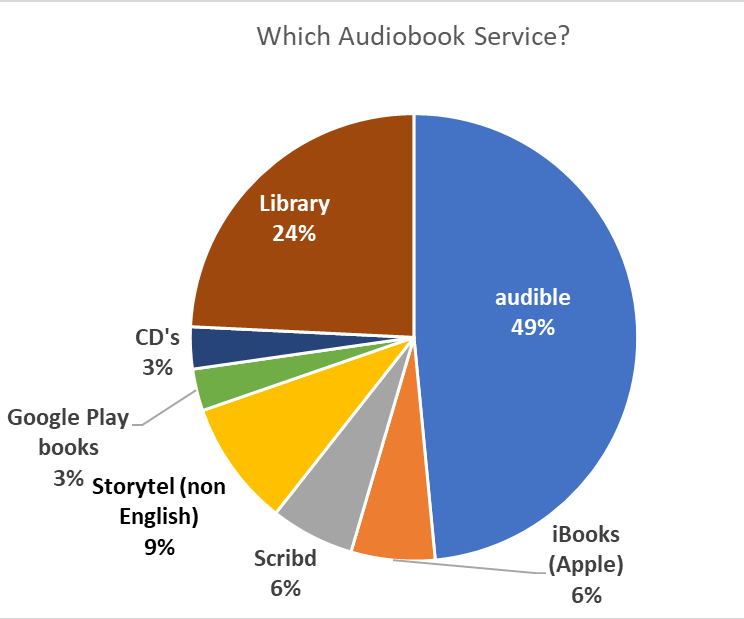 Audible, owned by Amazon, leads the pack by 49% of those polled choosing it as their preferred Audiobook provider, citing the convenience, price, and instant availability of all the biggest bestsellers.
Surprisingly 24% of people use the various Library loaning apps to acquire their Audiobooks for free, even though they stated that the inconvenience of having to wait in line for popular titles was annoying; they felt it was worth it for a free audiobook.
I've only ever used Audible for audiobooks. They provide fantastic accessibility to what can otherwise be quite a complicated genre. Survey Response
Storytel is overwhelmingly popular for audiobooks that cater to foreign languages like Spanish, German, and French.
Finally, Apple iBooks, Google Play Books, and Scribd are still small players, probably due to entering the market later and not being competitive on price or number of titles on offer.
Are Audiobooks as Good as Reading?
94% of people who consume Audiobooks claim many advantages that make them superior to print books. The ability to digest a book while driving or exercising but primarily the freeing of the mind to concentrate not on written words but instead creating vivid images in the mind's eye makes audiobooks superior to print.
How to Buy Audiobooks?
Audible.com, an Amazon Company – The largest collection of Audiobooks on the planet, the best prices, and an excellent "satisfaction guarantee" returns policy. The 30-day free trial includes 1 Full Audiobook + 1 Audible Original book.
Audiobooks.com – a 30-day free trial, great prices, and a highly rated App, plus two free Audiobooks.
SCRIBD – For a flat fee of $9.99, you get access to the entire library of Audiobooks, but consumption and the selection of books are restricted.
How to Get Audiobooks for Free
You can get Audiobooks for free if you are willing to wait in line for popular titles, just like in your local library, just without all the standing around.
Blinkist – Blinkist summarizes non-fiction books into an audiobook digestible in 15-minutes. Sign up for free and receive a 15-minute audiobook for free every single day.
HOOPLA – If your library has a subscription service, you can log in with your library card and access their catalog.
Loyalbooks – Loyalbooks has over 7000 public domain books read for you.
Overdrive – Overdrive is another audiobook app to use through your library.
Librivox – Public domain books read by volunteers across the globe.
Which Audiobook Services are the Best?