What is Udacity?
Udacity is an effort to provide continuing accessible technological education for working professionals who lack time to attend traditional classes. Udacity's platform offers many popular tech topics such as Data Science, Programming, Artificial Intelligence, Cloud Computing, Cybersecurity, and Autonomous Systems. Udacity also offers some courses in business and marketing.
Executives, engineers, bankers, marketers, journalists, financial analysts, and other professionals who need knowledge of new tech topics such as robotics could benefit from Udacity. Udacity also offers product-specific courses for engineers such as Amazon Web Services. Udacity could help professionals understand new areas of technology and business, including Marketing Analytics and Big Data. If you need continuing education in technology and business topics, Udacity could be an excellent resource.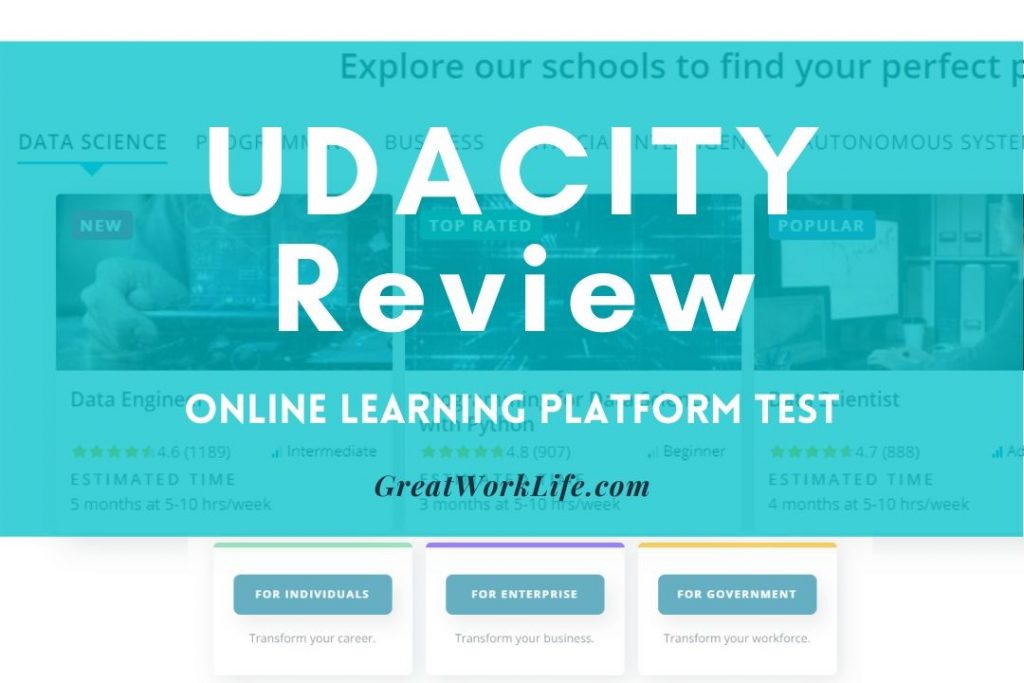 Who is Udacity Best For?
Udacity courses are best for technology professionals who need particular skills or knowledge to expand their careers into new fields and do not require college accreditation.
Some of the people Udacity is best for include:
Freelancers
Gig-economy workers
Computer scientists
Finance professionals
Executives
Journalists
Data scientists
Marketeers
Entrepreneurs
People interested in data and new technology
Udacity Pros
College-level courses in cutting-edge technology subjects.
Courses by technology professionals for technology professionals.
Some courses require no experience in technology or software.
Constantly adding new courses.
Offers unique technology subjects covering real-world problems.
Real learning is involved as courses require hard work and study.
Offers courses in new areas employers are demanding.
Udacity provides records of its courses through Nanodegrees.
Udacity often adds new courses focusing on hot new topics such as Data Science and Self-Driving Cars.
Flexible learning program.
Career services available.
Some free courses are available.
Collaborations with major tech companies, including Facebook, Amazon, Intel, and Microsoft.
Udacity works with major international organizations, including the World Economic Forum, the World Food Program, and the Dubai Future Foundation.
Udacity Cons
Udacity is expensive, costing up to $399 a month.
Udacity does not offer formal degrees or accreditation.
The Udacity Nanondegrees are not real college degrees.
No certificates for Udacity's free courses.
Udacity courses are not accredited, but they are as expensive as many accredited courses.
Udacity courses are not accredited, but they require as much hard work and time as a regular college course.
Some Udacity courses are based on speculative subjects that seem fanciful and unrealistic. For example, the Flying Car and Autonomous Flight Engineer program.
Some of the Udacity courses could be marketing tools for technology and software companies. For instance, Intel Edge for IoT Developers, AWS Cloud Architect, and Cloud DevOps using Microsoft Azure.
Most Udacity courses and Nanodegrees do not count as credit towards college degrees.
Students could complete a regular course that offers credit towards a college degree with the time, money, and hard work they invest in an Undercity course.
Udacity degrees will not help you get jobs that require formal college degrees.
Employers that require college degrees will not recognize Udacity certificates and Nanodegrees because Udacity is not an accredited college.
Not every Udacity Nanodegree program is eligible for discounts.
What Can You Learn?
The core curricula cover by Udacity include Artificial Intelligence, Autonomous Systems, Business, Cloud Computing, Cybersecurity, Data Science, Programming, and Development.
Technology professionals who need additional education will benefit from Udacity because it offers comprehensive video classes they can take while working full time. The same classes will benefit people who have degrees in other fields but want to enter technology. For example, a finance professional who wants to enter big data or learn data science to advance her career. The finance professional could use Udacity's Data Engineer or Data Scientist course to get a better job at an investment bank.
Udacity could also help people with non-tech backgrounds who need to understand technology for their jobs. For instance, a venture capitalist who plans to invest in an AI business could take Udacity's Artificial Intelligence course. Similarly, an investment banker could take the Artificial Intelligence for Trading Course to understand AI could impact the markets.
A programmer or software engineer could use Udacity's "Introduction to Self-Driving Cars," "Introduction to Machine Learning," or "Engineering for Microsoft Azure" courses to add marketable job skills to their resume. A software engineer who wants to enter the retail or manufacturing field could take the "Robotics Software Engineering" course.
One of the best uses of Udacity is to understand new concepts in technology such as deep learning and machine learning and new uses for technology such as Self-Driving Cars. Udacity can also help tech professionals understand new technologies such as blockchain and artificial intelligence. They designed some Udacity courses to apply existing skills such as Python programming to new fields like Artificial Intelligence (AI).
If you are thinking of switching careers, Udacity offers many interesting introductions to emerging jobs such as Self-Driving-Car Engineer.
Udacity is for anybody who wants to understand technology and data science. Udacity is for those seeking intense education in technology and software.
Udacity is a good resource for people who need certification or advanced study in software, new technologies, and data science for their jobs.
To get the most out of Udacity courses, one will need to be prepared to invest a lot of time and effort. Each Udacity course takes several months to complete.
The Audacity courses are best for people who have a lot of spare time to devote to education. Each course will require a few hours of study and several works of work because of real-world problems.
If you are not willing to work hard, Udacity is not for you. However, if you can focus and work hard, Udacity could provide new skills and knowledge to advance your career.
Udacity is best for those who regularly change jobs and freelancers and gig workers and constantly need new skills to take advantage of new opportunities. If you need to identify new opportunities in tech and data, Udacity could be a valuable resource.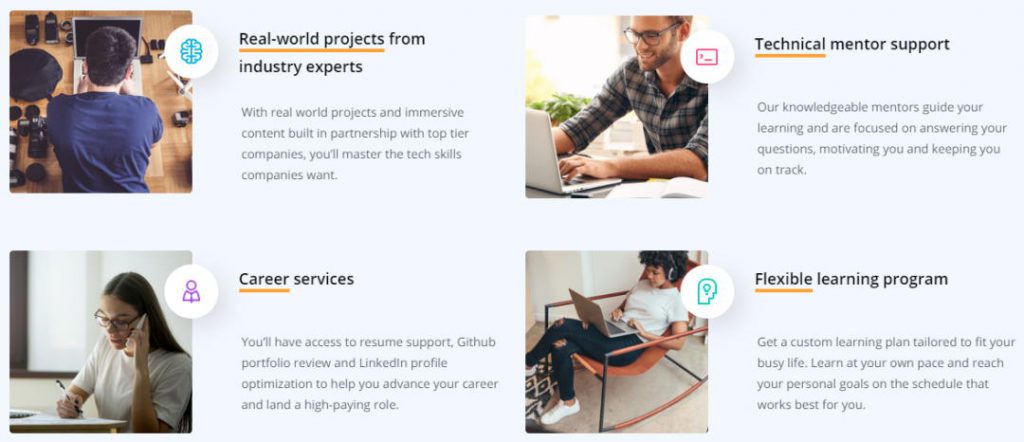 How Many Courses does Udacity Have?
Udacity currently offers over 220 courses, categorized into Data Science, Programming, Business, AI, Autonomous Systems, Cloud Computing, and Cyber Security. Udacity's curriculum constantly changes as you constantly add new courses and topics.
How Many Students Does Udacity Have?
Udacity claims to have over 160,000 students in 190 countries and over 100,000 graduates. This seems a reasonable claim because Udacity offers very high-quality technology training.
Types of Udacity Courses?
Udacity specializes in offering cutting-edge technology training covering the following topics.
| | |
| --- | --- |
|  Data Engineer |  Data Scientist |
|  Data Analyst |  Product Manager |
|  Programming for Data Science with Python |  Introduction to Programming |
|  Digital Marketing |  Business Analytics |
|  Deep Learning |  Blockchain Developer |
|  Front End Web Developer |  Machine Learning Engineer |
|  UX Designer |  AI Programming with Python |
|  Java Developer |  Self Driving Car Engineer |
|  Data Product Manager |  Artificial Intelligence for Trading |
|  Cloud DevOps Engineer |  Data Structures and Algorithms |
|  Introduction to Cybersecurity |  Cloud Developer |
|  Intro to Self-Driving Cars |  Robotics Software Engineer |
|  Predictive Analytics for Business. | |
Is Udacity legit?
Yes, Udacity offers a legitimate education in technology subjects. Udacity was founded by Stanford Professors. Udacity also offers one program in conjunction with a major American university, Georgia Tech. Unlike some of its competitors, Udacity offers courses that require an enormous amount of study and work. You will need to invest several hours a week or more to complete an Udacity Course.
So yes, the Udacity courses are real education that can teach you real skills. You will work hard, study, and learn if you take an Udacity course. However, you will not receive accreditation because Udacity is not an accredited educational institution.
Do Udacity Offer Degrees?
No, Udacity does not offer formal college degrees. However, Udacity does offer an alternative they call a Nanodegree.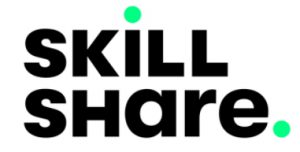 "When You Stop Learning, You Stop Living"

SkillShare Makes Learning Easy.

Skillshare Is Our #1 Rated Learning Platform With Great Lessons On:


★★★★★

Creating

: Photography, Film-Making, Music, Graphic Design & Coding


★★★★★

Building

: Leadership, Communication, Entrepreneurship & Marketing


★★★★★ Thriving

: Personal & Professional Development, Productivity, Time Management



"Skillshare is like Netflix for learning. I take a course every time I need a new skill. With over 30,000 courses to choose from, I always have something to learn." Barry D. Moore - Founder: GreatWorkLife.com
What is an Udacity Nanodegree?
A Udacity Nanodegree is a document that tells employers that an individual has completed an Udacity course that offers education in a specialized area. For example, AI for Healthcare or Intro to Machine Learning with Tensor Flow. The Nanodegree offers proof of enrollment and evidence a student has completed the course.
The Nanodegrees are not accredited college degrees and will not count as credit towards any college degree.
Is Udacity an Accredited Educational institution?
No, Udacity is not an accredited educational institution. Thus, Udacity does not offer accredited degrees. Udacity is associated with a major US university, Georgia Tech (the Georgia Institute of Technology), but it offers only one program, a Computer Science curriculum with Georgia Tech.
However, most of Udacity's courses are not connected with Georgia Tech. There is no evidence that Udacity courses count as credit toward Georgia Tech degrees.
Does Udacity have Certificates?
Yes, Udacity provides certificates that offer proof of course completion for all paid courses. The certificates include Nanodegrees, the Executive Program, and Single Paid Course.
However, Udacity will not provide certificates for free courses. Only paying students will receive Udacity certificates and Nanodegrees.
Can you earn Credit Towards College Degrees at Udacity?
No, you cannot earn credit towards college degrees at Udacity because it is not an accredited college or university.
Is Udacity Free?
Yes and No, Udacity offers some free courses. However, Udacity does not provide certificates to people who take the free courses. You will have to pay to get an Udacity certificate or nano degree.
Udacity is very expensive. A typical course can cost $1,356 for four months' access or $339 a month. However, flexible payment programs and financing are available. Udacity offers many discounts and special deals for students.
How much does Udacity Cost?
Udacity courses cost several hundred dollars a month. The lowest payments are $113 a month. Discounts are available for those who pay for four months at a time. There is a pay-as-you-go option that charges around $399 a month.
Does Udacity have a Student Discount?
Yes, Udacity offers discounts. However, they change the discounts regularly. Udacity offered a 50% discount on a multi-month discount and a 50% discount on regular monthly subscriptions on April 17, 2021.
Udacity offers other special deals include a free month of access to one of over 40 Nanodegree programs.
How much do Udacity Nanodegrees cost?
The ordinary Udacity Nanodegree costs around $399 a month. However, some discounts allow investors to pay as little as $113 a month.
Is Udacity worth it?
Yes and No. Udacity courses are worth it for those who need particular skills or knowledge but do not require college accreditation. If you want courses to build towards a formal certificate and accreditation Udacity is not worth the expense.
An example of a person who could find Udacity worthwhile is an executive who needs to understand data science or data engineering for his or her job. Another example of a person who could benefit from Udacity is a man with a computer engineering degree who needs to understand new technologies such as deep learning for his job.
Two groups that could benefit from Udacity are freelancers and gig economy workers who need particular skills for specific jobs. For example, a programmer needs to understand blockchain; or full-stack web development to get more jobs. Similarly, an experienced programmer who needs to learn Python or Java development could increase his job skills with Udacity.
A final group who could find Udacity worthwhile are decision-makers, such as executives who need knowledge of specific technologies or applications to make better-informed decisions. For instance, a CEO with an MBA whose company relies heavily on the cloud and artificial intelligence. Udacity could help that CEO understand those technologies without going back to college.
A person who cannot devote several hours a week to class will benefit from Udacity. To get the most out of Udacity, you will have to spend several hours studying and working on the problems. If you have little spare time, you will not benefit from Udacity.
I think people will need some technical knowledge and advanced mathematics to get the most from Udacity. If you were not good at maths in school, you could struggle with Udacity courses. Persons who are familiar with programming and computer languages will do better on Udacity.
Engineers, programmers, and analysts who want to improve their skills will get a lot out of Udacity courses. People with no technology or maths background could struggle with Udacity courses.
If you need to increase your technical skills and knowledge but do not need college accreditation, Udacity is worth it.







Audiobooks Are Food for the Mind

Inspiration, Education & Relaxation

Have you discovered the joy of listening?
★★★★★ Audible: Review Winner - Best for Price, Library Size & Original Content.


★★★★★

Blinkist: Review Winner -

Best Audiobook Summary Service.
★★★★ Audiobooks.com: Best For Unlimited Audiobook Listening.



"As a 10-year member of Audible, I have a library of 300+ audiobooks. The best thing is, with a few clicks, I can return any book within 12-months. I also subscribe to Blinkist; with 5,000 15-minute audio-summaries, I can consume knowledge and learn new concepts fast."

Barry D. Moore - Founder: GreatWorkLife.com
Final Thoughts
Udacity is an excellent resource for people who want to avoid entanglements with traditional education institutions. Thus Udacity could be an excellent alternative for people who hated school.
If you need knowledge about technology, software, data, and related subjects for your career, Udacity could be of great use. However, many employers will reject Udacity courses because there is no accreditation.
Everybody who works in technology needs to examine Udacity because it could offer a glimpse of the future of online education. To explain, I think intensive one-on-one online education without accreditation is the future.
Unfortunately, many people are heavily invested in traditional education. I think those people will reject Udacity Nanodegrees and certificates because they are not from a "real college."
So yes, Udacity could be the future of online education. Take a look at Udacity because many of us will be using such platforms to increase our skills in the future.