You probably carry one of the most powerful productivity tools ever invented in your pocket. That tool is the smartphone, but very few people use it to become more productive.
A smartphone takes the place of dozens of devices people used to pay extra for. A smartphone can serve as an audio recorder, a camera, a video camera, a TV set, a music player, a map, a calculator, a notepad, a computer, a radio, a credit card, a debit card, a video recorder, and a remote control unit, for instance.
Your smartphone's productive capability is only limited by the apps you install and your internet connectivity. All it takes to transform your smartphone into a powerful productivity tool is a little creativity and a few carefully chosen apps.
How to Become More Productive
The key to being productive is to focus on the few critical business and life goals and deliver on them as they will propel your relationships, career, and earnings. You need to eliminate distractions, tuneup your planning, and optimize your use of technology and harness the power of your team. It's's quite simple, really.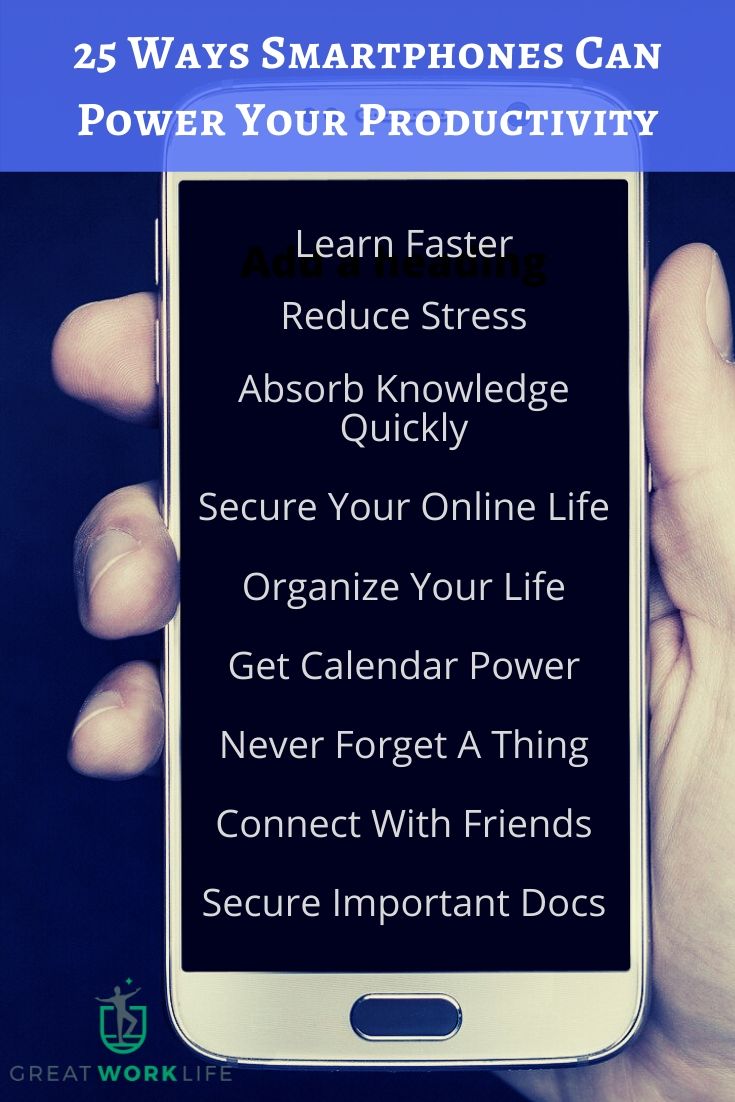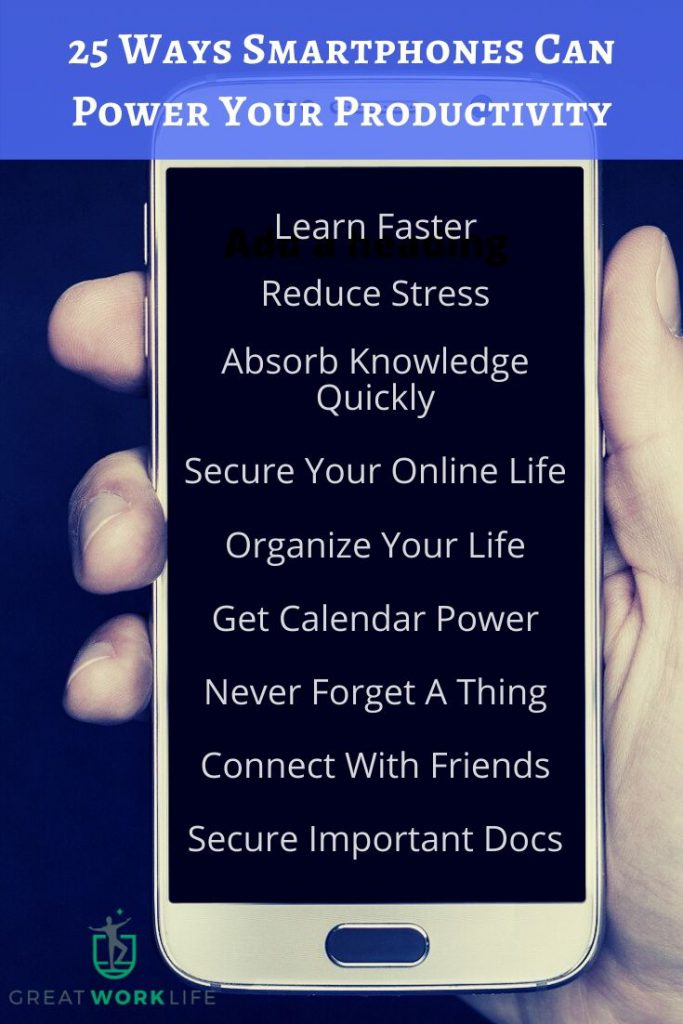 1. Learn & Relax With Audiobooks
You know how it is as a modern-day knowledge worker; you sit in meetings and in front of a computer for most of your working day.  You read a lot, emails, PowerPoint presentations, excel spreadsheets.  When you finish work and eventually get home, you feel mentally and physically tired.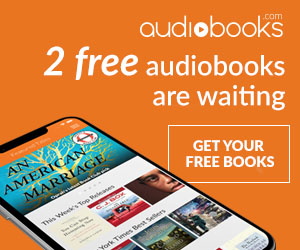 Have you lost your love of reading books, perhaps you simply do not have time anymore, there is the housework, exercise, perhaps even the children?  Who has time to read?  But without reading, how do you continue to build your knowledge, learn new skills, or wade into a novel.
Audiobooks available online and on-demand are the single best way to continue learning when you do not have time or the inclination to sit down and read.
I have personally listened to over 350 books over the last eight years averaging one book every nine days.  I am actually the most "well-read" person I know (apart from my wife, who listens to them also). 🙂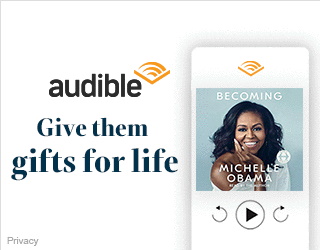 I listen to books when:
Doing the laundry
Cleaning the kitchen
Going running
Driving
Golfing
Gardening
Be the most "well-read" person you know and increase your learning productivity by signing up for an Audiobook service. I use Audible and Audiobooks.com.
Great Audiobook Services
Audible.com, an Amazon Company – The largest collection of Audiobooks on the planet, the best prices, and an excellent "satisfaction guarantee" returns policy. The 30-day free trial includes 1 Full Audiobook + 1 Audible Original book.
Audiobooks.com – a 30-day free trial, great prices, and a highly rated App, plus two free Audiobooks.
SCRIBD – For a flat fee of $9.99, you get access to the entire library of Audiobooks, but consumption and selection are restricted.
2. Learn Quickly With Blinkist
Now, if you want to put your learning in supercharge, you could sign up for a service called Blinkist.  I have a yearly membership with Blinkist because it allows me to read or listen to an entire book in summary format in 15 mins.  Not only that, but you also have unlimited access to over 3,000 summarized books.

Book summarization services only work on nonfiction books such as self-improvement, biographies, or concepts.  A fiction thriller story cannot be summarized because the whole point is the story, not the idea.
Try Blinkist for Free, and you get one free Blinkist book delivered to you every day.
3. Save Time: Use a Password Manager
The wealth of online services we use actively today is mind-blowing.  But the major problem is remembering all the passwords.  It is nearly impossible to remember all your passwords because security experts recommend:
An individual password per website, so if one site is compromised, all your passwords are not compromised.
A complex password with numbers, symbols, upper and lower case characters to make it near uncrackable with brute force
This means your passwords are almost impossible to remember.  An when you forget a password, you have to go through the annoying process of requesting a reset, confirming your reset request, then resetting your password, and then logging in again.
These problems are fixed with Lastpass, I have been using it for five years, and I must say it is fantastic.  It literally saves me at least 20 minutes per day.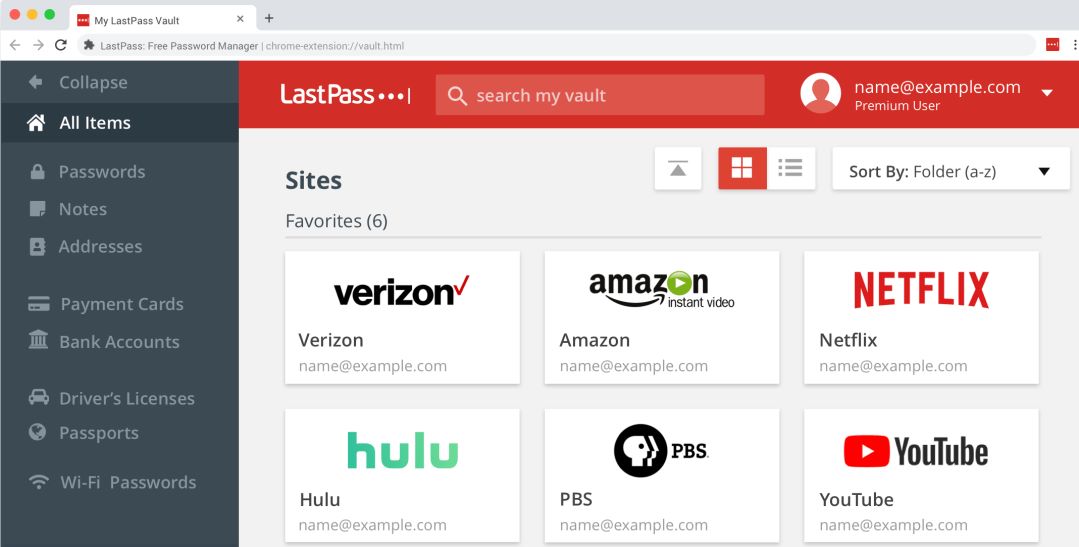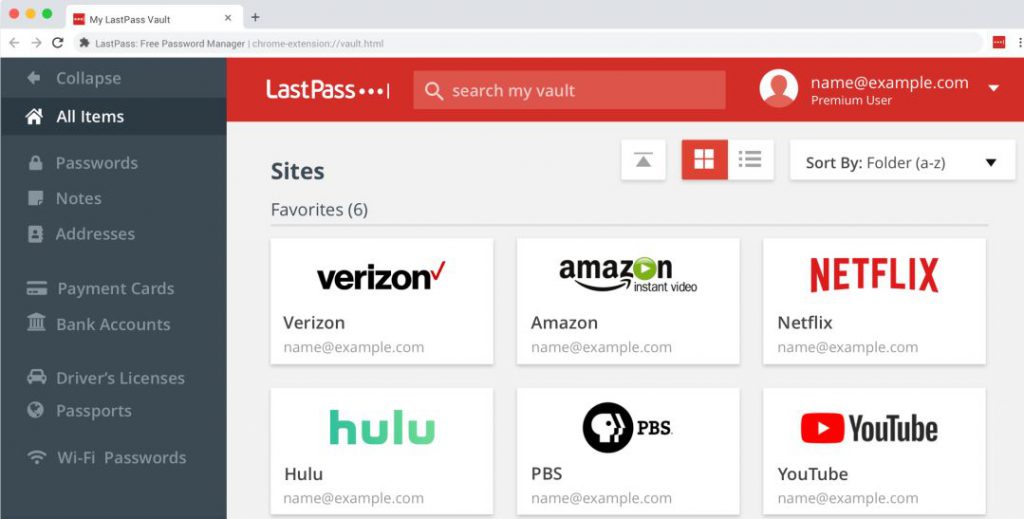 4. Setup Your Home Screen for Productivity
Give your phone a productivity tuneup by seriously organizing your home screen. The image to the right is a screenshot of my phone fully tuned.
I have only the most important apps for productivity on my main screen; this stops me from constantly searching for the right app and saves me time.
Also, there is a psychological element to doing this. When you look at your phone, you will only see apps that encourage you to get things done.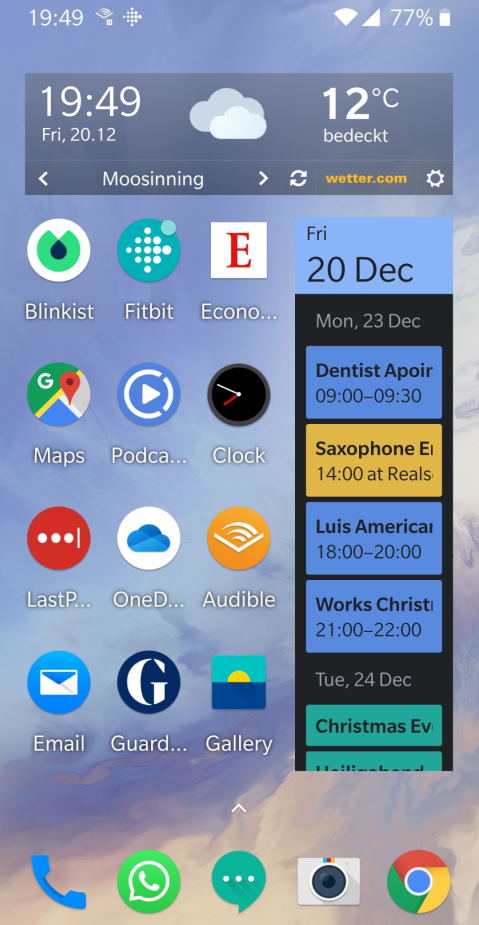 As you can see, my favorite apps  for productivity are:
Weather Widget, so I can plan my outdoor sporting activities and golf.
Blinkist for audiobook summaries in 15 minutes
Fitbit to check my vital signs and exercise patterns
The Economist App for high-quality journalism
Google Maps so I can get swiftly from A to B.
The Podcast Republic App for my favorite Podcasts
Clock App so I can quickly set alarms and reminders.
Lastpass to give me access to all my app and online services
OneDrive for accessing all of my documents
Audible for my huge collection of over 250 Audiobooks
Business email with Bluemail
The Guardian Newspaper app for high-quality, trustworthy news
And of course, my Family Events Shared Calendar Widget (see next section)
5. Organize Your Life With a Shared Calendar
This is a great tip for leading a super-productive home life. If you have a partner and or children, this is simply one of the best things to do, never to miss an appointment.
You will always know when to bring the kids to sports, bring them to the dentists or doctor appointments.  You will know when your partner has an evening work event or when you are going on holiday in six months.
How to set up a Shared Calendar in Google Calendar
Open the Calendar on a desktop computer.
Locate My Calendars
Click the three vertical dots
Select Settings & Sharing
Under Share with Specific People, add the person's email address
Finally, add the Calendar Widget to your Home Screen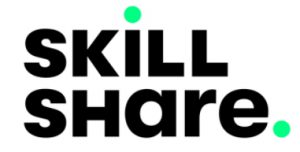 "When You Stop Learning, You Stop Living"

SkillShare Makes Learning Easy.

Skillshare Is Our #1 Rated Learning Platform With Great Lessons On: 


★★★★★

Creating

: Photography, Film-Making, Music, Graphic Design & Coding


★★★★★

Building

: Leadership, Communication, Entrepreneurship & Marketing


★★★★★ Thriving

: Personal & Professional Development, Productivity, Time Management



"Skillshare is like Netflix for learning. I take a course every time I need a new skill. With over 30,000 courses to choose from, I always have something to learn." Barry D. Moore - Founder: GreatWorkLife.com
6. Listen to Podcasts for Information and Entertainment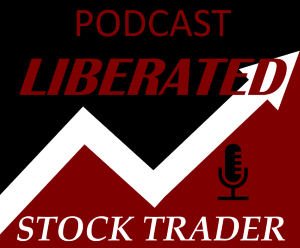 Podcasts are fun, and they can teach you a lot. Instead of checking social media, or listening to music, consider listening to a lecture or an informative podcast next time you work at your desk. The App Store, Spotify, and Stitcher are full of informative podcasts.
Podcasts and lectures are among the best values in the information available today. In fact, lectures from some of the world's greatest academics are available as podcasts for free.
You could even listen to my Podcast, teaching people how to invest in the stock market.
7. Buy a Long-lasting Bluetooth Headset
Take a tip from me; you cannot listen to hundreds of audiobooks, Blinkist summaries, and Podcasts with a cheap set of wired headphones.  You need a set of Bluetooth headphones.
Why do you need Bluetooth headphones? Because the cables from normal headphones are always getting snagged on things, and that is really annoying.
I have two sets of headphones for different purposes.
Noise Cancelling Headphones
If you work in a noisy office or environment and need to concentrate without distraction, use a pair of active noise-canceling headphones. They will literally change your life.  You can enjoy long-haul flights, you can work in bustling offices, and the big plus is that people at work are less likely to disturb you with questions or conversation when you are wearing them.
I own a pair of Bose QC Active Noise Cancelling Headphones that are so good that you do not even need to play music to block out the sound. Simply switch them on to listen to pure silence.
Check out the best Active Noise Cancelling Headphone on Amazon.com.
Lightweight Sports Bluetooth Headphones
I actually have these headphones. They are cheap ($30), lightweight and last for 12 hours of playback and phone calls.
I do not like the in-ear headphones because they stop external noise and hurt the inner ear after extended usage.
For longer listening and portability to fit in your pocket, you need lightweight on-ear headphones.
8. Turn Off Social Media Notifications
Every social media company, every app development company, and every website competes for your eyeballs and your attention.  Your eyeballs mean advertising revenue, your attention means website traffic and sales.
Distraction is the enemy of productivity
How to eliminate external distractions:
Uninstall Facebook from your smartphone
Remove Twitter from your phone.
Turn of all notifications on your phone except phone calls, including all games
Disable outlook's email notification sound
Move to a meeting room or work from home if you have a critical task requiring zero human distraction.
Researchers at the University of California found that the average office worker takes 23 minutes to return to the original task after being interrupted.  Simply put, five interruptions per day could mean nearly 2.5 hours of overtime in your day.
Think of your life; think of what you could do with 12 hours extra in your workweek.  Perhaps leave work on time?
If you want to maximize your free time and be successful at work, you need to eliminate distractions.
Read the How to Break Up with Your Phone in 15 Minutes with Blinkist
9. Make To-do-lists with OneNote or Evernote
With your smartphone by your side, you never have a reason to forget anything. There are great apps for making notes.
You could use Evernote, Microsoft Onenote, or even the built-in Android or iPhone notes app.
Super easy to use and a great way to plan an event or remind yourself of the shopping list for tomorrow.
10. Make Calls Rather than Whatsapp Messaging
Voice calls are so much more effective for any complex topic saving you both time and multiple interruptions from constantly having to pick up your phone and reply. Even though 29 million WhatsApp messages are sent per minute (according to Facebook), WhatsApp users also spend over 2 billion minutes making voice and video calls per day.
Don't forget voice calls are better for a real discussion.  And finally, when it is someone's birthday, if they mean anything at all to you, call them, don't send a happy birthday text.
Calling shows you care.
11. Put Important Documents in the Cloud
Whether you are at home or in the office, it is always beneficial to have your key working documents in the cloud.  I use OneDrive with Microsoft Office 365, but Dropbox is also a great solution.  Instant document backup and accessible from everywhere the cloud is your friend.
Put work, documents, and notes on the cloud so you can access them from your phone.
Apps such as Microsoft OneNote and Evernote allow you to sync data between your computer and your phone. Dropbox and OneDrive let you access Microsoft Word and Excel docs through your phone.
If you can access your work through your phone, you could complete or check it from anywhere.
12. Install a Voice-activated Personal Assistant
A voice-activated personal assistant can answer phone calls and help you with various tasks, including shopping, search, and correlation of information. Top personal assistants, such as Apple's Siri, can even answer your questions.
A good way to think of personal assistants is a secretary and receptionist on your phone. A good personal assistant will increase your productivity by doing busy work, such as research and answering messages. Ideally, a personal assistant will give you more time.
More advanced personal assistant apps, such as the DataBot, can even serve as a ChatBot. Personal assistants cannot do everything, but they are getting better every day. Amazon's Alexa can even supposedly call Uber and Lyft rides for you.
Even a simple personal assistant, such as the Google Assistant, could save you several minutes a day by handling simple chores. An assistant can remember all of your contacts and even call or text them.
Some of the best smartphone personal assistants include the Lyra Virtual Assistant, Microsoft Cortana, the Extreme-Personal Voice Assistant, the DataBot Assistant, the Robin AI Voice Assistant, Jarvis, AIVIC Alice, the Dragon Mobile Assistant, and the iReparo for Android.
13. Delete Time-wasting Social Media
You can transform your smartphone from a time-waster into a useful tool by getting rid of time-wasting apps.
A good place to start is by eliminating mindless social media such as Instagram, Facebook, and Twitter. Unless you use those apps for business; or communicating with loved ones, they have no place on your phone.
Most social media is a waste of time because it forces you to answer meaningless messages. Also, social media can force you into mindless arguments and needless conflicts. Turning off social media can transform your phone from a toy to a productivity enhancer.
One survey found you could give yourself an extra two hours and 22 minutes a day by eliminating social media. Other stuff to consider dumping includes games, photo apps, and shopping apps.
14. Only access time-wasting apps through your computer
Remove social media, games, and other time-wasters from your phone. Then install those apps on your PC. If you have to go out of your way to access the apps through your PC, you will be less prone to using them.
Be careful when you do this because you can transfer your time-wasting tech from one device to another. A good rule of thumb is to eliminate any social media you do not use for business or work purposes.
That way, you can use social media as a promotional tool instead of a distraction and a communications medium. Relying on social media for communications will waste time.
Limiting the use of time-wasting apps will make it more productive. Learning the difference between time-wasting apps and useful tools is the first step in turning your phone into a productivity tool.
15. Read Books on your Phone
The Amazon Kindle app, for example, offers access to over 850,000 books on Android and Apple phones. Thus, you can read for information on your phone instead of playing games or wasting time with social media. Many popular business titles are available.
Amazon offers Kindle Unlimited, which provides for a monthly subscription cost unlimited reading and listening.
16. Get a Phone with a Big Screen
It will be a lot easier to read books or complete work on the phone if the screen is larger. Thus, spending a little extra money on a larger phone will make you more productive due to the sheer amount of screen real-estate available to you.  The larger keyboard and more space for reading make a huge difference.
17. Use your phone to monitor your competition.
Your phone can be a great source of business intelligence about your competitors. Signing up for your competitors" social media feeds lets you see their ads quickly.
If you visit your competition's stores or facilities, you can take photos or videos of what you see. Also, you can record conversations with contacts, clients, competitors, customers, and others for future information. Make sure you get their permission first, though.
Visiting your competitors" websites, downloading their apps, or even calling their customer service centers can show you their customer service capabilities.
In addition, you could learn what marketing tactics your competitors use and counter them.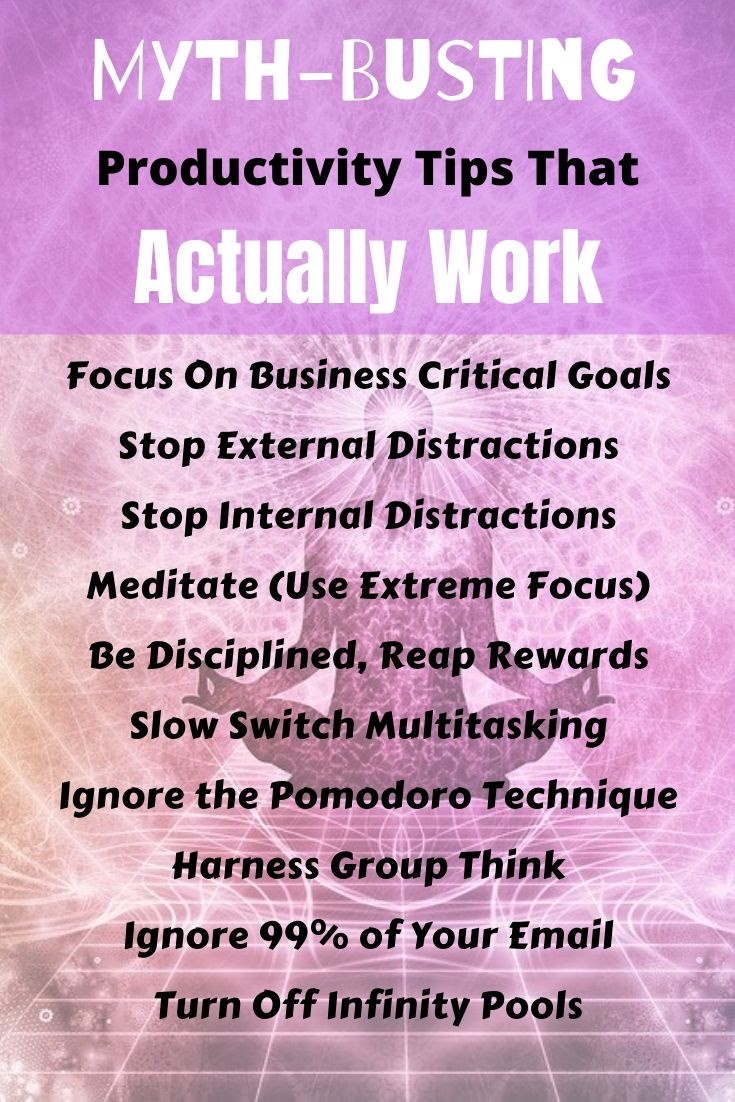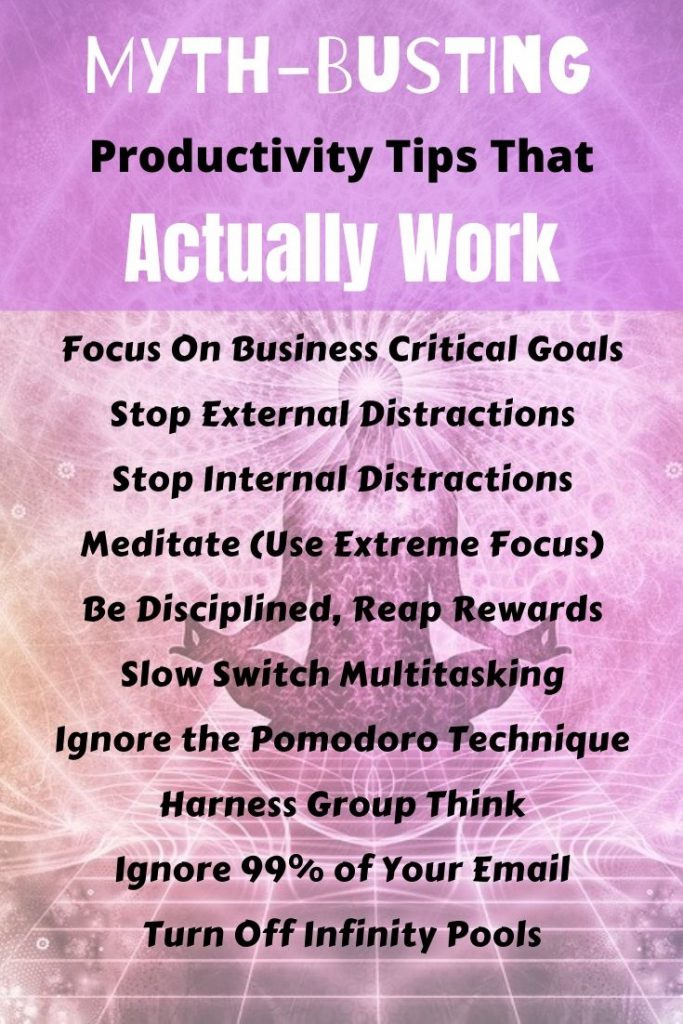 18. Add a Better Keyboard to your Phone
Default smartphone keyboards can be clumsy and hard to use.
There are better smartphone keyboards out there, including Swype.
Keyboards such as Swype can save time and increase productivity by making your typing faster and easy.
If you take a lot of notes or send many business messages with your phone, a better board is a necessity. Check the App Store and Google Play for the latest keyboards.
19. Consolidate and Simplify your Inbox
Apps such as Mailbox can save you time by consolidating several inboxes into one. Then you can have one place to check all your messages instead of opening several screens.
20. Add Microsoft Office to your Phone
Popular Microsoft Office productivity tools, including Word, Excel, and PowerPoint, are now available for Android and iOS. Installing these tools on your phone could allow you to perform actual productive work on it.
If you want to avoid Microsoft, Google Docs are also available free on both Android and iOS.
21. Index everything you have
Apps such as Evernote can index all your files and websites. Evernote can save time by allowing you to find what you need fast.
An advantage to Evernote is that you can make a list of documents you want to review on your phone as you work. You could then review the documents on the bus or train going home from work.
22. Prioritize your Phone Usage
Restricting phone use to business purposes can free up time for work and education. Fortunately, there are many ways you can prioritize phone usage.
One great means of prioritizing your phone usage is to change your phone number. Kill your old number and only give the new number to people that matter, such as coworkers and your family.
Another method is to screen your phone calls with voicemail. Never answer phone calls yourself. Instead, use voicemail to screen messages and only respond to important calls.
Make sure your acquaintances know what you are doing and why. Some people consider it rude not to answer or return every phone message.
Finally, have one time a day to check your social media and phone calls. For instance, 10 a.m. or 11 a.m. That way, you could get in two or three hours of uninterrupted work before checking your messages.
23. Silence your Smartphone
One way to keep your phone from distracting you is to put it on airplane mode when you work. That way, your phone will not interrupt your work.
Additionally, you could turn off all notifications, so texts and phone calls will not interrupt you. Make sure you have a message that tells callers what you are doing.
A similar method is to have a phone silence period each day. Let coworkers, clients, and others know when you will answer your phone calls or return them. Make sure people understand; there are times you will not let them interrupt your work.







Audiobooks Are Food for the Mind

Inspiration, Education & Relaxation

Have you discovered the joy of listening?
★★★★★ Audible: Review Winner - Best for Price, Library Size & Original Content.


★★★★★

Blinkist: Review Winner -

Best Audiobook Summary Service.
★★★★ Audiobooks.com: Best For Unlimited Audiobook Listening.



"As a 10-year member of Audible, I have a library of 300+ audiobooks. The best thing is, with a few clicks, I can return any book within 12-months. I also subscribe to Blinkist; with 5,000 15-minute audio-summaries, I can consume knowledge and learn new concepts fast."

Barry D. Moore - Founder: GreatWorkLife.com
24. Sleep Easier and Work Better
Interestingly some apps can help you get a better night's sleep. White noises are sounds that relax you and screen out distractions.
White noise helps you sleep by blocking out noises that can keep you awake. Besides, some white noise sounds could help you work better by screening out distractions.
Currently, there are many free apps, such as my noise; and Atmosphere: Relaxing Sounds, that allow you to choose from a wide variety of relaxing noises. Playing white noise on your phone at night can help you sleep.
Listening to relaxing noises on your phone or via a headset can help you concentrate as you work. In particular, white noise could help you concentrate on dull, repetitious, and complex activities.
They design some white noise apps for sleep. Moreover, there are apps such as White Noise Lite, which offer White Noise for the workplace. Thus, white noise can help you get better sleep or increase your productivity.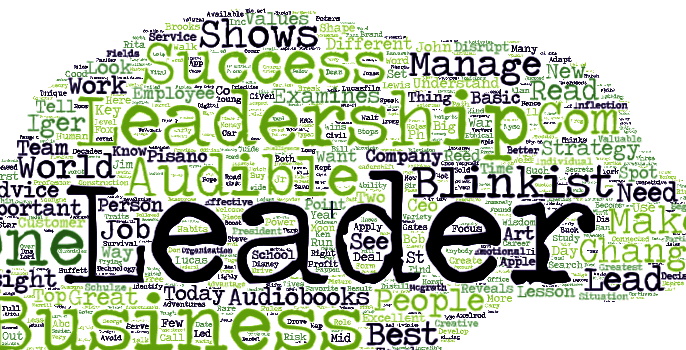 25. Transcribe your Voicemail
One of the easiest ways to screen voice mail is to transcribe it into written speech. There are many voice transcription apps, such as Google Voice transcriptions available.
Suppose you get a lot of voice mail messages. Transcription could reduce the time you spend answering voice messages from two or three hours to 10 or 20 minutes.
Moreover, you could identify and respond to just the most important messages. Finally, transcription lets you sift through messages from customers, clients, or prospects to identify the most important or profitable individuals.
26. Use your Camera for more than Selfies.
Your smartphone camera is one of the most potent productivity tools available.
For example, you can save time by taking pictures instead of making notes when you gather information. You could snap a picture of your refrigerator instead of making a grocery list.
Also, you could take pictures of books you want to read before you order them from the library or buy them on Amazon. In addition, you can take pictures of business cards and lists of phone numbers.
Taking a picture of an address or an advertisement can you help you save information. In addition, take pictures of the information you could need to access in the future. For example, your frequent flier number, your hotel's address, your car's license plates, your insurance policy, your lease, your medical insurance card, your prescriptions, or your passport.
You could save several minutes by not having to look up that information. For instance, you could just look at your phone rather than trying to remember what your prescriptions are at the doctor's office.
27. Stop checking the news and the weather on your phone.
Two of the biggest time wasters on your phone are news and the weather. Unless you plan a long trip or expect a big storm, there is no reason to check the weather. Yet people constantly check the weather.
An even greater waste of time is checking the news. There's no reason for the average person to check and read the news all time, yet many people do.
Checking the news wastes time because news providers add junk news to catch your attention to their feeds. For example, they could update the plotline of a TV show or comic book next to political news. Or a titillating story about Kanye West's latest stupidities.
Hence you end up wasting time reading the latest Batman storyline, celebrity gossip, your team's new lineup, or a recipe for Kiwi pie instead of working. Some people end up wasting all their spare time and work time on such nonsense.
Instead, go back to the old-fashioned habit of checking the news once a day. There is no reason to monitor the stock market or football scores 24 hours a day, yet many people do. Getting yourself out of the news and weather habits can save time and money.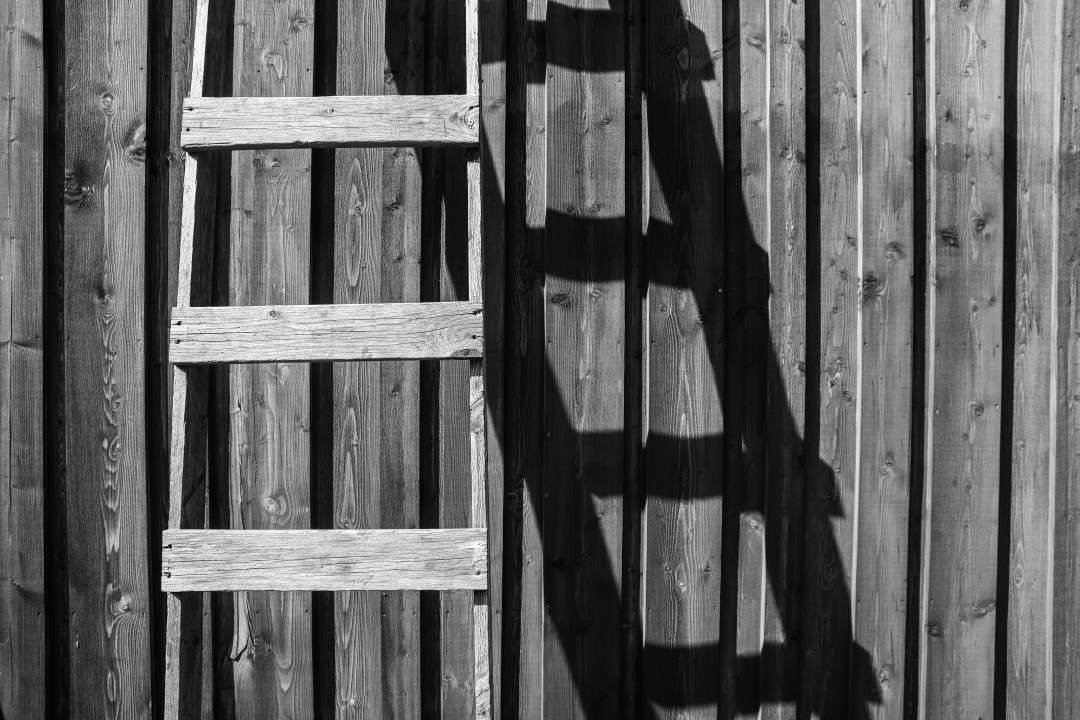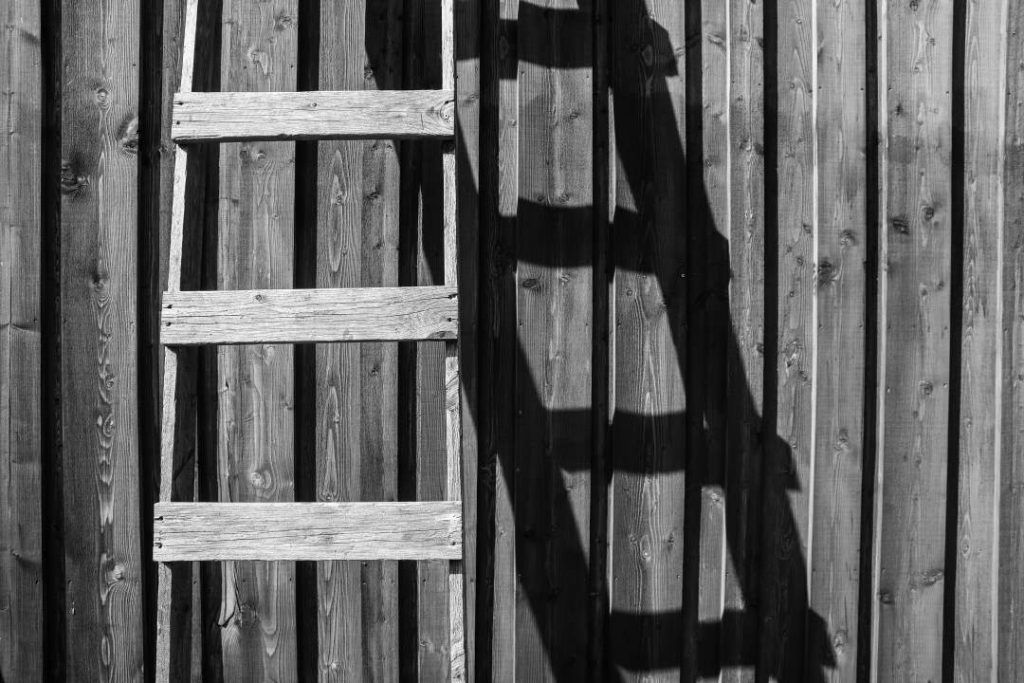 28. Schedule some phone-free time every day
Many of us have become addicted to our phones. Instead of working, we spend our time playing games, watching cat videos, texting, or reading pointless Buzzfeed news stories.
A great way to get out of this habit is to schedule phone-free work and relaxation time each day. For instance, you could leave your phone on your desk and spend half or two-thirds of your lunch hour reading a book.
Or you could leave your phone in your car for the first half of your workday. When you get home at night, you could turn your phone off and watch TV, play video games the old-fashioned way on your TV, read, listen to music, or play cards instead of doing phone stuff.
Other phone-free times can be hobbies, exercise, meals, family times, study periods, etc. For instance, you could emulate Disney CEO Bob Iger by getting up early in the morning to read and exercise with your phone turned off.
Another great phone time is two or three hours before bed. You could lock the phone up and spend that time reading or exercising instead of social media.
29. Turning Your Phone Into a Productivity Tool
Phones are a great productivity tool, but smartphones only increase your productivity when you use them properly.
Understanding the difference between proper phone use and time-wasting can turn your smartphone from a time-waster into a productivity enhancer.
Learning proper phone use can lead to increased productivity at work and more relaxation for the rest of your life.