In the age of identity theft, computer hacking, and online blackmailing, you must ensure your online activities are secure. It all starts with having a strong, complex password that is difficult for hackers to crack.
The Problem With Passwords
The problem with passwords is that a password needs to be long, complex, and different for every online service in the internet age. The problem with complex passwords is that they need to contain a random mix of numbers and letters. The biggest issue is that our brains are not wired to memorize many complex passwords.
Hackers love passwords because most passwords are easy to crack. There are dozens of ways for crooks to learn your password and use it to hack your computer, steal your data, and commit identity fraud.
Passwords do not work well because most people do not have the time or inclination to maintain password complexity and change their passwords regularly.
Also, many people have a hard time remembering their passwords, and because of this, they choose easy-to-remember, weak passwords that make hackers' work easier.
What is a Password Manager?
A password manager is an app that generates and securely stores your login details and passwords for your online services such as shopping and social media. Password managers solve the serious issue of remembering long and complex passwords. They save time, improve security, and reduce the real risk of identity theft.
Password managers solve the serious issue of remembering long and complex passwords.
Why do you need a Password Manager?
A password manager reduces your risk of losing money.
A password manager reduces your risk of identity theft.
They save you time by automatically logging you into websites.
You save time by never having to request a password reset again.
They audit your existing passwords and suggest security improvements.
10 Best Password Managers Review Summary
This password manager review reveals that LastPass is the best free and paid tool, Zoho Vault is perfect for business, and Bitwarden leads as the best open-source password manager. 1Password and Dashlane are also worthy of consideration.
The best password managers can generate highly secure passwords, automatically save your passwords, and automatically fill in your login details on all websites. More importantly, a great password manager should have better than military-grade security and multifactor authentication that works across all your devices.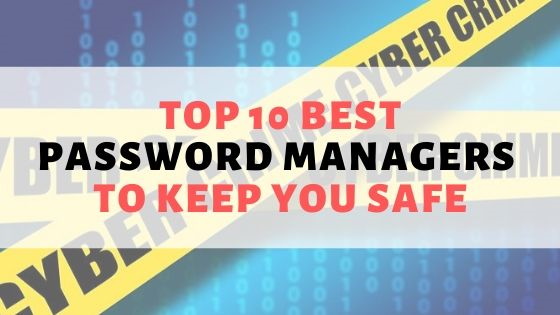 1. LastPass: Best Free Password Manager
LastPass is a popular free password manager that works with Windows, macOS, Linux, Android, iPhone, and iPad. LastPass also works with the popular Chrome, Firefox, Safari, Internet Explorer, Edge, and Opera Browser Extensions.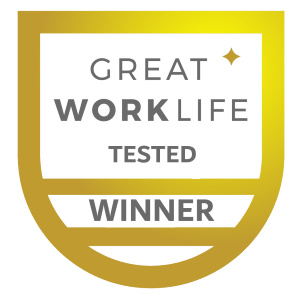 I have been using LastPass for five years and can say it is simply the best.
The Key Benefits of LastPass
Auto Password Generation
Automatic password storage
Automatic password filling
Integrated Password Auditing
Apps for all platforms
Industry-leading security
A big advantage to LastPass is that it does not lock you out of your accounts if you forget to pay. Some popular pass managers will lock you out of your accounts if you do not pay.
What I love about LastPass is its simplicity and the visual interface, but most of all, I trust LastPass with my most important passwords.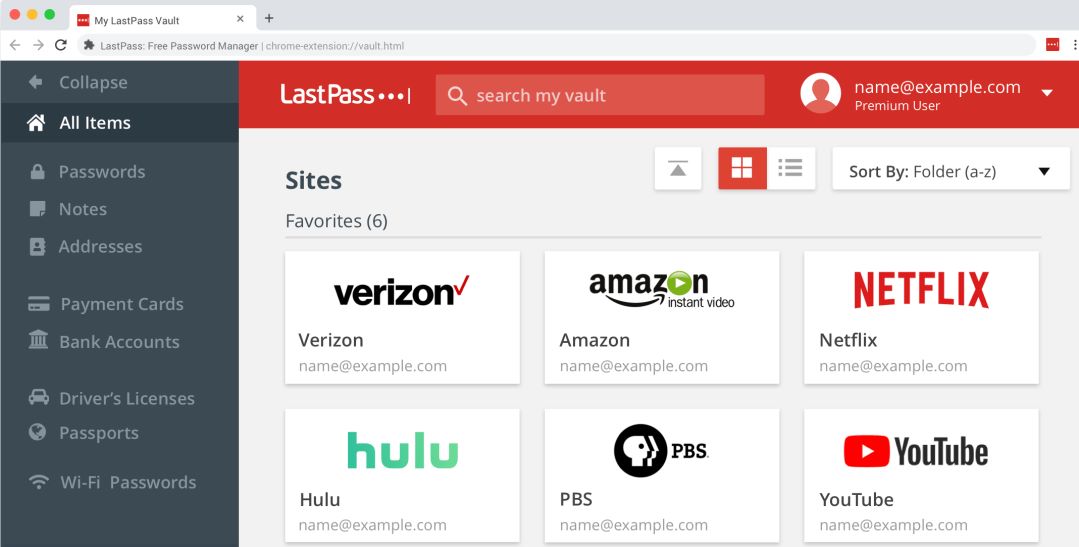 LastPass offers a paid premium version that lets you share multiple passwords, memberships, and trusted emergency contacts. Plus, the premium LastPass offers multifactor authentication through YubiKey and a fingerprint scanner.
The YubiKey is an encrypted hardware storage wallet designed to store vital information such as passwords. YubiKey plugs into computers, phones, and other devices.
Lastpass Video Overview
LastPass offers a $48 plan that lets up to six people store passwords on LastPass. Another feature is a dashboard interface for managing accounts and monitoring security.
2. Zoho Vault: Best Password Manager for Business
Zoho Vault is a storage solution that holds your passwords in an encrypted cloud storage utility.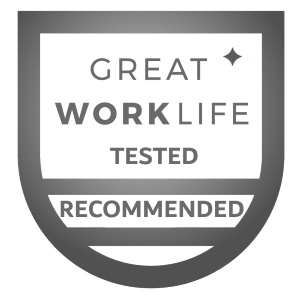 The Zoho Vault features include secure storage, safe sharing, direct login to websites, social media accounts, and apps. The advantage of a direct log is that it offers you fast and seamless access to those accounts.
A big advantage of Zoho Vault is that it allows groups or teams to access apps and accounts. For example, a business can store and manage its passwords through Zoho Vault.
That allows the business owner to monitor who has access to her accounts and attract their actions. The owner could quickly spot illegitimate activity and shut out people who are abusing company resources. Zoho Vault even gives you in-depth reports on password usage.
Zoho One Overview Video
Zoho Vault is an affordable solution. The standard Zoho Vault solution costs nine cents. Additionally, an Enterprise solution costs $6.30 a month, and a professional solution that contains words for five or more users costs $3.60 a month.
3. Bitwarden: Best Free Opensource & Offline Manager
The great advantage of Bitwarden is that it is open-sourced and free. That means anybody can download and use Bitwarden without paying.
Best of all, they make Bitwarden available through GitHub so that anybody can get its code. Bitwarden claims independent researchers and third-party experts to test its security features.
Getting started with Bitwarden is easy because you can create an account with only an email. Interestingly, you can create identifiers for critical numbers, including Social Security numbers, Driver's License numbers, credit cards, etc. Bitwarden features include a password generator and a Bitwarden vault for storing critical data.
You can store up to one gigabyte of data in encrypted storage on a Bitwarden Vault. They conveniently optimized the Bitwarden Vault for desktops, laptops, tablets, and phones. Plus, you can access the Bitwarden Vault from any computer, even a friend's computer or at work.
Other solutions include file attachments, two-step logins, a TOTP (Time-based One-time PIN) verification code (2Fa) generator, and data breach reports. A TOTP verification code is a short number you use only once. Generally, an app will email you a TOTP PIN (personal identification number) when accessing a secure site.
Bitwarden works with Windows, macOS, Linux, iOS, Opera, Safari, Google Chrome, Mozilla Firefox, Vivaldi, Brave, Microsoft Edge, and even the Tor Browser Android. Bitwarden lets you sync all of your devices and use its password on each device. They protect all data on Bitwarden with end-to-end AES-256 bit encryption salted hashing.
If you want extra security, you can even write Bitwarden into a powerful command-line tool. You can do that because Bitwarden is 100% open-sourced software.
4. 1Password: Best Best Password Manager IOS & Windows
1Password is one of the most popular paid password managers. The $35.88 a year subscription is expensive, but you get a lot for that money.
The 1Password works with Windows, macOS, Linux, Chrome OS, Android, iPhone, and iPad. 1Password also works with Chrome, Firefox, Safari, Edge, and Opera.
There is no free version of 1Password, but they offer a 30-day free trial period. Similar to LastPass, a $60 Family plan covers up to five people.
1Password Overview Video
1Password offers a great family plan because it gives each user their own vault. Additionally, you can create separate guest accounts that share Wi-Fi connection passwords and home alarm codes.
1Password is the best manager for iOS devices such as Mac. The 1Password works with Face ID.
5. DashLane: Best for Darkweb Monitoring & Alerting
DashLane is a good free password manager, but it is somewhat limited as DashLane only lets you store up to 50 passwords on one device. Additionally, the base price is high, with a $59.88 a year subscription.
They designed DashLane as an all-in-one internet shortcut. DashLane achieves that goal by automatically filling forms with passwords in a flash. DashLane also quickly saves and fills personal information besides passwords.
The basic DashLane features include a password generator that creates and stores unique and complex passwords with one click. DashLane also stores secure notes and documents.
DashLane's most interesting features are Dark Web Monitoring and Personalized alerts.
The Dark Web is the underground internet where the bad guys share illegal and stolen information. DashLane monitors the Dark Web to see if criminals are sharing your data. If it sees crooks sharing data, DashLane sends you a personalized alert.
Another fascinating DashLane feature is a virtual private network (VPN) that encrypts your online activity on any Wi-Fi network. Thus, DashLane will encrypt your internet usage on public Wi-Fi.
The DashLane VPN will protect your data on any network, including work networks or hotels you stay at. Thus, DashLane is the best password manager for people who travel a lot.
The best DashLane feature is that it will sync the data across various platforms and devices. Thus, DashLane is a great manager for people who use a wide variety of devices. DashLane offers a high-security level for people who need to share data or access the internet from many devices.
6. KeePass XC: Best Free Offline Password Manager
The KeePass XC uses the KeePassX digital platform to store your passwords in an encrypted database in the cloud. KeePass XC protects that database with an industry-standard 256-bit encryption algorithm. It is industry-standard, not industry-leading.
The KeePass XC offers an encrypted wallet that works online and offline. Plus, you can access your accounts with KeePass for Windows. There is also an Auto-Type feature that types passwords for you.
The great advantage to Keepass XC is that it is a non-profit project they support with donations. Thus, KeePass XC is free, making it a great choice for those on a budget. Another advantage is a KeePass for Windows that works with the world's most popular operating system.
7. Keeper Security: Great for Business & Secure File Storage
Keeper is a zero-knowledge security platform that can scale to meet the needs of your organization or family. Zero-knowledge means that Keeper avoids putting your data online for crooks to track. Currently, there are two versions of Keeper available, Keeper Family and Keeper Enterprise.
The Keeper is one of the best-reviewed password managers out there. Keeper receives 4.9 out of five stars in the App Store, 4.5 out of five stars in Google Play, and 9.3 out of 10 scores from Trustpilot.
Keeper offers five plans, including business, enterprise, MSP, Personal, and Family. The personal plan offers a password manager and vault, Dark Web monitoring, account take-over protection, a free dark web scan, and private messaging. The personal plan costs $4.99 a month.
In addition to the personal plan, you can purchase a Password Manager for $2.49 a month and get access to Keeper Chat private messenger for $1.66 a month. Free trials of the MSP, Business and Personal plans are available. You will have to pay for the Family and Enterprise plans.
Keeper is one of the better password managers available because you will get a lot for your subscription. Interestingly, Keeper allows you to store official data, including passport information, online.
8. Sticky Password: Good Simple Password Manager
Sticky Password is another basic password manager that receives impressive reviews.
Sticky Password offers one of the good levels of security because it features fingerprint scanning. That means Sticky Password can identify you using the fingerprint scanners on Android and Apple devices.
Another important feature of Sticky Password is the Master Password. The advantage to the Master Password is that Sticky Password claims not to save it in servers or send it online. Instead, only the user knows the Master Password.
The obvious problem with the Master Password is that you can lose access to your devices if you forget them. Thus, you can claim that Sticky Password is too secure.
Another good feature on Sticky Password is Local Wi-Fi Sync. The Local Wi-Fi Sync allows Sticky Password to protect your data on any Wi-Fi device. For instance, you could work securely on the Wi-Fi at the airport or the train.
Sticky Password is a good password manager for travelers because it works over different devices and networks. The Sticky Password protects travelers' data with two important features.
Another Sticky Password feature for travelers is a USB portable version for Windows. That means you can carry your passwords and data with you in your pocket or purse.
Two-factor authentication asks for two pieces of information when you log in. That can stop a hacker who has stolen your password from accessing your account. The hacker cannot penetrate your account because he only knows the password.
Sticky Password claims to use the same BKDF2 SHA‑256 encryption the US military and government agencies deploy. Sticky Password adds salted hashes as another layer of security.
Sticky Password offers both free and premium versions. The free version offers security with sync, backup, and password sharing.
The Premium Version of Sticky Password offers sync, backup, priority support, and password sharing for $29.99 a year. Sticky Password claims to donate money from the Premium memberships to a charity that protects the manatee, an endangered species.
Sticky Password also offers a Team membership for $29.99 a year and an academic membership for $12.95 a year.
9. RoboForm: Reasonable Low-Cost Password Manager
If you just want a basic password manager, you can use it on a few devices. RoboForm could be a good choice.
The RoboForm does not offer advanced security features such as Wi-Fi syncing. Instead, RoboForm fills in your passwords across major platforms and browsers. RoboForm works with Apple iOS, Safari, Windows, Microsoft Edge, Microsoft Explorer, Opera, Google Chrome, and Mozilla Firefox.
RoboForm offers AES-256 bit encryption with PBKDF2 SHA-256 security with two-factor authentication. There is also a random password generator that creates stronger passwords. However, many other Password Managers, including Sticky Password, offers those features.
The best advantage of RoboForm is its low price. The basic individual RoboForm plan costs only $1.99 a month, and the family plan costs $3.98 a month. The RoboForm Business Plan costs $3.35 a month. A final advantage to RoboForm is that it offers two pay-as-you-go plans with no contracts.
RoboForm has other features, including autofill for long web forms, full separation of business and personal passwords, role-based permissions, and detailed reporting.
RoboForm is a good value, but it lacks some stronger security features. More expensive products, such as Sticky Password, will better serve people who want a higher security level.
10. Password Boss: Good But Some Weaknesses
The Password Boss offers an interface that allows you to use all your passwords across major operating systems and platforms.
The Password Boss shares several features with LastPass and Keeping, including a "digital vault" or wallet to store your important numbers safely. Password Boss calls its storage feature a Digital Wallet.
The Digital Wallet contains all your financial information, so it is a target for hackers. Another Password Boss feature they call Personal Info stores all your identification data, including name, address, and emails.
The Share Center in the Password Boss lets you share passwords across platforms. Password Boss works with Microsoft Windows, Apple iOS, Android, and Linux. An Emergency feature lets your family, friends, and others access your passwords.
Password Boss could present a huge security risk because it stores all your important data in one place. Hackers will want access to the Digital Wallet to get your bank account and credit card numbers, for example.
Password Boss tries to rectify that problem by scanning the Dark Web for your data. The hope is that their technology can spot bad guys using your data before they do any damage.
They offer Password Boss in free and premium editions for individuals. The Premium Edition costs $30 a year. They also offer a five-license Family Edition for $48 a year. You can also order a standard Password Boss Plan for $3 a month and an advanced Password Boss for $4 a month.
Password Boss's multiple layers of security include; Zero-Knowledge, Architecture, Two Factor Authentication (2FA), 256-Bit AES Encryption, a Strong Password Generator, Easy Password Sharing, Security Checkups, End-to-End Security, Custom Security Policies, Role-Based Access, an Audit Trial, and User and Group Management. These features support an automatic website login and protection from security breaches.
Password Boss Receives impressive customer reviews in the Google Store from Android users and G2. However, Password Boss does not seem different from rivals like LastPass.
How to Choose a Good Password Manager
A good password manager offers several powerful security features that most of us need.
The most important password manager feature is the random password generator.
A second vital security feature is two-factor authentication. Two-factor authentication is important because it adds a second layer of security on top of your passwords. The best two-factor authentication features force you to identify yourself regularly.
Two-factor identification and random password generators combat one of the greatest security threats: old-fashioned laziness. Most people are too lazy to follow good security procedures, such as changing your passwords or identifying yourself.
It is a good way to think of two-factor identification as a sentry who challenges you when you try to enter a secure area. The sentry asks you to identify yourself, just as the two-factor identification does.
A great additional layer of security is biometric scanning, such as fingerprint scanning. Biometric scanners protect your devices from thieves by making them hard to crack. Thus, you need to have a fingerprint or other scanner on your phone and tablet.
Other measures, such as encryption and dark web scanning, offer higher levels of security. Encryption adds layers of security that make it harder to penetrate your data. Meanwhile, Dark Web Scanning tries to spot the bad guys at work by monitoring their communications.
Top 10 Password Managers Summary
No Password Manager is foolproof, but Password Managers can keep your data more secure. Understanding Password Managers and how they work can make your data and communications more secure.