This GetResponse review shows great pricing, leading CRM, eCommerce, automation, and sales funnels that grow with your business or following. I recommend Getresponse for startups and fast-growing businesses. Getresponse will also scale up to meet multi-channel enterprise demands with superior workflow & automation. 
GetResponse Review Rating
| | |
| --- | --- |
| GetResponse Rating | 4.8/5.0 |
| 💸 Pricing | ★★★★★ |
| ⚡ Features | ★★★★★ |
| 📧 Email Deliverability | ★★★★✩ |
| 🖱 Ease of Use | ★★★★★ |
| 👩‍❤️‍👩 Client Satisfaction | ★★★★★ |
| ☎ Customer Support | ★★★★★ |
GetResponse Review Summary
This GetResponse review declares GetResponse winner for best email marketing software, combining a free service and fantastic entry-level pricing with a set of powerful CRM, automation & eCommerce tools that will grow with your business.
GetResponse offers fully integrated email services with practically every feature you can imagine. Surprisingly they can compete effectively at both ends of the price spectrum, offering industry-leading low prices for Startups and SMBs offering a full spectrum Pro service for Enterprise customers. Whichever tier of service you choose, you can be sure GetResponse will grow with your business.
GetResponse Review: Features
| | |
| --- | --- |
| ⚡ Features | CRM, BPA, eCommerce |
| 🏆 Unique Features | End to End Integrated Automation |
| 🎯 Best for | SMB's to Large Business |
| ♲ Subscription | Monthly |
| 💰 Price | $15-$145/mo |
| ✂ Discount/Trial | Free Trial |
| 🌎 Region | Global |
GetResponse Pros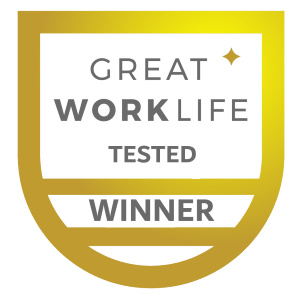 ★ Best In Class Pricing
★ Excellent Email Deliverability
★ Full Suite of CRM Features
★ Unique AutoFunnel Solution
★ Fully Integrated Landing Pages & Payment Gateways
GetResponse Cons
✘ No Free Tier
✘ Spam Check Very Stringent
The Review Process
We have tested 30 of the most popular email marketing software vendors out of a list of over 100. We have compared over 80 key features and benefits to make a solid and fair comparison. In total, over 2,400 data points have been compiled over our months of testing. For further details on what we tested, jump to the Main Email Marketing Testing & Comparison Page. 
GetResponse: Winner Best Email Marketing Platform
Table 1: Overall Ratings – Value for Money, Features, Deliverability, Usability, Customer Satisfaction & Support
GetResponse Pricing
When it comes to pricing, GetResponse has done its homework. Below you can see that GetResponse currently offers one of the lowest price points and interestingly offers the broadest, most integrated set of services for all business needs. There are two types of pricing models in the email marketing industry.
Per Contact Pricing means you are charged for storing a number of contacts; this model usually includes unlimited email sends.
Per Email Pricing – this model usually means that you can have unlimited contacts, but you pay per thousand emails sent.
All email marketing vendors also offer multiple service tiers, a basic tier providing email messaging, autoresponders, and segmentation. More advanced tiers usually provide more in-depth services such as email marketing automation, Customer Relationship Management (CRM), Sales Funnels, Payment Gateway, and landing pages.
Competitor Pricing Table – All Email Marketing Services
These are the prices for the basic plan, which includes:
Email Marketing
Autoresponders
Unlimited Landing Pages
Automation Templates
Forms & Surveys
Exit Popups
Facebook Adverts Integration
150+ integrations
At industry-leading low price points, GetResponse offers more features than nearly every other competitor, which means a great deal for you.
View the GetResponse pricing page to view the tiers of service for yourself.
GetResponse: Ranks 1st for Core Email Marketing Features
GetResponse: Winner – With a complete set of email marketing features, what separates GetResponse is the Perfect Timing and Time Travel deliverability of email; this guarantees the email will arrive at the right time for the individual contact.
SendX: Winner – The lowest-cost email marketing software also has better core features than its competition, including time zone and perfect time delivery. With excellent analytics, A/B testing, and good automation, SendX is a great choice.
ActiveCampaign: A great feature set, excellent visual customer experience automation engine. However, it lacks forms, email templates, licensed images, and time zone-specific delivery.
Ontraport: With a huge selection of templates, forms, images, and excellent automation, the feature set is nearly complete. The only things missing are time zone delivery and customer-specific send times.
AWeber: Simple & Reliable Email Marketing & Automation with Excellent Customer Services
Table 3: Most Complete Set of Core Email Marketing Features
Out of all the email marketing companies we tested, GetResponse offers the full suite of email marketing and automation features.
Like all of the services reviewed, they offer a huge selection of predesigned email templates and a good selection of high-quality images for use in your email campaigns. The email design process is also fully drag-and-drop, making crafting your message a breeze.
In fact, GetResponse has the largest collection with over 500 newsletter templates and over 5,000 licensed images, so you can be sure your campaign will look professional and unique.
Also included are predesigned and highly customizable email capture forms for your website. They are also one of the few services to offer Exit Popups for your website.
All software providers offer Autoresponders, Email Sequencing, Customer Tagging, and Segmentation. What separates GetResponse is the ease of implementation and the levels of automation available. The video below will give you a good idea of how easy this process is.
A special point to note is that GetResponse protects its delivery rate vigorously. They have employed a state-of-the-art SPAM email checker called Hydra. Some users have complained that they have had their accounts suspended because Hydra has flagged their messages as SPAM. If you are planning a relentless email campaign that could be considered email bombing, then you may want to find another service as GetResponse has one of the most stringent anti-spam systems in the industry.
GetResponse Email Marketing Automation Tour Video
What Makes GetResponse Unique?
GetResponse has a few unique services which separate them from the crowd. My favorites are:
Perfect Timing – Perfect timing is a brilliant way to deliver your emails at the precise moment your customer is most likely to open them. GetResponse uses algorithms to analyze your contact's opening times. If your contact is an early riser and usually opens your emails at 5 am, then the algorithm takes account of this information and delivers future messages at this time. This means every contact has the right message at the right time according to their behavior; this is fantastic. GetResponse claims Perfect Timing increases open rates by 23% and click-through rates by 20%, and I do not doubt them.
Time Travel – if you operate a business that spans multiple time zones, this feature is perfect. Suppose you have a special offer that runs from 9 am to 5 pm on a specific day. You can use the Time Travel Feature to time your email's arrival for exactly 9 am on that day in their timezone.
Reporting & Analytics
Again, GetResponse leads the way in basic and advanced reporting and analytics. You will have the ability to analyze and improve your campaigns with reporting that allows you to compare desktop versus mobile, regional performance, or even global performance. The Global-View feature even maps the individual to their location on a map and uncovers open rates, click rates, and social shares. This can be invaluable if you plan a roadshow, conference, or any regional activity, as you can visualize and target your clients in that area.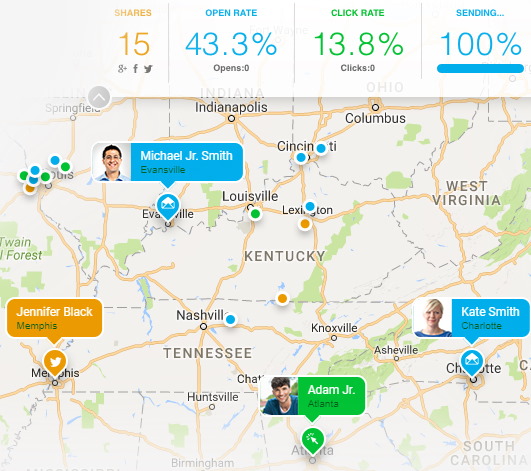 [Related Post – Compare All Email Marketing Services Side By Side]
Of course, you can also see list growth, unsubscribes, and even social shares. Finally and importantly, A/B Testing, the ability to test the email performance with different subject lines and content, is included even with the Basic starter package.
GetResponse Ranks 1st for Advanced Features
Table 4: Advanced Features
In terms of advanced features, GetResponse is the only service that offers both 3rd party Webinar Integration and, most importantly, a fully integrated Webinar Service. Webinars are an excellent way to engage your clients and share the advantages of your products and services, so having a fully integrated Webinar Service will have the following benefits:
Saving Money – Webinar Services can be quite expensive depending on your needs; GetResponse will also record, store, and enable the streaming of your recorded webinars in the future.
Saving Time – You can schedule the webinar quickly and target your audience based on your existing contacts, and then GetResponse will take care of the launch, reminders, and follow-ups.
Improved Communication Process  – Finally, all the actions from your attendees will be tracked in your CRM and analytics so you can initiate further activities.
Email to RSS
Email to RSS is a simple yet effective way to streamline the communication process with your audience. You can set it up so that when you publish a new article on your website in a specific category, the email service will be notified and can build a customized email and send it to your audience without you having to do anything. This is a huge timesaver.
Surprisingly, not all email newsletter providers offer this service. To view the other vendors offering this service, check out our Email Service Master Comparison Table.
SMS Messaging Integration
This service has SMS integration, and interestingly only 4 out of our 11 services tested offer an SMS service. SMS is a great way to remind your customers of time-critical actions, for example, confirming a table reservation or reminding a client of their webinar reservation.
The Excellent GetResponse Email Marketing Visualization – Screenshot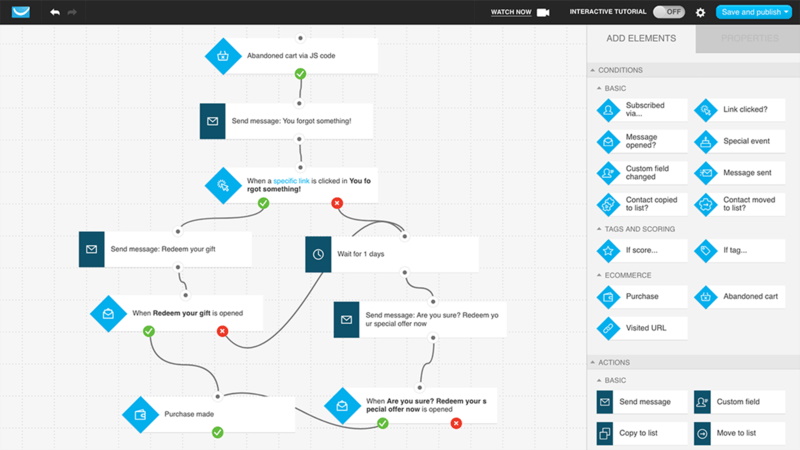 Try a 30 Days GetResponse Free Trial
Site Chat
Out of all tests, only three software vendors offer a fully integrated site chat function; GetResponse is one of them. An integrated chat function helps to complete the picture of communications. Imagine, for example, that a customer visits your website they ask a question via chat to your helpdesk. Later, they signup to your email list and, again via your website, have a conversation with the support team. These interactions will be captured and will ultimately feed into the customer journey reporting and the Customer Relationship Management (CRM) system. As you will read below, you can even automatically assign a customer a score to assess their interest in a specific product or service. Very clever.
Automated Product Recommendations
This is the only service provider that enables you to directly integrate product recommendations from your eCommerce site into the emails you send. Using an automated widget, you can recommend products that your customers might be interested in based on their browsing habits or responses to your questionnaires to customer surveys.
GetResponse Ranks 1st for Enterprises
Table 5: Email Marketing Service Features for Enterprises
Multiple User Accounts
For a multi-person marketing team, the ability to collaborate on campaigns and assign roles to different employees is critical. Multiple accounts are covered here in an elegant way enabling both internal employees and even external freelancers the right permissions to complete their tasks. There is even a mobile app to enable quick responses, even when team members are not at their desks.
Sales Lead Team Workflow
The ability to assign hot prospects to the sales team members is important for businesses that need personal contact with the customer; this is exactly what is enabled with the sales team workflow services. Efficiency within sales is key to growing sales and keeping costs down.
Salesforce Integration
SalesForce.com is the industry leader in CRM, so integrating your marketing department's contact list into the Salesforce ecosystem can be critical for enterprise customers. GetResponse has developed its own integrated service to enable the seamless passage of customer data, messaging, collaboration, and messaging between the services.
Primary Features: AutoFunnel
Only 3 of our tested companies provide a Sales Funnel service. GetResponse does this better than its competitors by having services that cover the entire sales process.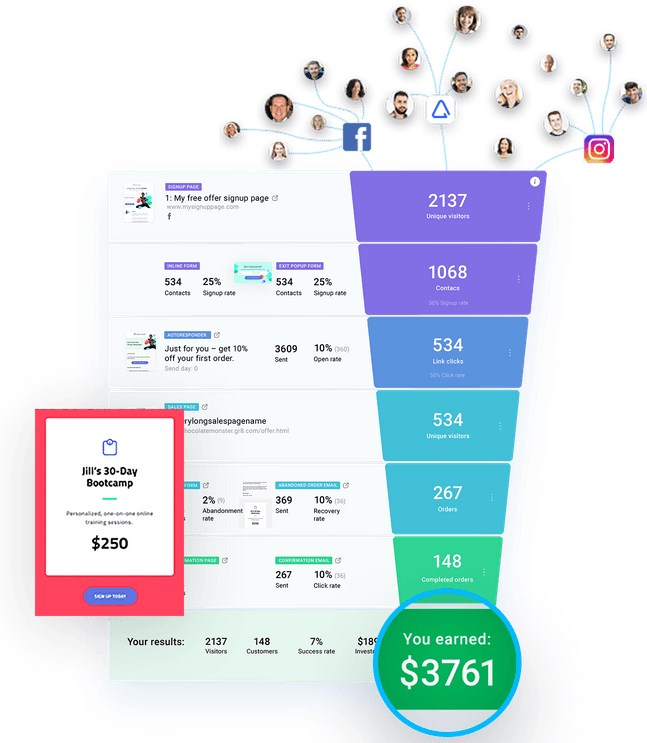 How Does GetResponse Autofunnel Work?
You can generate traffic using in-built Facebook and social media advertising integration.
Channel that traffic to a GetResponse landing page designed to get visitors to sign up for a newsletter, eBook, or other information
Communicate with your captured leads via email newsletters and build a relationship via Webinars
Depending on their responses, you can highlight those people really interested (via the Scoring System) in your product or service and try to sell them something they are interested in
If they abandon their shopping cart, you can follow up with them.
Finally, if you make a sale, the system will calculate your sales and collate your earnings.
Amazingly AutoFunnel is part of the GetResponse Plus Plan, and for only $179- per month, you can host 25,000 contacts and access the entire portfolio of AutoFunnel related services.
GetResponse Pro Service Video
Primary Features: Sales & Payments
The key to automating the sales funnel shown in the previous section is to have the ability to integrate the landing pages into the process. Many small businesses using WordPress, for example, will struggle to structure and host high-quality landing pages. The challenge is getting your website to communicate with PayPal, Stripe, or Square. If you have a reoccurring payment model, such as a membership program, this is nearly impossible to manage by yourself.
Not only does GetResponse offer a fully integrated landing page and payment processing service, but they also have integrated abandoned cart follow-ups, and effective customer Win Back automation. This is an impressive collection of integrated services, which means you do not have to worry about using 3rd party integrators or solutions to automate your workflow. This is as beneficial for SMBs as it is for enterprise businesses.
GetResponse Ranks 1st for CRM & Integrations
Table 7: Email Marketing Services for CRM & Integrations
As mentioned previously, CRM integration enables the whole service to integrate seamlessly. Many email marketing companies claim to have a great CRM service, but only a few offer a lead rating system and cross-platform customer tracing.
Lead Scoring & Cross-Platform Journey Reporting
Consider this example, a customer sees your Facebook advert and takes action to visit your website for further information. They then ask a question via site chat to your helpdesk. They click around your website, looking for further information on a product. Then later, they signup to your email list and then send an email to the support team. These interactions will be captured and reported in the Customer Relationship Management (CRM) system. This appears to be a very interested and active customer. Based on the Scoring System rules you create, you can flag a customer as a hot prospect and assign the task to a sales team member to reach out to them.
This exemplifies the cross-platform journey of a potential customer and enables you to reach out to hot prospects for a sale.
Try a 30 Days GetResponse Free Trial
Security & Certifications
At this stage in the development of the internet, cybersecurity is of utmost importance. High-profile data leaks and hacks result in large fines to businesses that do not adequately protect their customer's data.
Email Service Provider Security Compliance Table
| | |
| --- | --- |
| GDPR Compliant | ✔ |
| SSL TLS Encryption | ✔ |
| EU-US Privacy Shield | ✔ |
Ease of Use & Customer Ratings
Using as many independent sources as possible, we have rated the services provided.
| | |
| --- | --- |
| Our rating on ease of use and design | ☆☆☆☆☆ |
| Using the independent ratings from Trustpilot Users – we also filtered out obviously biased ratings. | ☆☆ |
| Customer Twitter Sentiment Index | ☆☆☆☆☆ |
| Support (Chat, Email, Phone) | Chat, Email |
| Support Times | 24/7 |
| Response Time | Immediate |
| Average Ratings of Support Times, Response Times & Accessibility | ☆☆☆☆ |
GetResponse scores highly in both ease of use and their modern approach to design. Despite the vast and powerful array of features and functions, the service is easy to navigate and use.
GetResponse Review Summary
GetResponse offers a fully integrated service with practically every feature you can imagine. Surprisingly they can compete effectively at both ends of the price spectrum, offering industry-leading low prices for Startups and SMBs and offering a full spectrum Pro service for the enterprise. Whichever tier of service you choose, you can be sure GetResponse will grow with and help grow your business.
Try a 30 Days GetResponse Free Trial
[Related Post – Compare All Email Marketing Services Side By Side]
GetResponse Email Marketing – Full Features Data Sheet
| Email Service Provider | |
| --- | --- |
| Value for Money | ☆☆☆☆☆ |
| Features | ☆☆☆☆☆ |
| Deliverability | ☆☆☆☆ |
| Ease of Use | ☆☆☆☆☆ |
| Client Satisfaction | ☆☆☆☆☆ |
| Support | ☆☆☆☆ |
| Total Stars | 28 |
| | |
| Price Model | Contact |
| Free Option | No |
| 500 Contacts | $12 |
| 2,500 Contacts | $20 |
| 10,000 Contacts | $60 |
| 25,000 Contacts | $150 |
| 50,0000 Contacts | $229 |
| Unlimited Contacts | |
| Cost per Contact (cents) | 0.65 |
| | |
| Primary Features eMail | |
| eMail Templates | ✔ |
| eMail Images | ✔ |
| Email Form Templates | ✔ |
| Drag & Drop Email Design | ✔ |
| Autoresponders | ✔ |
| Marketing Automation | ✔ |
| Individual Customer Automation | ✔ |
| Customer Tagging & Segmentation | ✔ |
| Intelligent Timing Delivery | ✔ |
| Time Travel (Global 9am Delivery) | ✔ |
| Basic Email Analytics | ✔ |
| Powerful Email Analytics | ✔ |
| A/B Testing | ✔ |
| SPAM Scoring | ✔ |
| | |
| Advanced Features | |
| Webinar Integration | ✔ |
| Hosting Webinar & Recording | ✔ |
| Email from RSS Feeds | ✔ |
| SMS Marketing | ✔ |
| Automatic Product Recommendations | ✔ |
| Site Chat CRM Integration | ✔ |
| Membership Site Service | |
| | |
| Team / Enterprise Functions | |
| Multiple User Accounts | ✔ |
| Sales Team Lead Distribution | ✔ |
| Salesforce Service Integration | ✔ (i) |
| Primary Features Funnels | |
| Surveys/Polls | ✔ |
| Sales/Lead Funnels | ✔ |
| Landing Pages | ✔ |
| Exit Popups | ✔ |
| Primary Features Sales & Payments | |
| eCommerce Integrations | ✔ |
| Full Payment Gateways | ✔ |
| Abandoned Cart Integration | ✔ |
| Win Back / Bounce Back | ✔ |
| Payment Mgt | |
| Discount Coupons | |
| Referral Program Mgt | |
| CRM & Remarketing | |
| CRM & Deal Management | ✔ |
| Cross Platform Journey Tracking | ✔ |
| Activity Scoring | ✔ |
| Integrations | |
| 3rd Party Integrations | 160 |
| Zapier App Integration | ✔ |
| Deliverability | ☆☆☆☆ |
| | |
| Security & Certifications | |
| GDPR Compliant | ✔ |
| SSL TLS Encryption | ✔ |
| EU-US Privacy Shield | ✔ |
| | |
| Ease of Use | ☆☆☆☆☆ |
| Customer Satisfaction | ☆☆ |
| Customer Twitter Sentiment | ☆☆☆☆☆ |
| Support (Chat, Email, Phone) | Chat, Email |
| Support Times | 24/7 |
| Response Time | Immediate |
| Customer Support | ☆☆☆☆ |
| Visit the Vendor | Visit GetResponse |
GetResponse Email Marketing - Full Features Data Sheet