ConvertKit Review Rating
Pricing

Features

Email Deliverability

Ease of Use

Client Satisfaction

Customer Support
User Ratings - Click Stars to Vote
( votes)
ConvertKit: Excellent Visual Automation, Forms & Landing Pages But With A High Price Point Who Is It Best For?
ConvertKit's focus on email deliverability, intuitive marketing automation, and a slick interface make it a solid service offering.  But with a significantly higher price point than some other competitors, we need to look at what extra they bring to the table.
ConvertKit Review Summary
ConvertKit excels in email deliverability and has all the core email marketing services you will need. It has an excellent automation visualization engine and built-in lead pages, which may well be worth the price premium they charge.  But do not expect any CRM functions or payment gateways included; they have a set of 3rd party integrations to cover that through Zapier.
ConvertKit Pros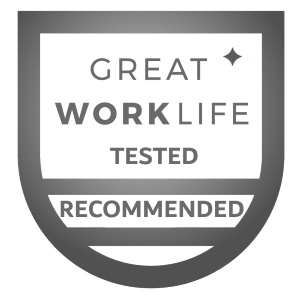 ★ Great Visual Automation & Reporting
★ Segmentation, Tagging & Broadcasts
★ Exit Intent Forms
★ Landing Pages With Real-Time Performance Reporting
★ 100K Free Stock Photos
★ Excellent Email Deliverability
ConverKit Cons
✘ Pricing
✘ Limited Support Times
The Review Process
We have tested 30 of the most popular email marketing software vendors out of a list of over 100.  We have compared over 80 key features and benefits to make a solid and fair comparison. In total, over 2,400 data points have been compiled over our months of testing.  For further details on what we tested, jump to the Main Email Marketing Testing & Comparison Page. 
ConvertKit Pricing
There are two types of pricing models in the email marketing industry.
Per Contact Pricing means you are charged for storing a number of contacts; this model usually includes unlimited email sends.
Per Email Pricing – this model usually means that you can have an unlimited number of contacts, but you pay per thousand email sends.
All email marketing vendors also offer multiple tiers of service, a basic tier providing email messaging, autoresponders, and segmentation.  More advanced tiers usually provide more in-depth services such as email marketing automation, Customer Relationship Management (CRM), Sales Funnels, Payment Gateways, and landing pages.
ConvertKit is in 6th place of the 11 vendors in the table below when it comes to pricing. So they are definitely nowhere near the best price points, but their service is targeted at start-ups and creators with new ideas.  For me targeting new businesses should mean you offer a lower price point, especially at the under 10,000 subscribers range.  ConvertKit charge 1c per contact every month (on a yearly contract), compare that to SendX who charge 0.39 cents per contact.
Competitor Pricing Table – All Email Marketing Services
Unlike most email service providers, ConvertKit does not offer complicated tiers of service.  There is simply one service & price, and this includes:
Email Marketing Automation
Unlimited Email Sends
Segmentation, Tagging, Autoresponders
Signup Forms, Email Templates & Stock Photos
Smart A/B Testing Integrated Into Automation Flow
1-Click Unopen Resends
Multi-User Roles & Teams
Free Migrations Service for over 5,000 contacts.
Some Key Missing Innovations
Geo-location Timezone Delivery
Smart Delivery Based On User Open Patterns
Things to Know About ConvertKit's Pricing
What I like about the ConvertKit pricing model is that it is simple and transparent.  There are no hidden charges, and they will even migrate you from another service provider free of charge; this is impressive.
ConvertKit Email Marketing & Automation Features
Like all of the services reviewed, ConvertKit offers a selection of predesigned email templates and a good selection of high-quality images for use in your email campaigns.  The email design process is also fully drag-and-drop, making crafting your message a breeze.
In fact, ConvertKit has a nice collection of newsletter templates and impressive 100,000 licensed images.  This will ensure your emails will look professional and unique.
ConvertKit Service Overview Video
ConvertKit Email Capture Forms
ConvertKit also a solid collection of predesigned email capture forms that are fully customizable using a drag and drop interface. They also have a plugin for WordPress and Medium or a javascript embed code option.
I created a popup form in just a few minutes using the intuitive wizard, guiding you through the process.  The forms application is more powerful than all the others I have tested.
The ability to endlessly customize the forms is nice.  The most common types of form are supported, including full pages, sliders, and exit intent.  Believe it or not, the email marketing services providers rarely include exit-intent forms, but ConvertKit includes them at no extra cost.
Most impressively of all, you can even customize your forms based on what the contact has already done in the past.  This means if they are a repeat visitor to your site, a member, or even a customer who has already purchased a product, you can tailor a specific contextual message just for them.
Visual Automations In ConvertKit
Most software providers offer Autoresponders, Email Sequencing, Drip Campaigns, Customer Tagging, and Segmentation.  ConvertKit provides all of these services included in the price.
But what truly separates ConvertKit from the crown is the visual automation application, which makes it easy to implement a customer journey through your processes.   Because automation triggers actions, tagging, and segmentation can get complex very quickly, the best approach is via visual representation of the processes.  Watch this video to see it in action.
Visual Automations Video
Visual automations in ConvertKit
ConvertKit Reporting & Analytics
ConvertKit has a basic approach to reporting and analytics.  You will have the ability to analyze and improve your campaigns with reporting that allows you to compare open rates, undeliverable, unsubscribe clicks over time, and more.  You can also seamlessly segment your list based on the responses or actions against your email.
Reporting List Growth & Clicks Over Time With ConvertKit – Screenshot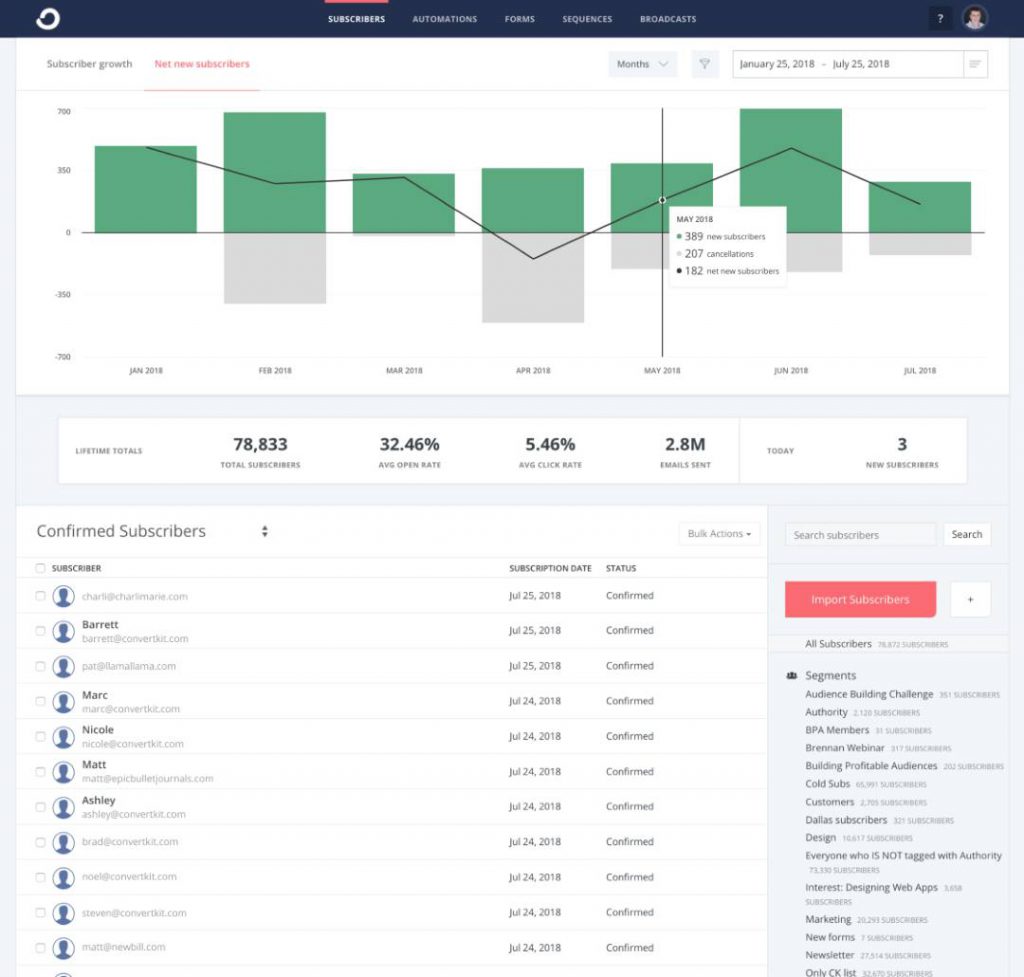 [Related Post – Compare All Email Marketing Services Side By Side]
Of course, you can also see list growth, unsubscribes, and even social shares.  Finally and importantly, A/B Testing, the ability to test the email performance with different subject lines and content, is included in the service.
Visit ConvertKit for a Free 14 Day Trial
Advanced Email Features
Is ConvertKit Falling Behind On Machine Learning?
We see a powerful trend in the industry towards machine learning to improve email services.  Take, for example, the excellent innovations by GetResponse, which enables you to target each individual contact with an email delivered at the usual time they open emails, so if your contact reads their emails at 6:30 am weekdays, the email will be delivered then, so it is at the top of the inbox. You can also deliver the email at, for example, 9 am in every timezone; it is called "Time Travel" by GetResponse. ActiveCampaign and SendX also have similar functionality.
So the answer is yes; at this price point, I would expect ConvertKit to offer right time email deliverability & timezone-specific deliverability.
Surprisingly, not all email newsletter providers offer this service.  To view the other vendors offering this service, check out our Email Service Master Comparison Table.
One-Click Unopened Resends
ConvertKit does offer a send to unopened functionality.  This means that if you send a broadcast email, you will get the option to resend the mail to all the people who did not open the email the first time.  Unlike with other providers, ConvertKit restricts this to one resend per broadcast.
ConvertKit RSS to Email
Email to RSS is a simple yet effective way to streamline the communication process with your audience.  You can set it up so that when you publish a new article on your website in a specific category, the email service will be notified and can build a customized email and send it to your audience without you having to do anything.  This is a huge timesaver.
Surprisingly, not all email newsletter providers offer this service.  To view the other vendors offering this service, check out our Email Service Master Comparison Table.
ConvertKit's Features for Enterprise & Ecommerce
ConvertKit is clearly not aiming at enterprise customers or trying to replace a fully-fledged Customer Relationship Management (CRM) system. Most email marketers do not really need this level of functionality. So if you are part of a larger team that needs CRM, you will want to consider GetResponse or Ontraport.  GetResponse has a great price point and a complete set of features.
Multiple User Accounts & Collaboration
ConvertKit does allow you to host multiple accounts to enable better workflow and collaboration in the marketing department.  You can add different accounts with different permissions.  Permissions are simple; you either have administrator or contributor privileges.
ConvertKit Integrations
ConvertKit does not have native payment processors or eCommerce functionality like GetResponse, but it does have a set of powerful integrations that enable some of this functionality.
ConvertKit's strategy is not to build a completely integrated solution themselves but to build integrations to a select group of 3rd parties.  In addition to that, they have a Zapier integration, which enables another 1,500 services.  So you can rest assured all the usual payment processors and eCommerce services are covered, including:
Stripe – Payments
Shopify – eCommerce
Samcart – eCommerce
WooCommerce – eCommerce
DEMIO – Webinars
ClickFunnels – Landing Pages
WordPress – Web Hosting
Wishlist – Membership Software
Zapier – Offering 1,000's more integrations.
Missing Native Integrations
Paypal – Payments – Only Via Zapier – Not Native
Security & Certifications
At this stage in the development of the internet, cybersecurity is of utmost importance.  High-profile data leaks and hacks result in large fines to businesses that do not adequately protect their customer's data.
Email Service Provider Security Compliance Table
| | |
| --- | --- |
| GDPR Compliant | ✔ |
| SSL TLS Encryption | ✔ |
| EU-US Privacy Shield | ✔ |
Ease of Use & Customer Ratings
Using as many independent sources as possible, we have rated the services provided.
| | |
| --- | --- |
| Our rating on ease of use and design | ☆☆☆☆ |
| Using the independent ratings from Trustpilot Users – we also filtered out obviously biased ratings. | N/A |
| Customer Twitter Sentiment Index | ☆☆☆☆☆ |
| Support (Chat, Email, Phone) | Chat, Email |
| Support Times | 12/5 |
| Response Time | Delayed |
| Average Ratings of Support Times, Response Times & Accessibility | ☆☆☆☆ |
ConvertKit's levels of support do not justify its higher price point.  With support only via chat or email and service windows, 8 am to 8 pm Monday to Friday in the U.S. timezones. As a customer in Europe or Asia, you will need to wait until the afternoon or evening to get support.  The Twitter sentiment report was very good, with plenty of customers happy with the service.  There were, however, no reasonable reviews on Trustpilot.
Free Migration Service
Finally, ConvertKit will migrate you from your current email newsletter service provider to ConvertKit for free.  One of the biggest problems is that when you have built your contact lists, funnels, and automation with one company, the thought of moving to another provider is a headache of cost and effort.  The fact that ConvertKit provides this as a courtesy is impressive, but you must have a contact list of more than 5000 people to qualify.
ConvertKit Review Summary
ConvertKit excels in email deliverability and has all the core email marketing services you will need. It has an excellent automation visualization engine and built-in lead pages, which may well be worth the price premium they charge.  But do not expect any CRM functions or payment gateways; they have a set of integrations to cover that through Zapier.
[Related Post – Compare All Email Marketing Services Side By Side]
ConvertKit Email Marketing – Full Features Data Sheet
| Email Service Provider | |
| --- | --- |
| Value for Money | ☆☆☆☆ |
| Features | ☆☆☆☆ |
| Deliverability | ☆☆☆☆☆ |
| Ease of Use | ☆☆☆☆ |
| Client Satisfaction | ☆☆☆☆☆ |
| Support | ☆☆☆☆ |
| Total Stars | 26 |
| | |
| Price Model | Contact |
| Free Option | No |
| 500 Contacts | $25 |
| 2,500 Contacts | $41 |
| 10,000 Contacts | $100 |
| 25,000 Contacts | $166 |
| 50,0000 Contacts | $316 |
| Unlimited Contacts | |
| Cost per Contact (cents) | 1 |
| | |
| Primary Features eMail | |
| eMail Templates | ✔ |
| eMail Images | ✔ |
| Email Form Templates | ✔ |
| Drag & Drop Email Design | ✔ |
| Autoresponders | ✔ |
| Marketing Automation | ✔ |
| Individual Customer Automation | ✔ |
| Customer Tagging & Segmentation | ✔ |
| Intelligent Timing Delivery | |
| Time Travel (Global 9am Delivery) | |
| Basic Email Analytics | ✔ |
| Powerful Email Analytics | |
| A/B Testing | ✔ |
| SPAM Scoring | ✔ |
| | |
| Advanced Features | |
| Webinar Integration | |
| Hosting Webinar & Recording | |
| Email from RSS Feeds | ✔ |
| SMS Marketing | |
| Automatic Product Recommendations | |
| Site Chat CRM Integration | |
| Membership Site Service | |
| | |
| Team / Enterprise Functions | |
| Multiple User Accounts | ✔ |
| Sales Team Lead Distribution | |
| Salesforce Service Integration | |
| Primary Features Funnels | |
| Surveys/Polls | |
| Sales/Lead Funnels | |
| Landing Pages | ✔ |
| Exit Popups | ✔ |
| Primary Features Sales & Payments | |
| eCommerce Integrations | |
| Full Payment Gateways | |
| Abandoned Cart Integration | |
| Win Back / Bounce Back | |
| Payment Mgt | |
| Discount Coupons | |
| Referral Program Mgt | |
| CRM & Remarketing | |
| CRM & Deal Management | ✔ |
| Cross Platform Journey Tracking | |
| Activity Scoring | |
| Integrations | |
| 3rd Party Integrations | 80+ |
| Zapier App Integration | ✔ |
| Deliverability | ☆☆☆☆☆ |
| | |
| Security & Certifications | |
| GDPR Compliant | ✔ |
| SSL TLS Encryption | ✔ |
| EU-US Privacy Shield | ✔ |
| | |
| Ease of Use | ☆☆☆☆ |
| Customer Satisfaction | - |
| Customer Twitter Sentiment | ☆☆☆☆☆ |
| Support (Chat, Email, Phone) | Chat, Email |
| Support Times | 10/5 U.S. |
| Response Time | Delayed |
| Customer Support | ☆☆☆☆ |
| Visit the Vendor | Visit ConvertKit |
ConvertKit - Email Marketing Software Features Table
How We Rated the Service
| | |
| --- | --- |
| Email Service Provider Ratings | Price Monthly (15-20% Discounts on Yearly Payments) |
| Value for Money | Price Rating. Price Per 10,000 contacts |
| Features | How Complete is the Toolset |
| Deliverability | Email Deliverability ☆☆☆60% ☆☆☆☆80% ☆☆☆☆☆90% Deliverability Results from multiple sources. |
| Ease of Use | Our rating on ease of use and design |
| Client Satisfaction | Using Twitter Customer Sentiment: https://www.csc2.ncsu.edu/faculty/healey/tweet_viz/tweet_app/ we rated the tweets about the service. |
| Support | Average Ratings of Support Times, Response Times & Accessibility |
| Price Model | Entry Level/ Basic Package Prices – Per Contact Model = $ per '000 Contacts "unlimited Sends" or "Per Email Model per '000 email sends – Unlimited Contacts |
| Primary Features eMail | |
| Email Templates | Is there a broad selection of predesigned email templates? |
| Email Images | Are images for emails available for free? |
| Email Form Templates | Predesigned website ready templates for capturing new subscribers |
| Drag & Drop Email Design | Easily design great looking emails without HTML code |
| Autoresponders | Are timed and action-driven autoresponders available? |
| Marketing Automation | Ability to automate sequences of emails to customers |
| Individual Customer Automation | Automation to tailor and personalize email content |
| Customer Tagging & Segmentation | Ability to Tag, Segment & retarget customers by their actions, locations, time zones |
| Intelligent Timing Delivery | Service optimizes send times based on when the customer previously opened emails. |
| Time Travel (Global 9 am Delivery) | The ability to target a specific time globally, e.g., delivery occurs at 9 am according to contacts time zone. |
| Basic Email Analytics | Reporting to allow reporting on list size, growth, open rates, bounce rates, etc. |
| Powerful Email Analytics | Ability to see globally and individually the customer journey, actions, onsite and in email |
| A/B Testing | Multiple sends with different content to test success rate |
| SPAM Scoring | Does the service check your content to make sure your messages are not flagged as SPAM? |
| Advanced Features | |
| Webinar Integration | Integrations Available for 3rd Party Webinar Services |
| Hosting Webinar & Recording | Full Webinar Hosting, Recording & Storage Service |
| Email from RSS Feeds | Can you generate automatic emails from your website RSS feed? |
| SMS Marketing | Can you send SMS messages and sequence and auto-respond? |
| Automatic Product Recommendations | Ability to insert product recommendations into emails – great for eCommerce businesses |
| Facebook Retargeting | The ability to retarget potential customer on Facebook after they visit your website or signup to your list |
| Site Chat CRM Integration | Integrated site chat which enables your contacts' activities or requests to be added into your CRM or Marketing Automation for further sequencing |
| Membership Site Service | Does the provider offer site membership user management services |
| Team / Enterprise Functions | |
| Multiple User Accounts | Adding multiple user or sub-user accounts so that you can collaborate with your team |
| Sales Team Lead Distribution | Sales team workflow to distribute contact and sales lead capture. |
| | Salesforce Service Integration |
| Primary Features Funnels | |
| Surveys/Polls | Is there an integrated survey & customer polling service included in the price? |
| Sales/Lead Funnels | Ability to visualize sales funnels and the customer journey through the pipeline |
| Landing Pages | Hosted pending pages integrated into your marketing automation |
| Exit Popups | Advanced exit popup for your website available |
| Primary Features Sales & Payments | |
| eCommerce Integrations | Native full suite eCommerce integrations available |
| Full Payment Gateways | Does the provider offer full turnkey payment gateways integrated into the service? |
| Abandoned Cart Integration | Ability to follow up with customers who did not complete a purchase |
| Win Back / Bounce Back | An effective solution for launching customer win-back campaigns |
| Payment Mgt | |
| Discount Coupons | Integrated discount or promotional coupon service-connected to payment gateways |
| Referral Program Mgt | Can you manage your own referral/affiliate program through the service – normally an expensive 3rd party service? |
| CRM & Remarketing | |
| CRM & Deal Management | Is there an effective customer contact and relationship management system available? |
| Cross-Platform Journey Tracking | The ability to track customers activities across different platforms, Website, Facebook, Email, SMS |
| Activity Scoring | Functionality to allow the grading of contacts/prospects by their activities, e.g., Points Scoring |
| Integrations | |
| 3rd Party Integrations | How many are 3rd party integrations available through the platform? |
| Zapier App Integration | Zapier provides over 1500 integrations. Is Zapier available with this provider? |
| Deliverability | Email Deliverability ☆☆☆60% ☆☆☆☆80% ☆☆☆☆☆90% Deliverability Results from multiple sources. |
| | |
| Security & Certifications | |
| GDPR Compliant | Compliant to the EU General Data Protection Regulations |
| SSL TLS Encryption | The site uses strong encryption |
| EU-US Privacy Shield | Certified under the EU-US Privacy Shield. |
| | |
| Ease of Use | Our rating on ease of use and design |
| Customer Satisfaction | Using the independent ratings from Trustpilot Users – we also filtered out obviously biased ratings. Blank means no ratings were available. |
| Customer Twitter Sentiment | Using https://www.csc2.ncsu.edu/faculty/healey/tweet_viz/tweet_app/, we rated the tweets about the service. |
| Customer Support | Support (Chat, Email, Phone) |
| | Support Times |
| | Response Time |
| | Average Ratings of Support Times, Response Times & Accessibility |